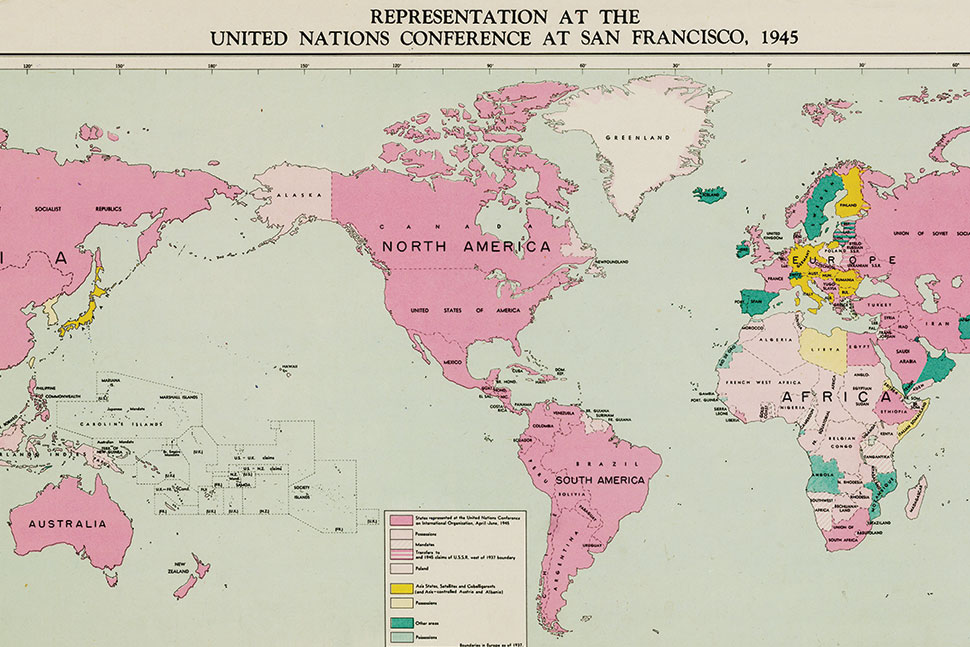 50
Number of countries represented at the United Nations (UN) Conference on International Organization in San Francisco from April 25 to June 26, 1945. Representatives wrote a charter for the UN with the hope of preventing another world war. The organization officially formed four months later, on October 24.
1947
Year the UN General Assembly established October 24 as United Nations Day.
1919
Year the League of Nations, the predecessor to the United Nations, was founded. After World War I, the League of Nations was created under the Treaty of Versailles "to promote international cooperation and to achieve peace and security." By April 1946, the League of Nations had shuttered and handed over its assets to the UN—including its library and archives.
1 million
Approximate number of resources—and counting—available through the United Nations Digital Library, a collaboration of the Dag Hammarskjöld Library in New York City and the United Nations Library and Archives Geneva in Switzerland. The digital collection includes UN documents, voting data, speeches, maps, and open access publications.
350
Number of UN-designated depository libraries across 135 countries and one territory. This global network of national, parliamentary, public, and university libraries connects users to UN documents and publications.
17
Number of Sustainable Development Goals (SDGs) that make up the UN's 2030 Agenda for Sustainable Development. Adopted by member states in 2015, the goals involve ending poverty, protecting the planet, and improving the lives and prospects of everyone in the world. In 2020, the American Library Association created a task force to develop a multiyear strategic plan to increase participation by libraries in efforts to achieve these goals.
$3,200
Amount raised by a 2019 read-a-thon organized by Batesville (Ind.) Intermediate School's Junior Ambassadors program, with proceeds going to building schools in Kenya and shipping supplies to Haiti. The junior ambassadors participated in the UN's SDG Book Club and were inspired by the goals of No Poverty and Zero Hunger. Batesville's program was awarded ALA's 2020 Sara Jaffarian School Library Program Award, which recognizes excellence in humanities programming in libraries serving grades K–8.
1,200
Number of students at Colegio Bilbao, a public school in Bogotá, Colombia, who have participated in environmental and recycling awareness workshops. The school library program aims to fulfill the SDGs of Quality Education, Sustainable Cities and Communities, Responsible Consumption and Production, and Climate Action.
40,000
Number of refugees who annually participate in "Dialogue in Deutsch," a volunteer-led, German-language conversation program started by Bücherhallen Hamburg, the public library in Hamburg, Germany. The program covers several SDGs, including Reduced Inequalities and Decent Work and Economic Growth.