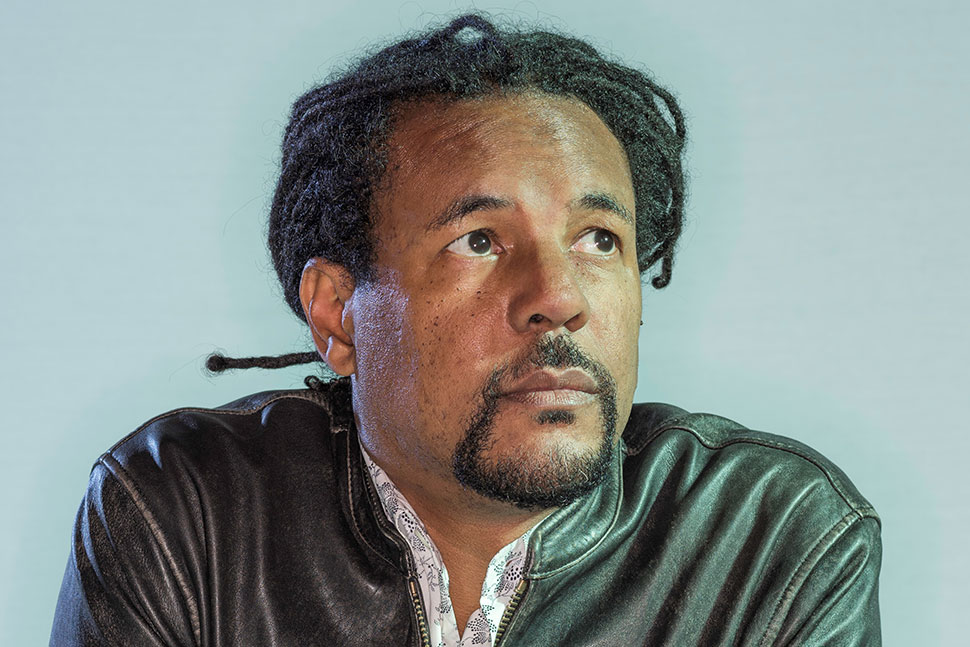 Colson Whitehead's two most recent novels—The Underground Railroad (2016) and The Nickel Boys (2019)—both won Pulitzer Prizes. The Underground Railroad was also honored with the National Book Award and the Andrew Carnegie Medal for Excellence in Fiction, and it has been adapted into a miniseries on Amazon Prime Video directed by Barry Jenkins (who also directed If Beale Street Could Talk and Moonlight). Imaginative and intrepid, Whitehead has explored something different in each of his 10 books, from African-American history to poker to zombies, even as he pursues signature themes. He has now written his first heist novel, Harlem Shuffle (Doubleday, September). American Libraries spoke with Whitehead about the novel, the significance of the Sixties (and Seventies), and how the film Jaws led him to the library.
Will the experience of having The Underground Railroad turned into a 10-episode miniseries for Amazon affect your writing?
No, I don't think it will affect my writing. It felt very separate. They optioned it five years ago, so it was always on the backburner, and occasionally I would talk to Barry Jenkins, the director, but I wasn't involved that deeply.
I saw the finished version in February and was blown away. I watched it again recently and I just feel so incredibly lucky and honored by what Barry, the cast, and the production team did. It's beyond my wildest dreams. And so, it's all downhill from here, adaptation-wise—I always say that about everything. But yes, the last three months, seeing it, and then having it get out into the world, it's just been so incredible.
You've always been a vividly descriptive writer, and Harlem Shuffle is vital on so many levels. It reminds us of your early nonfiction work, The Colossus of New York. Did it feel good to return to New York for a novel after writing to historical novels set in the South, and what does New York means to you as a setting?
I always try to get New York into my books. In The Nickel Boys, there's some New York sections, and in The Underground Railroad, Ridgeway the slave catcher comes to New York. That's an important part of his development. So, I'm still, book by book, trying to find different angles on the city. I think there's one or two lines of Colossus I snuck into this novel. Definitely in terms of the city's personality, I hope it's there, on the different street corners, in the subway, in the buildings, and in the different office spaces that populate the book. So hopefully not just Harlem but the whole city is in there, page by page.
Why did you set Harlem Shuffle at the dawn of the 1960s?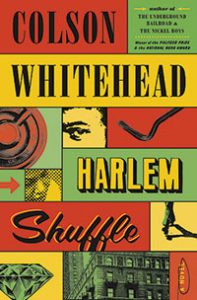 I was born in 1969, so a lot of the pop culture I grew up with is from the 1960s or early 1970s. Movies like Dog Day Afternoon or The Taking of Pelham One Two Three, which I saw when I was really young, were, for me, documentaries about the city. So I knew I wanted to have a Sixties and Seventies New York vibe.
Ray Carney, your protagonist and narrator, is a Harlem furniture store owner with a business degree who's determined to not be like his outlaw father, yet he does not stay on the safe side of the law. Where did Ray come from?
I had the idea to write a heist novel, and I hit upon the character of the fence. And a lot of those guys had fronts. They would sell electronics or antiques, and in the back, of course, is where all the criminal action goes. I'm not sure how I hit upon furniture. Probably just because I'm a weird mid-century modern fan, and it seemed like I could riff on that mid-century furniture.
Ray is a fence, and he's on the fence as to how far he should go into the criminal world. The whole time we're reading the novel, we're wondering, which side is he going to end up on?
Yeah, the divided self. There's his amoral side and his upstanding businessman, pillar-of-the-community, nice-dad side. I think all of us reconcile our base instincts and our higher selves. And so a fence, in the sense of a person washing illegal goods, is a barrier between the criminal world and a straight world. Once the fence gets it, the bad stuff can be reintegrated into the good society. And so he's in the middle in a lot of different ways.
There's so much in the novel about family. There's Ray's cousin, Freddy, for example, who is his conduit to crime. Can you talk about your thoughts, in the context of this novel, about family and inheritance and trying to shake loose from your past?
Going back to the notion of the divided self, that speaks to a lot of people's personalities and histories Balancing who you are, balancing the house you grew up in and the house you make for yourself, the family you're born into and the family you make—all of us negotiate that in different ways. Families, friends, neighborhoods, and workspaces. It becomes a useful way to talk about all these different things. Law and order, loss of the personal and the communal.
There are so many hierarchies in the novel. Who's educated, who's not, who's poor, who's rich. Does this theme connect to your other novels?
Yeah, capitalism. Money is important in The Underground Railroad. It's the engine that makes America; it's the engine that forces the perpetuation of slavery, because it's so lucrative. There's also the topic of institutional racism in The Underground Railroad and The Nickel Boys.  Here the real power is, of course, real estate because it's New York. And so it's less about institutional racism and more about real estate. Some of my books deal more directly with race and sometimes not at all. In this one, it's always there, because it is always there.
Race surfaces in the work Ray's wife, Elizabeth, does at a travel agency; she helps people navigate the violently racist segregated South. This reaches beyond New York a little bit and highlights the early civil rights movement.
Yeah, those things were going on. The civil rights movement plays out differently in Harlem in 1964 than in Mississippi and Alabama, but it's still there. As a New Yorker, I feel safe here, and sometimes the rest of the country feels kind of weird and crazy. So there's some of that in there, too. Ray and Elizabeth don't actually go anywhere, but her job is to get people safely to where they are going throughout the country.
Harlem Shuffle is full of facts and observations pertaining to the time. What sort of research did you do? Your hero reads three newspapers a day, and it does seem that newspapers were a key source for you.
With newspapers, the goings-on of the city are sort of the background: the mayoral race in 1961, the World's Fair, the riots of 1964. In one page of The New York Times, there's a bit about the World's Fair, and on the opposite page there's an ad for furniture. And the language of the advertising of the time I used a lot, the same way I used facts of different election years or different news stories in the city. I did a lot of research into the Hotel Theresa and department stores. I felt that each time I found something, I would do research and write the scene, until my mom, who lived in Harlem in the Sixties, would go, "Yeah, we ate there all the time, the Chock Full o'Nuts and the Hotel Theresa." So I used her as a resource because she was actually there with my dad, and my dad worked at Blumstein's, the department store on 125th Street. All this stuff I found out after I wrote these different scenes.
Clearly, you conduct a lot of research for your books. What role have libraries played in your life?
I was a very bookish kid, whether it was my school library and being led to the shark section so I could read up on sharks in the wake of Jaws, or later, in junior high, when I was doing my research papers on John Steinbeck and going to the Mid-Manhattan Library. These are natural resources that have helped me when I was a curious kid and a student and now as a writer. I'm always going to digital archives and actual physical libraries like the Schomburg [Center for Research in Black Culture], which is a great resource for African-American history and literature. I'm not sure how people live without libraries, and I'm glad we're opening up again.