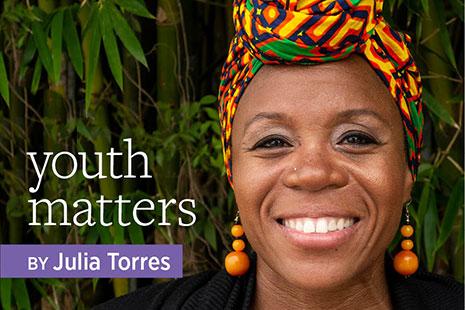 As a school librarian, one of my primary goals is to establish and maintain a robust community of readers. My library serves students from two high schools and three middle schools on a shared campus in the northeast region of Denver Public Schools. Our student population is diverse, with many arriving as immigrants from West Africa, Central America, and the Marshall Islands. Before I was hired to serve the campus of roughly 2,300 students, there hadn't been a school librarian for eight years. There had been a part-time paraprofessional who checked out books, but she wasn't replaced after she left the position and materials went uncirculated. Some students had gone their entire time at school without access to a functional library.
Early on, students would often ask, "Miss, where can I find the ______ books?" I love few things more than finding just the right book for each student. But as the library's lone staff member, suggesting books to those browsing titles can get overwhelming when I'm trying to teach class, check students into the workspace, and circulate materials.
A few days before the 2019–2020 school year began, a colleague suggested genrefication, or organizing the fiction collection by genre rather than alphabetically by authors' last names. The process seemed daunting at first, as our fiction collection includes almost 4,000 physical items. But over the course of five days—with the help of four librarians from the district—we managed to do it. We pulled a list of the library's books and assigned genres to the uncategorized titles. We reshelved books one by one, labeled them with genre stickers, and manually scanned them to make sure our inventory matched. We rearranged furniture in a way that accommodates the size of each genre and the foot traffic it receives. (For more on this process, read my blog post on genrefication.)
Genrefication was a step toward student empowerment and away from reproducing systems of dependency.
When school opened, the magic began to happen. Signage from Follett made it easier for students in the earliest stages of learning English to search for books independently. Books were arranged in ways that moved readers to similar categories—for instance, those browsing the science fiction section were led to dystopia and adventure books. Being able to see that my thriller and horror shelves were sparsely populated motivated me to seek titles in these sections that would be attractive to readers at a variety of reading levels.
I soon noticed an increase in circulation on days when I was teaching classes—when I was not as free to give personalized recommendations—as compared with my teaching days under the old system. I also observed that students were using the campus library to check out books for older siblings returning from college and younger siblings not yet in the school system. Some readers checked out books above their Lexile level after simply stumbling upon them.
Reorganizing the collection was well worth the effort. When Denver Public Schools released yearly circulation statistics for grades 6–12, my library ranked second in the district, which I believe was in part because of genrefication. But beyond the metrics, this effort was a step toward student empowerment and away from reproducing systems of dependency. Students are more likely to participate in the practices of connected reading—encountering, engaging with, and evaluating a text—when they find materials of interest on their own and can recommend them to peers organically, according to Kristen Hawley-Turner and Troy Hicks, authors of Connected Reading: Teaching Adolescent Readers in a Digital World (2015).
Genrefication is a growing trend for good reason. As many schools reopen their buildings for the first time since the pandemic started—or return after summer break—consider if it's the right time to reorganize your collection. By simply rearranging materials in a more intuitive way, we can encourage lifelong curiosity and a love of reading.