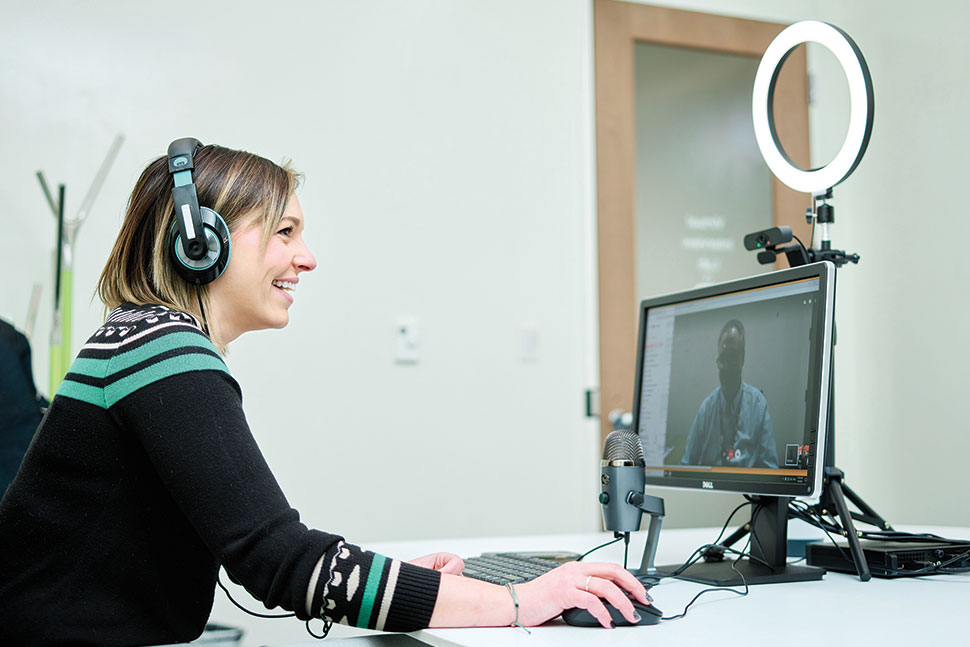 An estimated 19 million Americans—or 6% of the population—still lack access to fixed broadband service at threshold speeds. And as more job interviews have moved online during the pandemic, those without access face a major roadblock to finding employment. That's where Do Space has stepped in. In July 2020, the Omaha, Nebraska–based community technology library launched its Virtual Interview Lab to offer locals access to high-speed internet, reliable computer equipment, and space to participate in job interviews. While the current unemployment rate in Omaha is relatively low at 2.6%, it had peaked in April 2020 at 8.7%, and the nation continues to recover from the highest overall unemployment rate since the Great Depression. For libraries considering replicating Do Space's approach, Technology Manager Michael Sauers offers advice.
As we say on the Do Space website, "The future belongs to those who understand technology, and the only way to ensure we'll be part of this future is to dramatically change technology access and education in Omaha."
Since our opening in November 2015, the nonprofit Do Space has been providing access to a variety of technologies, including a computer lab, laptops, high-speed internet, laser cutters, and 3D printers. We also offer innovative education programs on technological topics for all ages, from toddlers to older adults. Run by the Community Information Trust, a privately funded nonprofit, Do Space offers no-fee membership, and most services are free.
After a temporary closure earlier in the pandemic, we reopened with limited services in June 2020. That meant fewer computers, to encourage social distancing, and converting all in-person programming to an online format. Our meeting rooms stood empty, ripe for repurposing.
Among the questions we asked ourselves: What services did the public need during and beyond the COVID-19 pandemic? And what new services could we provide?
First, the pandemic highlighted the already significant digital divide. Someone interviewing for a job online may lack simple tools such as a quality webcam or microphone, or they may not have the bandwidth at home to successfully videoconference. Worse, they may not have access to a computer at all.
Second, as with the trend toward remote and hybrid work, some form of virtual job interviews are likely here to stay.
With these realities in mind, my colleagues and I converted our small conference room into a single-occupancy Virtual Interview Lab designed to offer the public access to the hardware, software, and bandwidth needed for success.
For hardware, we added a PC and a 27-inch monitor, a 1080p high-definition webcam, a Blue Yeti microphone, a ring light, and headphones. For software, we installed every virtual meeting platform we could think of, including Zoom, Adobe Connect, Microsoft Teams, GoToWebinar, GoToMeeting, and more, placing shortcuts to all programs and online services on the desktop for easy access.
Since opening for bookings on July 1, 2020, the lab has been used by one to five job seekers per week. Members who have used the lab are grateful for its existence. One piece of written feedback we received noted that the room is "ideal, quiet, [has] no distractions," and that the user appreciated the ability to hear and see the interviewers' faces clearly.
Do Space staffers assist members before their interview, helping with setup, adjusting displays, and framing them on-screen when needed.
Have there been glitches? Given that we're dealing with technology, the answer is yes, of course. But luckily these setbacks have been minor. For example, in a few cases, Zoom has needed last-minute updates, which staffers quickly addressed.
Today, Do Space has resumed full-service operations with a mask mandate in place. Because our space needs have changed, the Virtual Interview Lab now sits in a meeting room that is also being used for in-person workshops. But our goal at the lab remains the same: to connect the people of Omaha with the technology they need for a successful job interview.