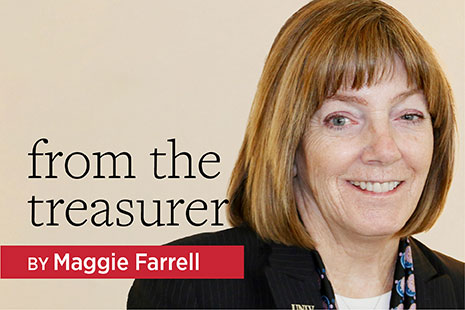 It feels like a lifetime ago that we discussed at the 2020 Midwinter Council meeting the financial concerns of the Association. And then the pandemic hit, affecting our conferences, meetings, and economy. The combination of fewer in-person engagements, flat membership numbers, budget deficits, rising costs, and ongoing societal issues is impacting every member association.
However, as we start 2022—and as my term as ALA treasurer winds down—I have much good news to share regarding ALA's financial situation.
First, the ALA Executive Board, Budget Analysis and Review Committee (BARC), and Finance and Audit (F&A) Subcommittee worked closely with ALA leadership to balance expenditures on the revenue base and adjust them as revenues have fluctuated. For example, during the 2021 Midwinter Meeting Virtual, the finance committees and Executive Board proposed to ALA Council a set of budget objectives for FY2022. Building on Council's previous work to set forth budget priorities contained within the ALA Strategic Plan, these objectives are more focused in guiding ALA staff and member leaders in budget planning. Council approved the following objectives:
align expenditures with revenues
develop budget contingency
increase revenue sources
focus on financial stability
develop budget metrics
This guidance, combined with the Pivot Strategy, is revamping ALA's financial structure. By diversifying revenue streams, focusing on membership, and strengthening contributed revenue, we are stabilizing our current finances and building ALA's future.
Second, additional initiatives—reducing travel, examining staff vacancies, increasing received donations, securing Payroll Protection Program loans with a forgiveness option, transferring ALA Endowment funds with terms, and obtaining low-interest loans—will also benefit ALA's future.
Finally, the strategy of using furloughs directly affected our dedicated ALA staff. While the improved revenue results eliminated the need for the last week of furlough, the FY2021 budget would not have been balanced had it not been for the contribution and sacrifice of each ALA employee. Their commitment to members is deeply appreciated and does not go unnoticed.
This spring, the finance committees and Executive Board will focus on the FY2023 budget with the hope that improved public health conditions will enable more in-person engagements, professional development, and continuing education. Once again, budget directives will be developed to guide the process, along with ALA leadership's budget assumptions, which include a 2% salary increase for ALA staff, no furloughs, 26.5% overhead, and other measures to balance the budget.
I also want to highlight the work of the Operating Agreement Work Group (OAWG), which is tackling a 30-year framework between ALA and divisions. This dedicated and creative group of individuals is challenging the status quo as we strive to think and act as a unified Association with more efficient operating practices that support and engage members. OAWG will be considering draft proposals in spring with final recommendations in June.
As I conclude my term, I want to express my deep gratitude for ALA staff, particularly Executive Director Tracie D. Hall, Interim CFO Denise Moritz, and the entire finance team. I had the pleasure of working with the Executive Board, BARC, F&A, and member leaders who tirelessly work to advance not just the Association but each and every member. Thank you for the honor of serving in this position.