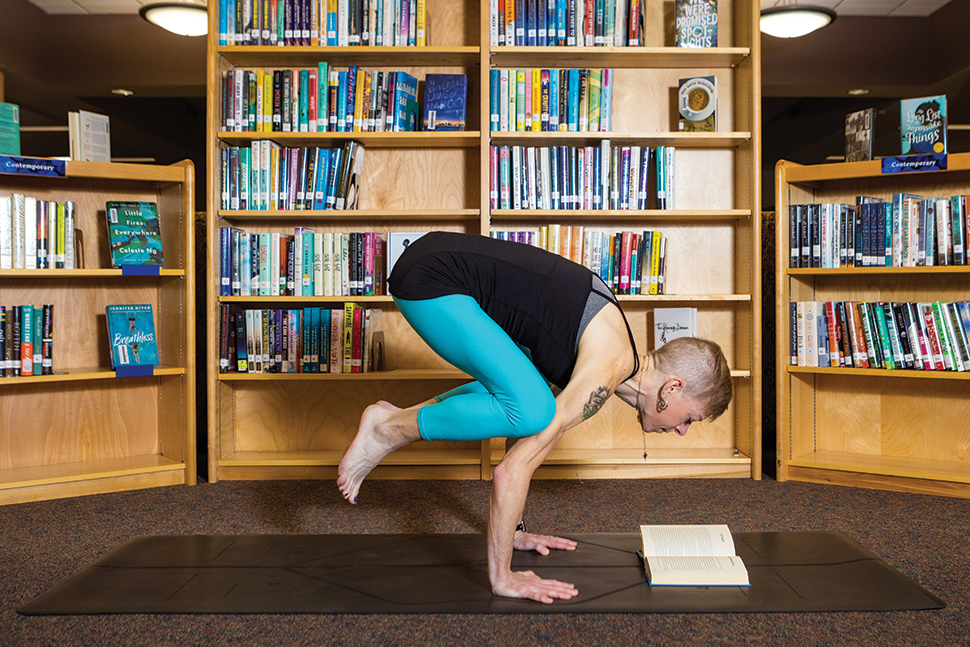 Michelle Schaub believes in the restorative power of movement. So when the library media specialist at Monona (Wis.) Grove High School (MGHS) and certified yoga instructor saw changes in her students brought on by pandemic stressors, she thought that lessons from her yoga practice could help.
"Students have a very rigorous and intense school day based on perceptions of what they should be doing and on the expectations of teachers and their parents," Schaub says. "Adults recognize more readily how we are pulled and stretched in different ways in our time and expectations, but students don't always recognize that."
In October 2021, she began a club at MGHS to teach yoga and mindfulness exercises to students. They meet one morning each week in the library and twice a week in the afternoon, either in the choir room or auditorium, to learn basic yoga poses. Mala Yoga Center in Monona donated 14 mats for the club to use, and Schaub purchased bolsters, blocks, straps, and stereo speakers with a Monona Grove Education Foundation grant. To complement the yoga programming, Schaub created areas in the library for brain-break activities like Lego sets, puzzles, and crafts—"things that allow students to play and step back from the seriousness of work," she says.
The yoga club has been an overwhelming success, Schaub says, and student involvement continues to grow: "We've had great student turnout. It's been small but mighty." Up to six kids participate in each session; Schaub says that's comparable to some adult yoga classes she has taken. Those who do attend seem to want to spread the word. "Every student who comes is grateful for the opportunity and has expressed that gratitude by returning and bringing friends."