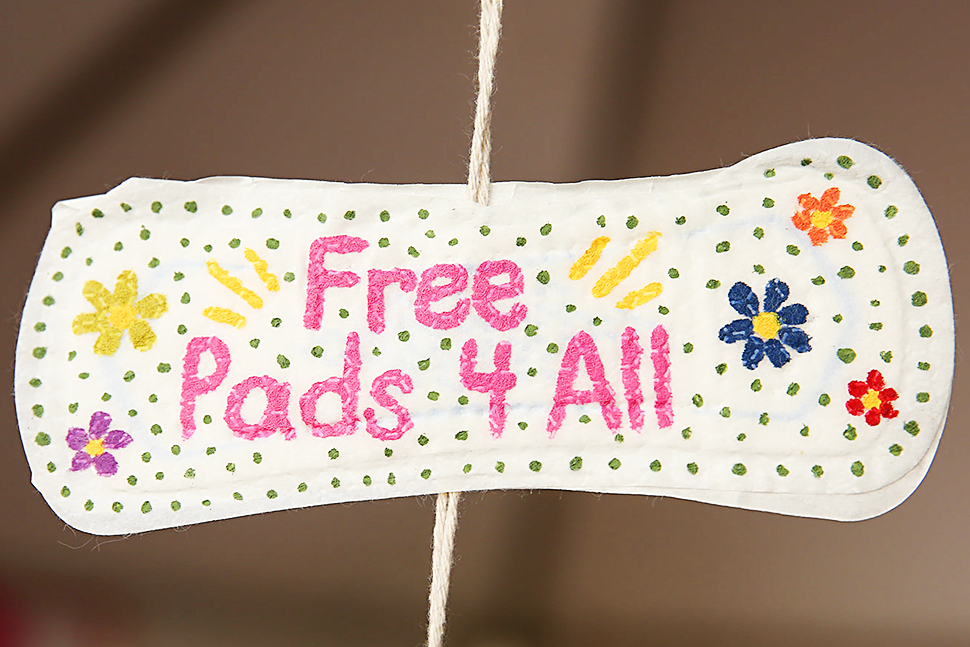 That time of the month." "On the rag." "Shark week."
The euphemisms range from coy to absurd, but library workers and others want to make talking about menstruation—and accessing products related to it—as straightforward and shame-free as discussing hand-washing.
"The products are important, and normalizing the conversation is important," says Eiko La Boria, founder and CEO of The Flow Initiative, a New Jersey–based organization devoted to stamping out social, cultural, and economic inequities associated with "period poverty." She says libraries are a natural partner for her organization's outreach: "I wanted to implement greater access, and I thought, 'Libraries.'"
Accessibility, availability
Currently in the US, menstrual products are not covered by food stamps or federally funded health programs like WIC (Special Supplemental Nutrition Program for Women, Infants, and Children) and SNAP (Supplemental Nutrition Assistance Program). Some states, however, are considering legislation to change that. In the meantime, many people struggle to afford the products, says Amanda Donovan, director of marketing and communications for the eight-location Spokane (Wash.) Public Library (SPL).
"Lack of access can lead to school or work absences and can cause stress and anxiety," Donovan says. When Washington Gov. Jay Inslee signed a 2021 law requiring schools, colleges, and universities to provide free period products in all women's and gender-neutral bathrooms, Donovan decided to build on that initiative. She thought: "We're like a school. They should be free here, just like soap or toilet paper."
Yet La Boria, whose organization works with the 10-location Jersey City (N.J.) Free Public Library (JCFPL) system, says that it's not just about addressing the needs of low-income populations. Affordability is one thing; sheer availability is another. "Menstrual equity has no regard for your socioeconomic status," she points out. "The richest woman on the planet has gone to the bathroom [on some occasion] and not had access to a period product."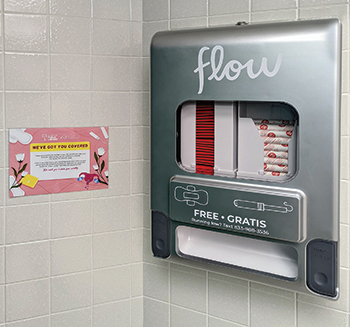 Grants and donations can help cover the costs involved. Rachel Paulus, LGBTQ community outreach librarian for JCFPL, says La Boria's organization received a donation of 40,000 pads in June 2021 from U by Kotex via the Alliance for Period Supplies—which donates period products to women in need. These pads were subsequently distributed throughout JCFPL's branches. In addition, medical supply company Hospeco donated dispensers, installed them at cost, and provided an additional 1,200 products for free.
For libraries that need to start from scratch, Jillian Martinson, audience development manager for Elkhart (Ind.) Public Library (EPL), says Friends groups are a good resource when grants are unavailable. EPL's Friends group provided funding for the library system's five locations, allowing Martinson to buy everything she needed from menstrual supply company Aunt Flow.
"We use $200 dispensers that include tampons and pads, and there are 500 of each product in each [dispenser]," Martinson says. "For a year, for all five locations, it costs $2,400." She adds that for libraries without funding, Period.org—an organization created to provide menstrual products to communities in need—may be a possible resource.
SPL's Donovan, who also buys supplies from Aunt Flow, used her facilities budget to cover the expense of providing period supplies. "We prioritized and normalized this practice by including it in our budget, just as we would for toilet paper or soap," she says.
Information, please
One challenge, Donovan says, was her own discomfort with the subject. "It was a mental roadblock for me," she says. "I had to get up the courage to bring it up and to talk about periods to these male managers."
Paulus says some people also questioned the need for free period products. "You just have to educate people," she says. "It affects people everywhere. Seventy percent of teen girls say they miss class because of something period-related. I want to pass on this information so people can think about it."
The educational component is also about wording that removes stigma from periods, Paulus adds: "Male staff asked if we could [use other words], like 'sanitary products.' And I said no. Periods are periods. That's what it's called."
Martinson says it's also important to include period products in all restrooms—not just those designated for women, so that trans men and nonbinary people will also have access. "It's about providing dignity," she says. Pads and tampons at her library are clearly labeled menstrual products, not feminine hygiene products. "We also have signage that talks about moon cycles," she says, "so people can ask about this without calling attention to themselves."
Library guests may have different comfort levels when it comes to talking about and asking for period products. "No matter how progressive you are, [talking about them] may feel private," Donovan says, "so we hang a bag of products in the all-gender stalls, the wheelchair stall, the men's rooms, and the staff restrooms." She also placed discreet signage throughout the library, indicating products are available.
La Boria says for these programs to have wider success, the conversation needs to be opened to everyone. "You have to include men," she says. "The majority of elected officials are men, and these are the people you have to lobby to and speak with." She is creating a step-by-step toolkit that she hopes to make available via social media to help as many people as possible.
Ultimately, Donovan adds, the goal is to normalize the conversation about periods. "We're setting the example," she says. "We're hoping other libraries follow suit."