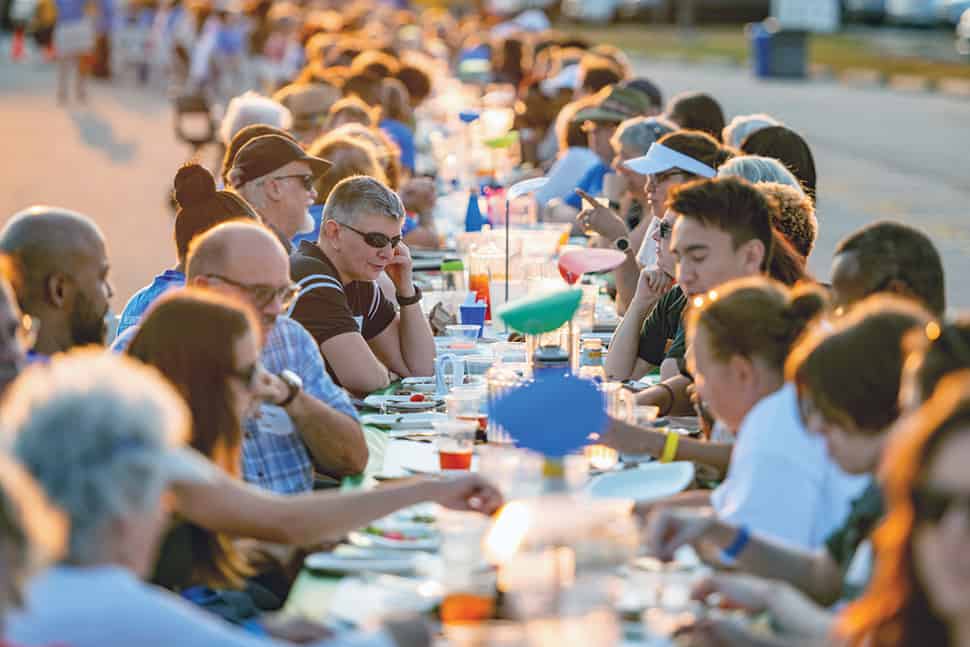 Attendees of the May 2019 Longest Table brunch hosted by Harford County (Md.) Library System weren't simply fed; they were nurtured. That's because the day wasn't just about a shared meal of eggs, pancakes, and fresh fruit. It was also about community.
The origins of these events can be traced back to communal meals such as the World's Longest Lunch, held annually across Australia. In 2015 the first Longest Table meal served 400 people along a two-block stretch of downtown Tallahassee, Florida. That inaugural evening was organized by city and county leaders, local nonprofit The Village Square, and Leadership Tallahassee. Then-Tallahassee Mayor Andrew Gillum imagined the night as a way to bring members of the city's diverse communities together—in the wake of the 2014 riots in Ferguson, Missouri, and the 2012 murder of Trayvon Martin—to let their guard down and speak openly and civilly with one another while sharing food.
Longest Table meals have since spread to libraries across the country. Mary Hastler, CEO of Harford County Library System, says she got the idea from nearby Howard County (Md.) Library System's first Longest Table event in 2017. Christie P. Lassen, director of communications and partnerships at Howard County Library System, says she was inspired by the Tallahassee event and another in Dayton, Ohio. Lassen's library has now hosted three dinners, including one on September 21 that drew 231 guests. Typical fare includes chicken and vegetarian entrées, salad, bread, and dessert.
Both Howard and Harford counties' events are organized under the umbrella of Choose Civility, a library-led initiative that values diversity, respect, compassion, and empathy as essential to the community's quality of life, according to choosecivility.org.
The best part of the Harford County brunch, based on attendee comments, was the camaraderie. "I learned a lot from people who have different backgrounds and experiences," said one guest. Another wrote that the day was "a wonderful opportunity to discuss my home with people I don't usually get to speak to."
In September 2019, Amy Rodda, director of adult services at Pikes Peak Library District (PPLD) in Colorado Springs, Colorado, made Longest Table part of the 40th anniversary celebration at its Fountain branch. And Brian Shepard, executive director of Indian Trails Public Library District in Wheeling, Illinois, says he plans to host his first Longest Table in 2020. "The Longest Table, for me, came from trying to find a way to bring our community together to facilitate civic engagement and conversation and break down walls between people," he says. "There's a lot of power in bringing people together over a meal."
Organizing and funding an event like this requires extensive planning as well as coordinating the calendars of several stakeholders, says Hastler. She adds that local Minor League Baseball team the Aberdeen IronBirds hosts Harford County's Longest Table brunch events in its stadium when there's no game scheduled.
"There's a lot of power in bringing people together over a meal." —Brian Shepard, executive director of Indian Trails Public Library District in Wheeling, Illinois
For the past three years, Lassen has partnered with Howard Community College, which hosts the dinners in its parking lot. Space, however, is only one part of the puzzle. Libraries say the funding for these events comes from a combination of grants, ticket sales, private donors, and in-kind donations.
"We probably have a $10,000 budget range, and a good part of that is food," Lassen says. Lassen and Hastler have each received $5,000 grants from Maryland State Library as part of the Choose Civility initiative. To supplement her funding, Lassen was helped by a local business donor as well as the library's Friends and Foundation. She additionally offsets costs by charging $10–$15 admission, although free tickets are made available. Event costs can also vary widely: The dinner budget at PPLD's Fountain branch was $1,800, which covered catering plus table and chair rentals, Rodda says.
Setting the Table
Rodda, whose 90-person dinner was free to the public, says the conversation is what makes the events special. PPLD assigns random seating to encourage new interactions. "If people came with family members or spouses, we tried to spread them out," she says.
Lassen says that in addition to random seating, it's important to keep guests in their chairs. She has her meals served family-style, with large plates of food passed from person to person. "That's meant to foster interaction and discourage people from moving around too frequently," she says. "We wanted that to encourage conversation." Howard County also recruits "table hosts" and strategically places them to promote interactions. "They get some training and help ahead of time to facilitate the conversations," Lassen says. Table runners have questions on them to make sure diners always have something to talk about. For her most recent event, Lassen also added a social hour before dinner, with a pop-up library, games, and an interactive public art piece.
Overcoming challenges
No matter how much planning goes into the event, the one thing that can't be predicted is the weather. "We had this long table set up outside, and of course at the 11th hour, it started raining," says Alicia Gomori-Lusker, manager of PPLD's Fountain branch. "We had to drag the tables into our meeting room."
Lassen also had to make certain modifications. "The first time I saw the setups with all the tables, I just got goosebumps." says Lassen. However, one long table with no breaks created some navigational issues. "If you needed to get from one side to another, you had to walk around or crawl under," she explains. For the following year, her team created short breaks so that caterers could get through, while still maintaining the appearance of one long table.
Success stories
Challenges aside, librarians say they have been pleased with the results. "People literally would have stayed there all night if they could," says Gomori-Lusker. "I've gotten a lot of positive feedback. And I was amazed at how easily people were able to talk."
Hastler said that seeing her community eating together was well worth the efforts spent making the meal happen. "We were really happy to see 150 people attend," she says. "And what struck me the most is the structure of the event. If you walked up and down the tables, people were really talking about the challenges we face as a community, and it ran the gamut from 20-something millennials to grandmas. And it resonated with them. Entire groups were raving about what this meant to them. And they said they met people they would not have otherwise met. It was an incredible day, and it helps us focus on what we can do together."