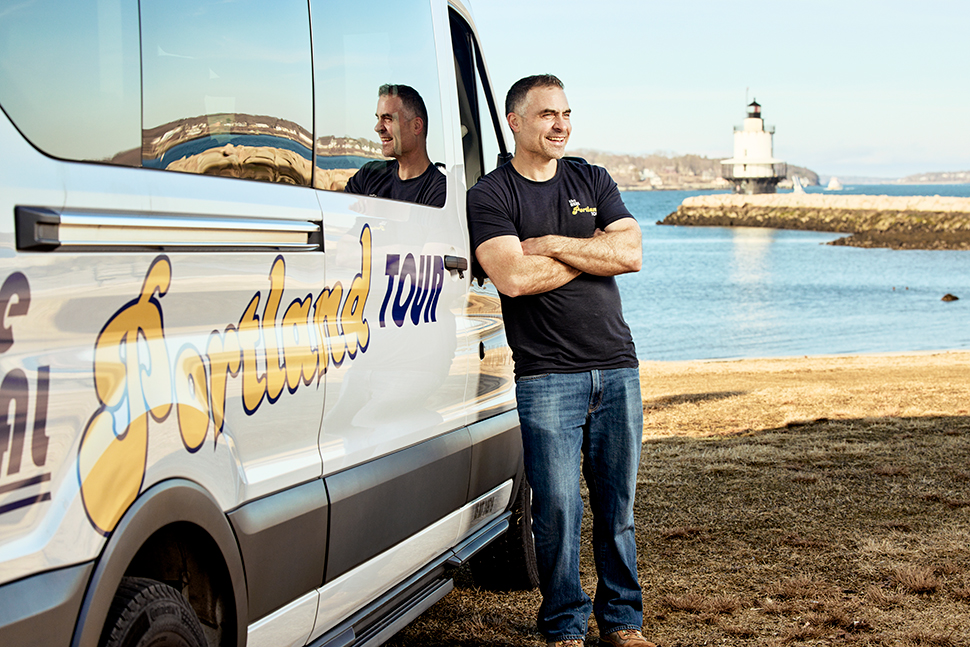 If you find yourself in Portland, Maine, between May and October, Derek Meader will drive you around. In 2018, he started The Real Portland Tour, a sightseeing experience as authentic as they come.
"You're gonna get on a tour with a real local, born and raised," says Meader, who is also reference librarian at Southern Maine Community College (SMCC) in South Portland. "The route literally goes by where I work [and] my high school."
During the two-hour excursion, the tour van stops at three lighthouses, including Spring Point Ledge (pictured), a 54-foot sparkplug-style structure adjacent to the SMCC campus. The jocular Meader spouts trivia (for instance, Portland was the birthplace of Prohibition, had the first commercial chewing gum factory, and has burned down four times), poetry (his own spoken word and bars from admired local Henry Wadsworth Longfellow), and even some family history (Meader's sixth great-grandfather was the first colonial officer to die in the Revolutionary War).
Over the years, Meader has had customers from all 50 states and as far away as the North Pole. Memorably, one July, the New England Santa Society boarded his van in red suits and beards. "That was the jolliest group I ever had," he says.
Meader says he's lucky that his jobs complement each other; academic librarianship gives him flexibility to run a summer business and the know-how to verify facts. Still, he never predicted he'd take this path. "My whole life was baseball," says the former Division I collegiate player, who got an MLIS after injuries dashed his big-league dreams. "But I knew that I liked researching [and] helping people with their research and helping people find things," he says. "It's funny how it all worked out."