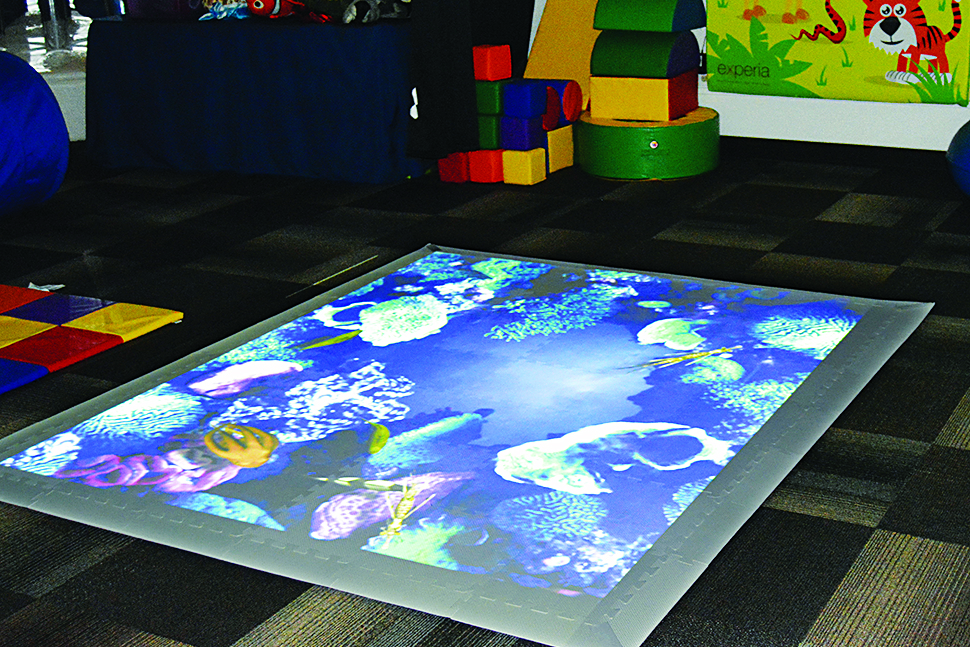 Libraries are making room for sensory spaces, which give library users with autism, sensory processing disorders, and other disabilities a place to experience the library more comfortably. Finding the right items for a space that encourages both quiet meditation and sensory exploration can be difficult. Here, we talk with workers from three libraries about products they offer in their sensory spaces.
Experia USA Interactive Game Floor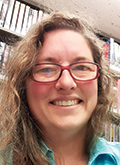 User: Deborah Long, assistant director, Louisville (Ohio) Public Library
What is the Experia USA interactive game floor? The game floor uses a computer with a motion sensor and a projector to display educational and sensory games on a foam mat. The motion sensor allows the software to react to the player's movements. Ours was put together by Experia USA, which designed and sourced our sensory room.
How is it used in your library? We use it during sensory storytimes as a reward for tweens after their programs and for adults during chair yoga (where they dangle their feet in a simulated koi pond and the water ripples and the fish react). We also use it when patrons make appointments to use the room.
What are the main benefits? This is easily one of our most popular pieces of sensory equipment. It's not only hugely fun, but it also engages gross motor skills. Players can jump in a pile of virtual leaves, create fireworks on the mat, play a piano or a game of soccer, or just make beautiful patterns with their movements. My daughter, who is autistic, loves a game where you step on a virtual lever to make a dragon eat up balls (similar to Hungry Hungry Hippos). All the games require broad movements, and some layer educational content like the alphabet or the solar system onto that movement. Our patrons in wheelchairs are also able to play.
What would you like to see improved or added to the product? Turning it on can be a chore—we use a long stick to reach the power button on the computer mounted to the ceiling. By design, the system is not on the internet all the time, so updates are difficult. The sensor also requires recalibrating on a regular basis. More frequent additions to the game library would be helpful; some patrons come for appointments weekly, and they sometimes want to try something new.
Alpha Egg Chair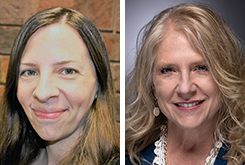 Users: Tanya Gunkel, educational materials center librarian, and Ann Murphy, director of disability services, University of Wisconsin–Stout in Menomonie
What is the Alpha Egg Chair? This type of chair, where sound gets muffled and diffused a little bit, came up in our research on sensory spaces. It helps ease sensory overload by reducing external noises. You really feel like you are in a cocoon.
How is it used in your library? The intention of the sensory room is for it to be a place to unplug and unwind. Students who are experiencing anxiety or have autism, or any students who want to go in and have just a quiet, meditative space, are using the chairs. Faculty and staff have come in to use them, too. The chairs swivel, and we often see the chairs turned to face the wall so the person inside isn't facing the room.
What are the main benefits? One of the real benefits of the chair is having your own space. On tours, students and parents have commented that the sensory room is one of their favorite places on campus, and parents have asked if they could come back to school just to use the chairs.
What would you like to see improved or added to the product? I think that for a lot of libraries the cost of these chairs would be a heavy lift without partners to share the expense. We partnered with campus disability services and Stout Student Association and received funding through the chancellor's office. We'd also like to see a more durable interior fabric. We're already seeing some pilling after about a year of use.
Vibro-Acoustic Platform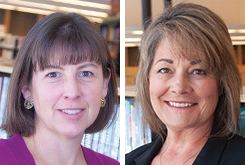 Users: Lynn Johnson, director, and Colleen Olive, youth services librarian, Lewiston (Idaho) City Library
What is the Vibro-Acoustic Platform? It is a vinyl-upholstered bench equipped with Bluetooth speakers, mounted underneath the platform, that create a pulse that can be felt through the entire body when music is playing. When wearing headphones, patrons can listen to music streamed from a Bluetooth-enabled device and feel the vibrations.
How is it used in your library? Patrons use this bench as a tool to reduce stress and anxiety. We have it in our sensory-friendly meeting room, which is also equipped with fluorescent light filters and soothing hues. Patrons who are neurodiverse and may feel overwhelmed in a library environment use the bench to help bring calm and focus, allowing them to spend time among their peers in a public setting. The Vibro-Acoustic Platform is used daily and has been very well received.
What are the main benefits? The platform has become a welcoming tool for an otherwise underserved population. Parents and caregivers have said that they appreciate having a place to go in the community that provides unique accommodations for children who are living with sensory sensitivities. Sensory products can be expensive, so providing this to our patrons has been a substantial benefit to the community.
What would you like to see improved or added to the product? Simplifying the process of connecting a music device and making the bench itself sturdier would be a welcome improvement. We'd also like to have upholstery options in colors other than white.