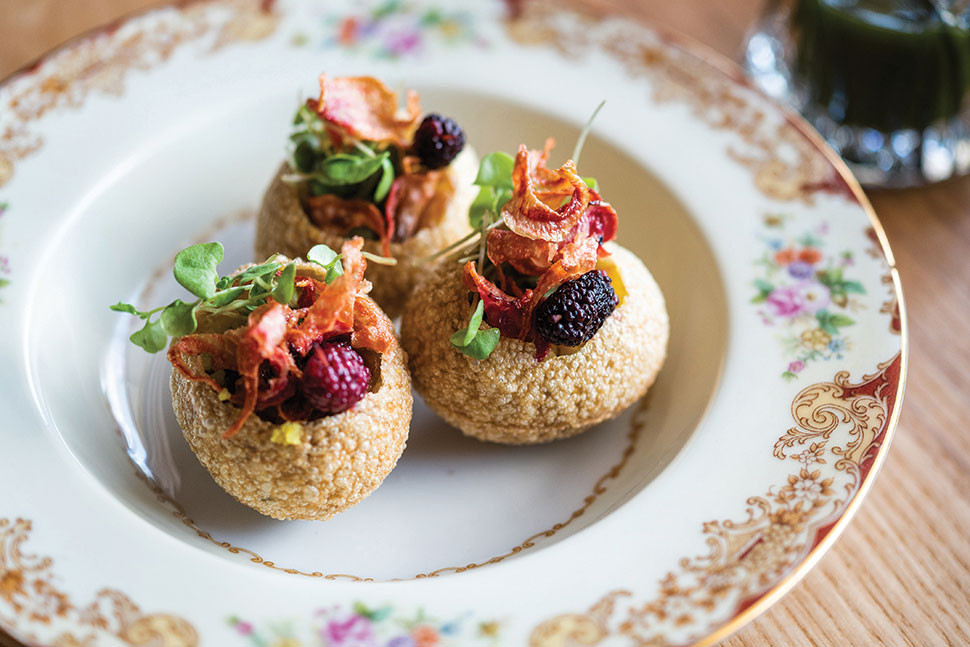 From the thick, humid air rolling off the river onto wrought-iron-wrapped ­balconies to clanking streetcars and rollicking brass bands, New Orleans is a sensory feast. Make that a tasty sensory feast—I'd bet food is one of the first words out of anyone's mouth when you mention you're going to the Big Easy for LibLearnX (January 27–30). Eating there is as much about diverse cultural influences as it is about the social culture of cuisine and community. If you find yourself talking with strangers, swaying to live music, or taking inventory of the strange trinkets on the back bar during your meal, you're doing it right—because honestly, it's hard to go wrong with the food.
As coauthor of the updated 2024 edition of Frommer's EasyGuide to New Orleans, I've compiled this intentionally eclectic selection of restaurants near the convention center (and close by, in the French Quarter) with something for everyone, plus some farther-away destinations to take you a little deeper, doable by rideshare or even public bike. Make dinner reservations where possible, and make sure to pack a jacket—that humidity hits colder than you might expect in the winter months, though an expertly mixed cocktail will do the trick as well.
Near the Convention Center
Carmo
527 Julia St.
504-875-4132
cafecarmo.com
Centering on a theme of tropical food opens up a world of Caribbean, West African, Southeast Asian, and Latin American flavors here, sustainably sourced with Gulf Coast ingredients. A beans-and-rice staple dish changes daily, as does the curry. Soups and salads are hearty, juices plentiful, desserts inspired, and proteins organic (and inclusive for vegans, pescatarians, and meat eaters). The ceviche and sashimi menu is one of the most eclectic in town with its blend of Japanese and Peruvian styles—cured, smoked, fermented, and ever-fresh. Happy hour is 3–6 p.m. daily; there's live jazz on Fridays and Saturdays with dinner. B, L, D (Tue–Sun) $–$$
Cochon Butcher
930 Tchoupitoulas St.
504-588-7675
cochonbutcher.com
As the name suggests, butchering and curing meat—as well as smoking it—happens onsite, resulting in superb small plates and world-rocking sandwiches. The boudin sausage is the best east of Acadiana (Louisiana's Cajun Country); the muffuletta may surpass Central Grocery's (which sustained damage from Hurricane Ida in 2021 and temporarily closed, so check for updates before visiting); and the pork belly with cucumber and mint is wondrous. Get the vinegary marinated Brussels sprouts, the dreamy mac and cheese, and don't hold back on starting with a fresh sausage plate if you're with a group. Counter service with no reservations, but the casual, high-top tables, which spill out onto the street via garage-style doors, turn over quickly. L, D daily $
Compère Lapin
535 Tchoupitoulas St. (in the Old No. 77 Hotel)
504-599-2119
comperelapin.com
Top Chef alum and Saint Lucia native Nina Compton blends Caribbean, French, Italian, and Creole influences into playful, award-winning dishes, uncompromising in quality. Check out the popular curried goat with sweet potato gnocchi, the hamachi tartare with jerk pineapple and fried okra, and the scallion and jalapeño hushpuppies with cilantro crema. Don't miss the baked-to-order biscuits with bacon and honey butter. D daily $$–$$$
Meril
424 Girod St.
504-526-3745
emerilsrestaurants.com/meril
This is Chef Emeril Lagasse's casual, spacious, and reasonably priced concept restaurant, and it bustles. The focus is on internationally inspired small plates and creative cocktails. Meatballs come with lemon-whipped ricotta, pomodoro, and toasted breadcrumbs; fried turkey necks get spiked with hot sauce. A good variety of salads, sides, and flatbreads makes this spot a crowd pleaser. Brunch (Sun), L (F), D daily $$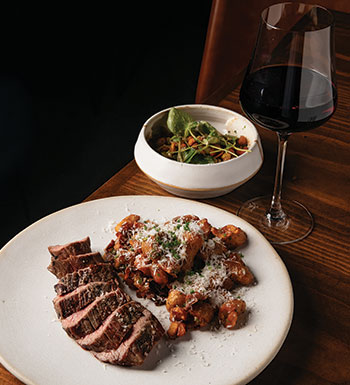 Le Chat Noir
715 St. Charles Ave.
504-381-0045
lechatnoirnola.com
Newly opened in 2021, Le Chat Noir kept the name of its former iteration as a cabaret theater but instead became a restaurant. Now the stage is an open kitchen, and the orchestra pit holds a wood-fired oven. Breakout stars are roasted vegetable sides and an already-legendary brick chicken (one person referred to it as "fowl magic"). Chef Seth Temple—a native of Lake Charles, Louisiana, near the Texas border—is focused on sustainability, sourcing 70% of ingredients locally through direct-to-farmer relationships. Oysters at the stand-up shucking bar are served cold and clean; the wine list is classy and affordable. Don't skip dessert. D (M–Sat) $$
Pêche
800 Magazine St.
504-522-1744
pecherestaurant.com
There's nary a dud on the menu of this uber-popular, award-winning spot, known for its contemporary and rustic wood-fired seafood dishes. The raucous room works best for plate-sharing parties, not dates or deep convos. Ordering from all sections of the menu (including the raw bar and large for-the-table specials) is the way to go. Start with beer-battered fish sticks and get the whole grilled fish; pair them with great craft beers and Eurocentric wines. Reserve well in advance for a table, though you can likely snag a single or double spot at the bar if you hover. L, D daily $$–$$$
Vyoone's
412 Girod St.
504-518-6007
vyoone.com
Enter through a narrow hallway, discreetly tucked into one of the busiest blocks for destination restaurants in the Central Business District, and you'll find a charming French Quarter–style courtyard spot serving up French Creole favorites. Fourth-generation New Orleanian Vyoone Segue Lewis will likely greet you (unless it's a Saints game day, in which case she's at the Superdome). A classically trained musician and former pediatric geneticist, she was motivated to become a restaurateur by her passion for cultural preservation, sharing the dishes she grew up with, and pure hospitality. The French onion soup and shrimp and grits have won awards. Brunch (Sun), D (W–Sat) $$–$$$
The French Quarter
Antoine's Restaurant
713 St. Louis St.
504-581-4422
antoines.com
The oldest family-run restaurant in the country, Antoine's is anything but modern. But the definitive New Orleans dining experience is worth it (especially for the prix fixe three-course lunch, dinner, and brunch menus at $22, $60, and $38 respectively). Go for classics, drama, puffy soufflé potatoes to share, and oysters Rockefeller, a dish invented here. Make sure to ask to see the back rooms, a living museum filled with scepters, crowns, and sketches from the high-society origins of Mardi Gras celebrations in New Orleans, where the mystic parade krewes (and secret celebrity diners) still gather for private meals. There is a dress code, though the Hermes Bar onsite offers more casual access for a drink and some small bites. Brunch (Sat, Sun), L (M, Th, F), D (M, Th–Sat) $$–$$$
Café Sbisa
1011 Decatur St.
504-522-5565
cafesbisanola.com
Established in 1899, this atmospheric stunner sashays with original woodwork, an intimate balcony, and courtyard patio dining. Chef Alfred Singleton's outstanding French Creole cuisine includes bayou crab cakes and an amazing turtle soup laced with sherry, served under the watchful eyes of a bawdy George Dureau mural. During Sunday brunch, live jazz fills the restaurant, providing a wonderful ambiance for such Creole classics as crawfish étouffée omelet, shrimp and grits, and catfish almondine. Reserve a table on the balcony for alfresco dining. Brunch (Sun), D (Th–Sat) $$
Cane & Table
1113 Decatur St.
504-581-1112
caneandtablenola.com
C&T's sophisticated, faded decor is marked by perfectly distressed plaster and brick walls, sparkly chandeliers, a gleaming white marble bar top, and a slim, sexy patio. But rum is the star attraction, mixed with house-made ingredients and squeezed-to-order juice by some of New Orleans' most revered craft cocktail pros. The fruity Hurricane & Table is a solid bet, but don't pass up the seasonal cocktails where the mixologists flex their creativity. Excellent small and large plates follow the Latin and Caribbean tide: Share the tostones but bogart the crispy ribs. There is no sign; it's next to Coop's Place. Brunch, L (Sat, Sun) $, D (W–Sun) $$
GW Fins
808 Bienville St.
504-581-3467
gwfins.com
This impeccable modern seafood shrine is one of the city's best restaurants, period. Ultra-fresh fish is picked up dockside and served in stylish preparations like the signature original scalibut, thin-sliced sea scallop "scales" atop grilled halibut on Royal Red shrimp risotto with snap peas and pea shoot butter. The catch hits the kitchen by 4 p.m., changing the menu daily. Order the pretzel-crusted salty malty ice cream pie, even if you have room for only a bite. D daily $$–$$$
Irene's Cuisine
529 Bienville St.
504-529-8811
irenesnola.com
Owned and run by Irene DiPietro, whose family emigrated from Sicily to New Orleans in 1956, this relatively underground French Quarter institution serves delectable pastas and sauces and delicious, unfussy French Provincial and Creole–Italian dishes that have been on the menu for decades. There's duck St. Philip with raspberry-pancetta demi-glace, shrimp and crawfish fettuccine, and seemingly simple chicken rosemary—marinated, par-cooked, remarinated, and roasted—that is nearly perfect. Plan for a wait, even with ­reservations. D (Tue–Sat) $$
Jewel of the South
1026 St. Louis St.
504-265-8816
jewelnola.com
At this upper-Quarter gem, everything is truly jewel-like, from the exquisitely prepared cocktails (no surprise—the owner is legendary, award-winning New Orleans bartender Chris Hannah) to the demure dining room and come-hither courtyard. While the bar team is intentional, passionate, and proud of their work, they're not precious. Patrons interested in ­mixology are willingly indulged; those with an appetite can enjoy finely plated modern tapas and caviar; those who come for fun or flirtation will find their needs fulfilled by the Best Restaurant Bar in America, an honor bestowed in 2022 by the Tales of the Cocktail Foundation (Hannah won Bartender of the Year, too). Brunch (Sun) $, D (W–Sun) $$–$$$
Latitude 29
321 N. Peters St. (in the Bienville House Hotel)
504-609-3811
latitude29nola.com
When rumors first arose that Jeff "Beachbum" Berry was moving to New Orleans to open up a bar/restaurant, the bartending community was ablaze. After all, Berry literally wrote the book on tiki. That the cocktails would deliver was never in doubt, but Latitude 29 succeeds because it's all the tiki you could hope for and less: There's bamboo-and-thatch decor, but it's understated; the made-for-sharing rum bombs in bowls and giant clamshells are nuanced and ingredient-driven. The fare ranges from classic Hawaiian (Spam musubi, macaroni salad, and Loco Moco) to vegetarian chickpea curry and Filipino-style egg rolls. Don't worry—there are pork ribs, a burger, and fries too. Wait for a cozy bar stool that you'll want to sit at for a while. D daily $$
Saint John
1117 Decatur St.
504-581-8120
saintjohnnola.com
Chef Eric Cook is a man of his people, born and raised in New Orleans and sticking with it—feeding troops through Hurricane Katrina and emptying out his freezers to feed frontline workers during the worst of the pandemic. Currently, he helms two of the best restaurants in the city—Gris-Gris, in the Lower Garden District, and Saint John, named Louisiana Life magazine's best new restaurant of 2022. Basic Creole standards are anything but. You can't make a mistake here, but the oysters three ways, gumbo du jour, and deep-fried whole fish are personal faves. Cocktails rock, and the wine selection is solid and sweet; brunch is a great deal. Brunch, D (W–M) $$–$$$
Destinations
Bywater Bakery
3624 Dauphine St. (Bywater)
504-336-3336
bywaterbakery.com
This casual breakfast and lunch spot is a treat, with delicious pastries, scrumptious savories, cool local art, and musicians frequently popping by to play. Try the breakfast gumbo (chicken-andouille filé gumbo with scrambled eggs over grits), the Cuban sandwich, or the local-to-New Orleans ya-ka-mein noodle soup using Chef Linda's famous recipe with permission, no less. You're lucky to be here during the Mardi Gras King Cake season, and Bywater offers the most flavors anywhere, both savory (crawfish au gratin, boudin, and spinach artichoke) and sweet (their signature berry and fluffy mascarpone Chantilly concoction is a must). B, L (Th–M) $
Café Reconcile
1631 Oretha Castle Haley Blvd. (Central City)
504-568-1157
cafereconcile.org
This culinary training ground serves grilled or fried catfish plates, jerk chicken, fried green tomatoes, po' boy sandwiches, and other sturdy New Orleans soul food while supporting a paid-workforce training program that prepares the next generation for careers, college, and life. Bright and friendly, the café attracts a cross section of lunch-going New Orleanians and visitors alike, so conversation buzzes. L (Tue–F) $
Casamento's
4330 Magazine St. (Uptown)
504-895-9761
casamentosrestaurant.com
Probably the best "erster" joint in the city, Casamento's takes its oysters so seriously that it simply closes when they're not in peak season. (Well, Gulf oysters are always in season nowadays, but everyone needs a vacation.) The subway-tiled restaurant has been family owned since 1919. The oysters are scrubbed clean and well selected, and the shucker is a hoot. (If you dare him, he'll shoot a bivalve into your mouth from across the room.) Take the plunge and order oyster loaf: a whole loaf of bread fried in butter, filled with oysters, then fried again to seal it. L (Th–Sat), D (Th–Sun) $
Dooky Chase
2301 Orleans Ave. (Tremé/7th Ward)
504-821-0600
dookychaserestaurants.com
The late Leah Chase—chef, hostess, activist, educator, and proprietress of Dooky Chase since the 1940s (founded with her late husband Dooky)—was a visionary who knew that food and grace could change the world. The Chases created a welcoming place for Martin Luther King Jr. and other civil rights leaders to dine and work; it's where Sarah Vaughan, Nat King Cole, Ray Charles, and others hung out at all hours. Chase won just about every culinary award in existence, and after Katrina decimated the restaurant and Dooky passed, she persevered, "cooking with love" and making immeasurable contributions to New Orleans and the whole country. After her death at age 96 in 2019, younger Chases are continuing to offer traditional Creole cooking and a neighborly vibe. Come on a pilgrimage for the hallowed history and stay for the fried chicken, a contender for the city's best. L (Tue–F), D (F, Sat) $$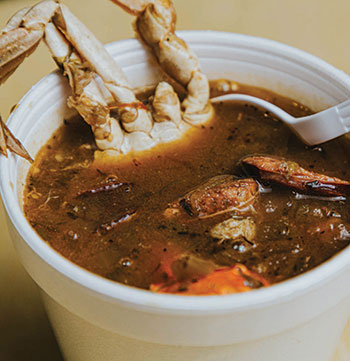 Li'l Dizzy's Café
1500 Esplanade Ave. (Tremé)
504-569-8997
lildizzyscafe.net
This Tremé mainstay is another quintessential family-owned neighborhood restaurant, resurrected (to the city's great relief) by Wayne Jr. and his wife, Arkesha, after founder Wayne Baquet Sr.'s retirement in 2021. It's warm and lively with locals and homecomers sitting elbow to elbow, satiating their cravings for fried chicken, seafood gumbo, bread pudding, greens, and candied yams under photos of Barack Obama, Oprah Winfrey, and other celebrity visitors. The trout is a standout daily special, a delicate fillet topped with garlic-butter sauce and lump crabmeat. B, L (M–Sat) $
Mister Mao
4501 Tchoupitoulas St. (Uptown)
504-345-2056
mistermaonola.com
Abandon all culinary rules and expectations, and you shall be rewarded. Globe-hopping flavors zing off the teal tiger mural, zebra rugs, and grandmotherly tableware in bewildering, refreshing, and sometimes riotous ways. A section of the menu lists items at the far end of the Scoville scale—steer clear if heat is not your thing. Try the enchanting pani puri—crispy lentil popper cups filled with potato masala, pickled blueberries, and mint water. The menu changes often, but octopus and scallop preparations are consistent. Servers are kindly, cognizant guides through the menu and equally eclectic wine list. Consider it if you're heading to Tipitina's for music; it's just a short hop away. Brunch (Sun), D (M, Th–Sun) $$
Queen Trini Lisa
4200 D'Hemecourt St. (Mid-City)
504-345-2058
queentrinilisa.com
Owner and chef Lisa Nelson brings the African, East Indian, and Asian flavors of her native Trinidad and Tobago to what many refer to as the northernmost city in the Caribbean. Her barbecue-style chicken is award-winning, and her doubles (curried chickpea stew between two pieces of fluffy flatbread) are perfection. Nelson spent nearly a year refining her recipe for that classic Trini street food and serves it in a bigger, meal-sized version than you find in Trinidad. Look for the coco bread fish sandwich or seafood doubles on special in her bright brick-and-mortar eatery, which she opened in early 2022 after years of popping up around town. Get an extra hibiscus tea to go; you'll be craving it later. L, D (Tue–Sat) $
---
Catch 'Em If You Can
What other cities refer to as street food vendors are called pop-ups in New Orleans, and they come in various forms: food truck, pickup truck, a folding table and some propane, someone else's kitchen, or even a bike (see Taco Bike NOLA). They're temporary, informal, and—just like a brass-band second-line parade—signals that you serendipitously have found yourself in the right place at the right time.
Chef Linda, the Ya-Ka-Mein Lady (neworleanssoulfood.com) After more than 20 years as the guardian of her family recipe for ya-ka-mein soup (aka "meal in a bowl," aka "Old Sober," aka "one of New Orleans' best-kept secrets"), Chef Linda is receiving the national fame she deserves (see the New Orleans episode of Netflix's Street Food USA). Try the soup, yes—but buy a ticket for whatever else the chef is offering to take the full ride. $
Dakar Nola (instagram.com/dakarnola) Senegalese-raised Chef Serigne Mbaye's West African food with a Creole twist reflects the deep cultural connection between Senegambia and New Orleans. His pop-up is a tasting-menu dinner event, held in different temporal locations around town—many times in collaboration with other notable chefs—where some true magic happens. $$$
Hatch and Harvest (instagram.com/hatchandharvest) You'll never know what's on the ambitiously rotating menu of fish, meat, and veggie options with delectable sides (smashed red potatoes, Peruvian white bean salad, apple fennel cabbage slaw), but you can count on the presence of roasted Hatch green chiles and egg rolls (a wait, but worth it). $
Only Flans (instagram.com/onlyflansbychefely) Ely Navarro Hernandez's mom's flan was a standout hit at her Cuban dinner pop-up during the pandemic, but she's a savory-leaning chef. She has found a way to blend the two ideas by creating an "only" that allows her to experiment with other ingredients and flavors (sweet potato, cinnamon, even squid ink) while maintaining the creaminess of flan. You can still get the classic sweet version, too. $
Southerns Food (instagram.com/southernsfood) On a mission to make "the best fried chicken sandwich in all of New Orleans," friends Gene Colley and Anthony Cruz took home the gold at the 2019 NOLA Fried Chicken Fest for the best use of chicken in a dish. Simple, crispy, juicy, and topped with perfectly sliced pickles, the sandwiches can be ordered with varying levels of Nashville-style heat. Call ahead for a quick pickup. $