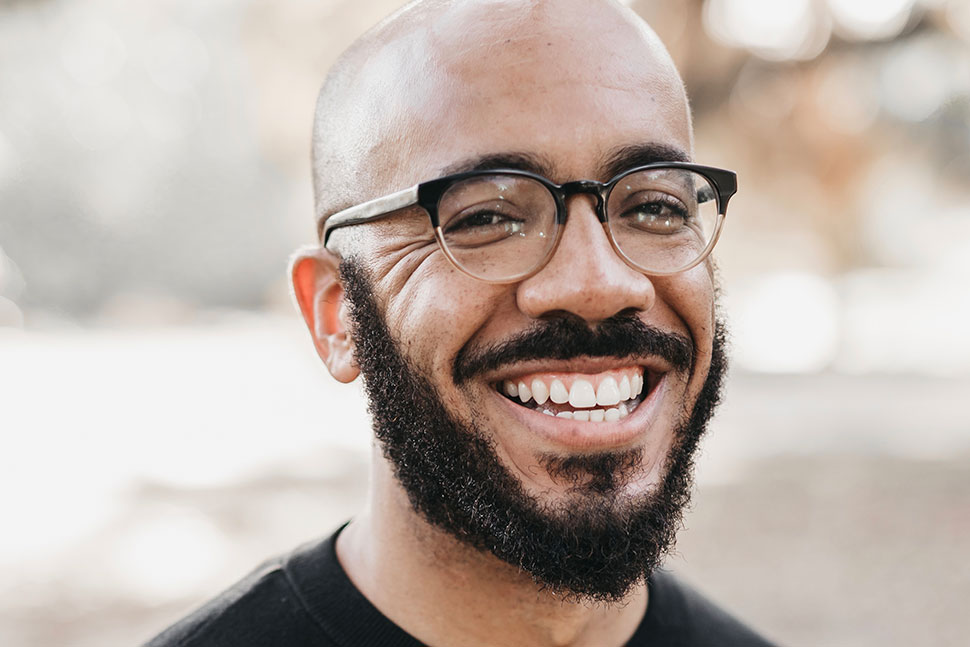 Few details go unnoticed by Clint Smith: His child's first hiccup. The way his grandfather's house still smells like his late grandmother's hair. The eroding coastline in his home state of Louisiana. His poetry collection Counting Descent won the 2017 Literary Award for Best Poetry Book from the Black Caucus of the American Library Association and was a finalist for an NAACP Image Award. Now with Above Ground (Little, Brown and Company, March), Smith—also a staff writer at The Atlantic—uses poetry to examine life's big and small moments.
American Libraries spoke with Smith ahead of his appearance at the American Library Association's 2023 LibLearnX conference in New Orleans, about how the city has influenced his identity and how fatherhood has shaped his writing.
You're a New Orleans native. What impact has the city had on your work?
There's obviously the food and the art and the music. I didn't realize that not everybody had gumbo and jambalaya and crawfish étouffée for Thanksgiving dinner. I remember being like, "Turkey? Mashed potatoes? Where's the good stuff?"
New Orleans is everywhere in my work. I was 17 years old and a senior in high school when Hurricane Katrina hit, and I'm 34 now. It's the thing that bifurcates my life. I have not lived in New Orleans permanently or in a sustained way since the storm. Being torn away from the city so suddenly has made me reflect more deeply on the ways that it has shaped me.
Above Ground begins with "All at Once," a poem about events that can be both blessings and tragedies. Why did you choose this poem to begin your collection?
So much of the last several years has been holding a set of seemingly emotionally dissonant realities together. We have seen a rise of white supremacist violence, authoritarian and neofascist regimes, the climate crisis accelerate, war break out. I've married my best friend. She's given birth to two remarkable children. I feel closer to my family and my friends than I maybe ever have. What I have been wrestling with over the course of the last several years is how to hold despair and joy at once, how to hold immense gratitude and immense anxiety in the same body. Our lives are full of multiplicities: things that are happening simultaneously, things that are happening all at once. I wanted to begin the book with a declaration of that multiplicity; this collection is an attempt to hold all that together.
Some poems in your new book read like personal letters to loved ones and yet there are details in them that feel universal.
There are universalities in the granular. If a poet attempts to focus singularly on "universal themes" that they think might resonate with the most people, you risk losing that sense of intimacy and emotional proximity. I just wanted to be as specific to my experiences as I could, because as much as these poems are in a book that other people will read, they also are a time capsule of these moments that I want to hold on to, that I want my kids to be able to read years from now. There's always the hope that other people will find meaning in that.
What role have libraries played in your life?
I loved walking to our local library in New Orleans with my mom. The books felt so endless, the ideas felt so endless. At a moment in which things feel increasingly means-tested, it's a space that's emblematic of the democratic and egalitarian values that so many of us want the larger world to look like. If public libraries were to be reimagined, or if people came up with them today, I'm not sure they would be as egalitarian and open and as magical as they are. I feel enormously grateful for them on a personal level.