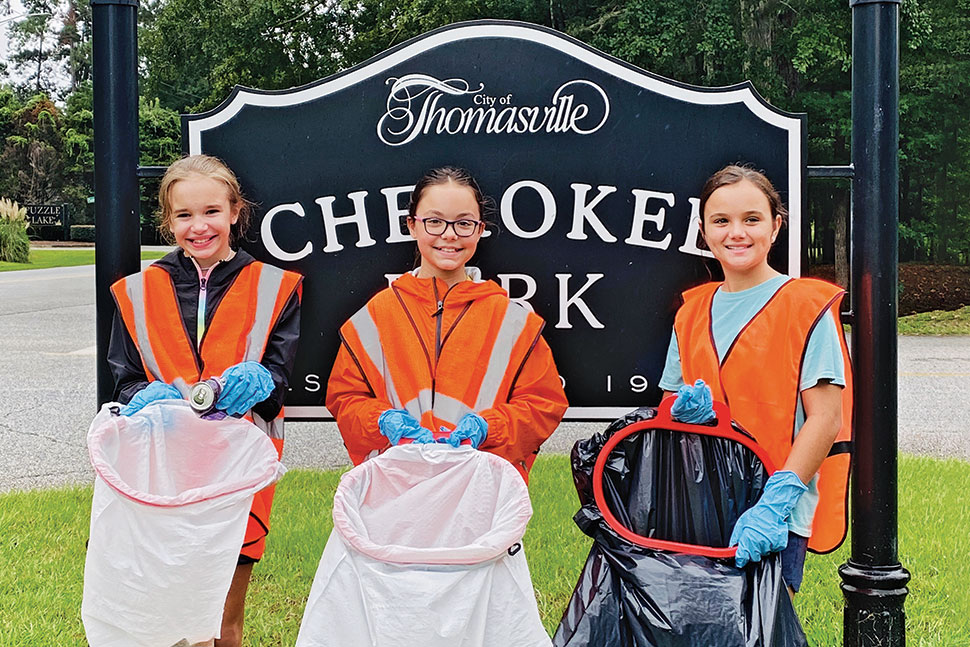 Nearly 50 billion pieces of litter are scattered along US roadways and waterways, according to a 2020 study by the nonprofit Keep America Beautiful (KAB). That estimate includes more than 800 million pieces of fast-food packaging, 2.6 billion food-packaging-film items, and 207 million pieces of personal protective equipment, like masks and gloves.
To alleviate the country's ongoing litter problem, some public libraries are creating kits to help patrons clean up their neighborhoods.
"We want people to be involved in the community," says Samantha Hanchett, marketing coordinator at Thomas County (Ga.) Public Library System (TCPLS). "Doing something that benefits everyone, even though it's quite quiet, is really what a library does all the time."
The library system launched a litter cleanup program with Keep Thomas County Beautiful (KTCB), the local KAB chapter, in 2020. While the chapter had previously held group cleanup events, the pandemic naturally encouraged more independent, socially distanced efforts. As a result, KTCB partnered with the library to create kits for patrons to check out.
Each kit contains items such as trash bags, gloves, reflective vests, and a laminated sheet with guidelines and suggestions for where to clean up in the community. Litter kits are housed at the library system's main branch in Thomasville, but patrons can request they be sent to their local branch for pickup.
Hanchett estimates that kits are checked out between 30 and 45 times each year, noting that they are most popular with groups and grade school students. "People like the convenience of the kits because it's something they can do on their own time," she says. "It's a laid-back way of getting involved instead of having a prescribed time in which you partake in the activity."
To catalog or not to catalog
While TCPLS has made litter kits available to all patrons, they have not been added to the library's cataloging software. "The kits just have so many different pieces," Hanchett explains. "We weren't sure if [putting them in the catalog] would be worth all the extra work."
Instead, the library has an analog checkout system for the kits. Reservations aren't required, but patrons can call ahead to ensure they are available. Some libraries have been able to add litter cleanup kits to their cataloging software, which can streamline the patron experience. Newport News (Va.) Public Library (NNPL) took this approach, but not without difficulty.
"Cataloging them was a little challenging," says Anita Jennings, NNPL director. "[We] had to come up with a unique way of how to catalog the kit, where they would put the stickers, because there are multiple items in each kit."
Jennings notes that cataloging them was a good decision for her library. When a kit is returned, staffers are easily able to check which items are inside and which ones need to be replaced. Each kit includes a bucket, five safety vests, five litter grabbers, five pairs of latex-free gloves, 10 trash bags, and hand sanitizer. The safety vests, litter grabbers, and hand sanitizer are expected to be returned, but patrons are responsible for disposing of their own trash. All four NNPL branches have four litter kits each.
NNPL also requires patrons to sign a waiver indicating that they have reviewed safety guidelines, which are also included in the kits. The kits cost approximately $127 each and are funded with grant money from the city's public works department.
NNPL's initiative has been ­successful, according to Jennings. The kits are especially popular in the spring and summer months, when temperatures are more conducive to being outside. "There has been a sustained interest, and the community expects to have them here," she says. "It would be difficult to say, 'Okay, we're no longer doing this.'"
Weather wise
Time of year and weather considerations have proven to be important factors for kit success. Findlay–Hancock County (Ohio) Public Library (FHCPL) made litter kits available for one week in October, centered around National Litter Cleanup Day, but none were checked out.
"That week was the first time that it got really chilly," says Joel Mantey, FHCPL assistant director. "It was a disappointment for sure. We were really excited about the project and having these kits available for people."
The library made litter kits available with the help of the Blanchard River Watershed Partnership (BRWP), which assembled and currently stores the kits. Mantey says that space constraints make it difficult for the library to house the kits full time; they're more available to the community if kept with BRWP. The 10 kits, each of which includes a backpack filled with trash bags, nitrile gloves, sanitizing wipes, a safety vest, and a litter grabber, cost about $600 total.
But while FHCPL's first attempt at distributing cleanup kits didn't succeed, it has additional programming planned for warm-weather months. It will reintroduce the kits for Earth Day (April 22) and tie the cleanup project into summer programs. Mantey says he hopes nice weather will lead to greater demand for the kits.
All three library systems note the importance of partnering with environmental organizations to kick-start litter cleanup initiatives. Those organizations often have dedicated budgets for community projects. Partnering with municipal departments can also ensure that funding does not fall solely on the library.
Once the projects are funded, libraries agree that litter cleanup kits are a boon to the community.
"A lot of people check out the kits because they want to make a difference," Jennings says. Cleaning up an area provides "a sense of ownership," she adds, and libraries are uniquely equipped to provide materials and information to empower residents.