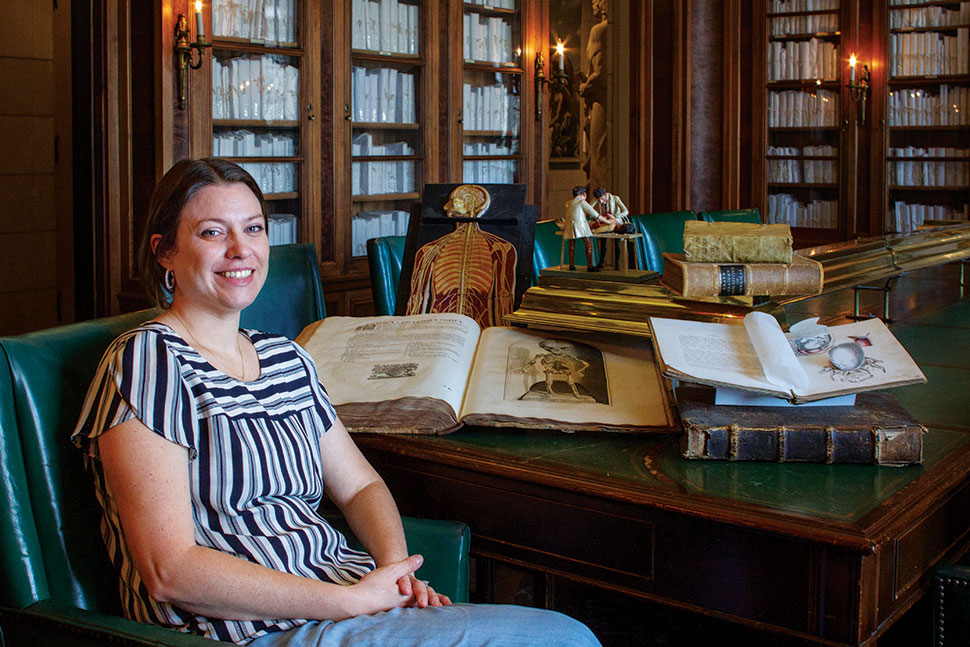 In a stately century-old mansion overlooking Lake Michigan on Chicago's scenic Lake Shore Drive sits the International Museum of Surgical Science, the only museum in North America devoted to the art and science of surgery.
"It's not a traditional library," says Michelle Rinard, referring to the museum's Thorek Manuscripts and Rare Books Collection. As curator and manager of exhibitions and development, Rinard stewards the library—home to more than 1,000 volumes of medical books, journals, illustrations, letters, and manuscripts dating from the 16th century to the present. Among the collection's rare texts are writings by French philosopher René Descartes, a seminal figure in the emergence of modern science, as well as Ambroise Paré, a French barber-surgeon who pioneered the practice of battlefield surgery.
Rinard's favorite item is a book by Andreas Vesalius, a 16th-century Belgian physician considered the founder of modern anatomy. "It's a revolutionary text for the history and understanding of anatomy," she says of De humani corporis fabrica libri septem from 1543. "Vesalius challenged the canon at the time, [and] ultimately it changed the future of surgery and health."
Rinard, who has been with the museum since 2016, explains that its collections are divided into three sections: objects (like surgical tools and trephined skulls), documents (mainly letters and paraphernalia), and the library (open to the public and the only room in the once-private home to have its original walnut-wood paneling, cabinets, and locks).
If you're visiting the museum and limited on time, Rinard suggests viewing the Hall of Immortals, the Hall of Murals, and the library, all on the second floor. "Through these stories," she says, "you gain insights as to how far we've come in medicine."