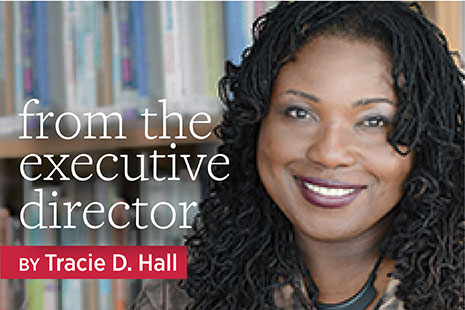 I recently had the opportunity to visit with a group of undergraduates to talk about how I've navigated my career. The professor who invited me noted that I had taken brave professional stances. When it was time for questions, one young woman, expressing her anxiety about leadership, asked earnestly, "Do you ever get scared that you'll make a mistake?"
"All the time!" I answered. "But mistakes are unavoidable. Part of being a leader is not letting the fear of making a mistake or taking a chance stop you from doing what you think is right or important." I have learned this firsthand. My entire professional journey has been about taking chances and risking failure.
I shared the story of when I was assigned interim oversight of a department that was planning to sunset a longstanding literacy program. The intergenerational program took place at a satellite site inside an infamous housing project. Attendance had begun to lag, and it was starting to be perceived as another cost center. Rather than take everyone's word for it, I began visiting the site at least once a week. By the end of my first month, I had determined that though the number of attendees was limited, many children who used the program were showing better school persistence and academic success.
Parents shared that the program, and the social network it provided, had also given them confidence to advocate for their children at school and for themselves at work and in the community. So rather than endorse the program's closure, I decided to work from the site two days a week.
Leadership is all about weighing the balance between risk and reward, between taking a chance and doing nothing.
Lawyer and Just Mercy author Bryan Stevenson talks about the power of proximity, which he defines as being "willing to get close to those who are suffering." By getting close to the people being served by the very program I was expected to help close, I was able to attest to its successes and, most importantly, to advocate for additional resources. I took a chance and used my administrative authority to focus on assets rather than deficits. Now, more than a decade later, the program and site are still thriving.
But the distinction between chances and mistakes is sometimes blurred. This spring I received an award from scaleLIT, a Chicago-based adult literacy coalition. The truth is that my work in literacy began by taking a chance and breaking the rules.
When I was a newly minted branch manager, a few of my patrons revealed that they struggled with reading and that there were no literacy instruction programs on our side of town. I asked our library director—whom I greatly admired—if I could open one in my branch. The answer was no. Not because it wasn't important, but because we had limited staff resources and space.
Thinking about those who stood to benefit, I took a chance and did it anyway. One of my staff members and I completed the training to become literacy instructors, and we turned the library's basement storage area into a classroom.
We recruited other instructors, and soon our quiet middays were filled with busy classes teeming with adults striving to learn to read. To my embarrassment, we won an award for best literacy program shortly afterward. I was so afraid of being caught for this unsanctioned activity that l didn't stay for the whole ceremony.
What I learned is that leadership is all about weighing the balance between risk and reward, between taking a chance and doing nothing. I still think about my decision, one of both benevolence and defiance, and wonder if a more practiced and mature me would have done the same. One thing is clear: The roots of my being honored with an award were planted because I was a "bad librarian." And I may still be.