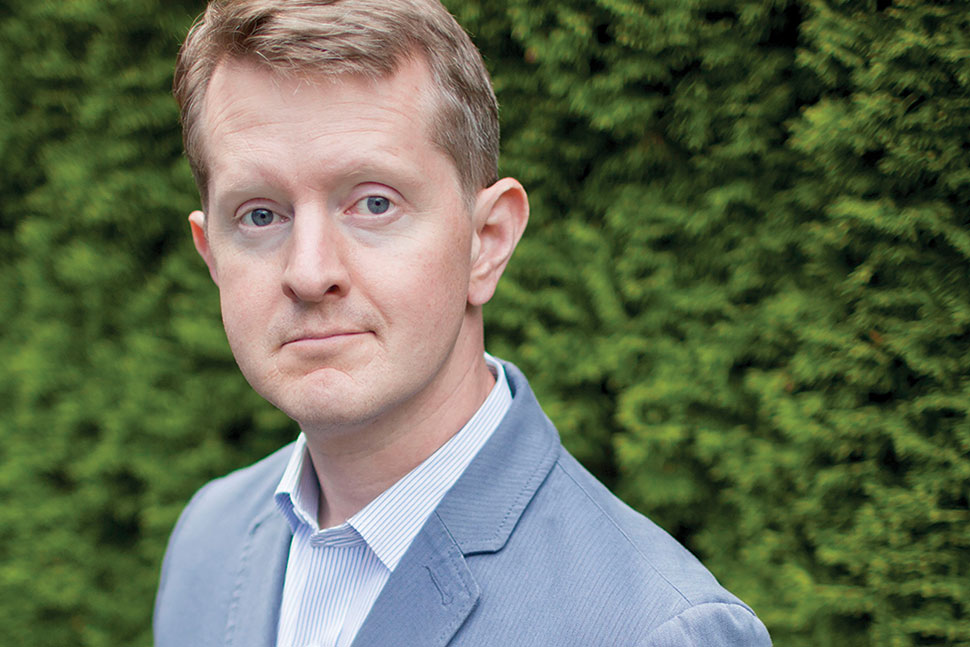 As a kid growing up during the 1970s and 1980s, record Jeopardy! champion-turned-host Ken Jennings was surrounded by stories about the world's greatest mysteries: the Bermuda Triangle, UFOs, Bigfoot. But for him, what's beyond our physical world has always been the biggest and most exciting enigma.
Jennings explores the afterlife in his latest book, 100 Places to See After You Die (Scribner, June). The satirical travel guide offers tips for visiting the Great Unknown, as it's been described in popular culture and lore throughout history.
American Libraries spoke with Jennings about his afterlife research, game show hosting duties, and what impact libraries have had on him.
What was the inspiration for 100 Places to See After You Die?
The afterlife is universal, affects everybody, and it's just so tantalizing that billions of people have discovered—or not—what lies after death. And it's something we're still in the dark on here in the living world. I always loved when movies or books would have a depiction of the world to come.
I happened to be in an airport and saw 1,000 Places to See Before You Die or some bucket list travel book like that. I looked at the title and thought, "What if it was 100 Places to Die Before You See?" The more I thought about it, it went from a dumb joke to that might actually be a pretty fun book.
What kind of research went into finding and selecting afterlife destinations for the book?
The book was largely written at University of Washington Libraries in Seattle, which is not far from where I live and is where I went to school. The book was delayed because they first closed the library and then reopened it only to students [during the pandemic]. I was out my primary sources: all of Dante and a couple of translations, the Buddhist sutras that describe paradise.
The main thing was to just cast as wide a net as possible. I wanted to make sure there were traditional Asian, African, and Native American mythologies but also that we went to Disneyland, Marvel Comics, Hieronymus Bosch paintings, and videogames. I spent a long time asking friends and acquaintances to tell me about their favorite afterlives from movies and TV shows to make sure I didn't miss anything good.
Which of the destinations in your book would you most want to visit and why?

I almost feel like you can't beat the baseball diamond in Field of Dreams. I took my son to spring training last year for the first time because we're both big Seattle Mariners fans, and it was a great, relaxing vibe. The idea of sitting on bleachers all day, watching old-timey ballplayers casually hit a baseball around, I really felt like maybe I could do this forever.
What role have libraries played in your life and work?
I would probably be a completely different person without libraries. My mom was an elementary school librarian my whole life, basically, so I grew up in libraries.
One of my formative memories is public librarians being bewildered when I wanted to check out reference books. I wanted to take the atlas or the encyclopedia home and they were just baffled, saying, "Just go read a Hardy Boys book, you weird kid." We always took our kids to libraries once a week. We're a big library family.
Many librarians have performed well as Jeopardy! contestants. What qualities do you think librarians possess that make them successful on the show?
Librarians are amazing at Jeopardy! We've talked about having an all-librarian tournament just because we get so many high-level applicants who work in libraries.
Jeopardy! rewards not depth of expertise but a vast, shallow expertise—knowing a little bit about everything. Effectively, the host is the library patron who's pestering you with a new subject every 30 seconds, and you have to be ready to change mental gears and stop thinking about the Franco-Prussian War and start thinking about disco music. I think a lot of their jobs are just an eight-hour shift at Jeopardy!
It's been almost a year since you've been named Jeopardy! host. Is it more nerve-racking as a host or contestant?
I was surprised at how much harder being a host is than being a contestant. To really host the show convincingly, you have to do everything that contestants do, playing along at the same speed. But then you're also doing all the host stuff layered on top of that: keeping track of the horse race for the home viewer and trying to adjudicate tricky judgment calls like an umpire.
At first, I was terrified because we had all seen Alex [Trebek] do the job perfectly for decades. It was very stressful. Luckily, I've been able to relax a little and enjoy what's fun about the job, which is meeting all the amazing contestants and getting to spend time with them. I feel like they're my people.
Librarians are amazing at Jeopardy…Effectively, the host is the library patron who's pestering you with a new subject every 30 seconds, and you have to be ready to change mental gears and stop thinking about the Franco-Prussian War and start thinking about disco music.
Is there any lesson or characteristic that you learned from late Jeopardy! host Alex Trebek that you bring to your own role as host?
The only reason I can even keep my head above the water—because I have no broadcasting training—is that I was able to watch Alex for hundreds of hours up close doing the job. The thing that surprised me the most was how light a touch he had. You don't really notice sometimes just how simply he did the job, how little he had to do. In your head, you might hear a whole bunch of repetitive game show host patter, but often to get a Daily Double wager, he would look probingly at a contestant and that was all it took. I often find myself thinking, "Do less, like Alex. Make it more about the game, more about the players."
Is there any other game show you'd like to appear on that you haven't yet?
I would say for over 40 years, I have been a fanatical Family Feud viewer. I was a huge game show fan as a kid. When my little sister was born when I was 5, I was so excited because now there were five people in my family, we were the perfect size to go on Feud. Fast-forward decades, and it's never happened, but I'm just waiting by the phone. Maybe Steve Harvey will give me a call.