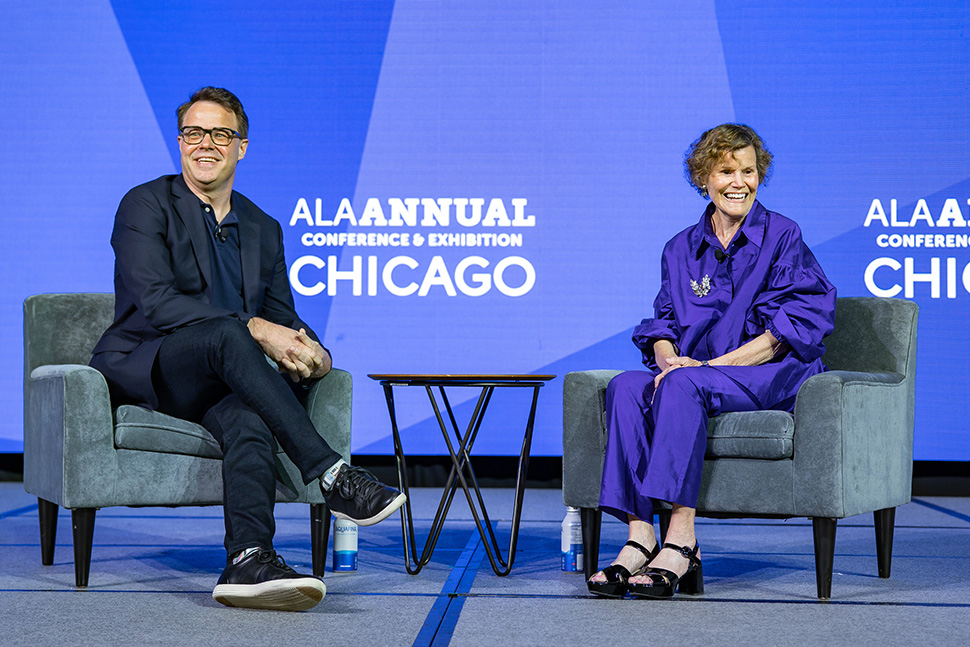 This summer marked a homecoming for the American Library Association (ALA), as thousands of library workers and advocates gathered in Chicago for the 2023 Annual Conference and Exhibition. The conference, which ran June 22–27 at McCormick Place, was the first held in ALA's hometown since 2017. A total of 15,851 people registered for the event, including 369 virtual attendees for the Digital Experience.
The unprecedented rise in book ban attempts at schools and libraries across the country in recent years—particularly challenges against titles by and about the LGBTQIA+ community and people of color—was top of mind throughout the conference, imbuing a familiar topic with fresh urgency.
Participants continued to explore crucial questions for libraries: What do inclusive, accessible services look like in challenging times? How can library workers harness new technology? And how can they lead libraries into the future?
The challenge at hand
Kicking off the conference was author and historian Ibram X. Kendi, who headlined the Rally for the Right to Read on June 22. "We must be freedom fighters," Kendi told a full house. Also presenting at the rally were library workers and students who have been fighting book challenges in their communities.
At the Opening General Session on June 23, author Judy Blume recounted a story about a book challenge she experienced in 1970, the year she published Are You There God? It's Me, Margaret. She had donated three copies of the title to her children's elementary school.
"The male principal took them off the shelf," Blume said. "And he said, 'We can't have these books here.'"
The bestselling novel, recently adapted into a film, has been included in most-challenged lists for decades, thanks to its frank depictions of puberty and sexuality. Blume sees parallels between earlier waves of book challenges and the current one: "I don't have the answers, but I know we can't be complacent. What happened in the 1980s is that we weren't all together."
"This is a bad direction," said author James Patterson of the book banning trend in an interview with American Libraries at the conference. Patterson's young adult series, Maximum Ride, was removed from a school district in Florida earlier this year. "It's just dumb," he said. He took umbrage with the notion that a single person could get many books banned without even reading them.
At "Changing the Narrative: ALA Policy Corps Takes on Book Banners," panelists discussed intellectual freedom initiatives, including ALA's Unite Against Book Bans (uniteagainstbookbans.org). "Our voices alone are important," said Erin MacFarlane, deputy director of Maricopa County (Ariz.) Library District, "but together we can be much louder."
School librarians at "Is Your Library Challenge-Ready?" offered strategies for preparing for a book challenge before it arises. They recommended researching state statutes, articulating and disseminating clear policies, and connecting with community leaders and ALA's Office for Intellectual Freedom. "We can't just hope it doesn't happen and not be prepared for it," said Val Edwards, library teacher leader at Madison (Wis.) Metropolitan School District.
Attorney and social media influencer Emily Amick examined strategies employed by groups like Moms for Liberty that seek to restrict library materials. Amick spoke at "Fight Book Bans: Frame the Debate, Fill the Seats, and Create Connections," the United for Libraries president's program. "[The group makes] us look like we're against parents instead of for freedom," Amick said. "They maintain this atmosphere of constant crisis. They realize people are easier to mobilize when they fear a threat to their way of life."
Graphic novels and manga are also targets for censorship, in part because they're inherently visual. Jeff Smith, whose Bone series has been frequently banned, expressed support for librarians at "Comics in Libraries: Past, Present, and Future," the Graphic Novels and Comics Round Table president's program. "What's going on is disingenuous at best," he said. "Yes, there are parents with real concerns, but that's not who's doing this, screaming at librarians and demanding."
Featured speakers educate and inspire
Tony Award–winning actor and singer Idina Menzel collaborated with her sister Cara Mentzel, an author and former elementary school teacher, on Loud Mouse and Proud Mouse, two children's books based on their lives and sisterhood. (See their Newsmakers interview.) Proud Mouse, to be released in September, focuses on a younger sister's experience trying to find herself and her own interests separate from her older sister. "We wanted kids to feel like they didn't need to choose [what they want to be when they grow up]," Mentzel said. "They just needed to be curious."
Comedian Maysoon Zayid, who has cerebral palsy, talked about her forthcoming graphic novel for children, Shiny Misfits. "I am Palestinian, I'm Muslim, I'm a woman of color, I am divorced, I am disabled, and I live in New Jersey," she said. "But I don't want anyone in this room to feel bad for me, because I got 99 problems and palsy is just one." She called for librarians to improve the accessibility of their spaces and resources and ask patrons with disabilities about their specific needs.
Children's book author Nikki Grimes and illustrator Brian Pinkney introduced their forthcoming collaboration, A Walk in the Woods. The book was a way to honor Pinkney's father, Caldecott Medal–winning illustrator Jerry Pinkney, who started the drawings for the title but died in October 2021. "Too few children's books feature Black characters engaging with nature, and that was something [Jerry and I] were both interested in changing," Grimes said.
Middle-grade fiction authors Rick Riordan and Mark Oshiro discussed their collaboration on the latest installment of Riordan's Percy Jackson and the Olympians series, The Sun and the Star, which centers on a same-sex couple. "I felt that to do the story justice, I might not have the right toolset, sense of authenticity, nuance, and understanding of what [the characters'] journey might be," Riordan said of recruiting his coauthor.
Oshiro, who is queer and Latinx, also spoke at "Beyond the Middle School Rainbow: Intersectionality in LGBTQIA+ Middle-Grade Books," a panel of LBGTQIA+ authors sharing their challenges and triumphs. "All I think about is queer me at 8 years old thinking, 'I just want one depiction of me that looks nice, [who is] funny,'" Oshiro said.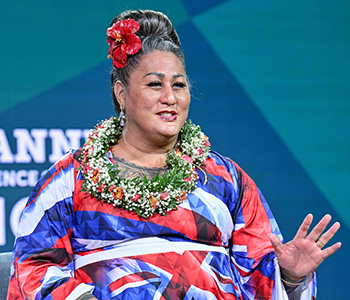 Native Hawaiian teacher, author, and filmmaker Hinaleimoana Wong-Kalu, a transgender woman, joined then–ALA President Lessa Kanani'opua Pelayo-Lozada for the ALA President's Program. Wong-Kalu discussed her new picture book, Kapaemahu, and what it means to be māhū—a descriptor for a third-gender person who occupies the space between kane (male) and wahine (female). "Back home you can be one, or the other, or both," she said. "Western minds struggle with the understanding that there's something beyond the physicality."
Librarian of Congress Carla D. Hayden led a talk about the Obama Presidential Center currently under construction in Chicago. She interviewed Obama Presidential Center Museum Director Louise Bernard and Chicago Public Library (CPL) Commissioner Chris Brown. "Other leaders will see that this leader of our country [Barack Obama] is signaling the importance of libraries," Brown said. Scheduled to open in late 2025, the center will house a 5,000-square-foot CPL branch on the city's South Side, serving a predominantly Black and Latinx population.
Presidential inaugural poet Amanda Gorman and Caldecott Medal–honored illustrator Christian Robinson, who collaborated on the forthcoming children's book Something, Someday, closed Annual on June 27 with a message of hope in the face of adversity. "Wherever I see darkness, I try to look extra hard for the helpers," Gorman said, evoking children's television host Fred Rogers. "How could I not feel like a small light could do anything?"
Identity and authenticity
In the midst of recent book bans, harmful legislation, and outright violence targeting BIPOC, LGBTQIA+, and other communities, authors and creators from marginalized groups celebrated their identities at Annual.
During "Share Our Stories: Asian American and Pacific Islander (AAPI) Literature for Children and Young Adults," Asian American authors discussed their work and experiences in the wake of widespread hate targeting the AAPI community since the onset of the pandemic. "When you look at all this hatred and prejudice and racism, really, what it boils down to is the profound failure of the imagination," said Minh Lê, author of Drawn Together. "Because you're failing to see the person in front of you as fully human. For us as writers, if we can put stories out there that celebrate the fullness of all our humanity—a book isn't going to stop it all—maybe it will make that person pause and realize that these are real people."
Panelists at "Uncovering Unsung Sheroes: A Discussion of Women in Hip-Hop" shone a light on the legacy of Black women artists who helped shape the genre and faced compounded challenges in a male-dominated industry. "The genre, created by young Black and Brown kids, was born from a desire to keep the music going at a time when music was being taken out of school," said Tamela Chambers, manager of CPL's Beverly branch.
Authors at "A Novel Idea: Jewish Identity in Genre Fiction" shared how issues of cultural identity and belonging are deeply embedded in their work. "I think about this every single day when I sit down to write; is there a difference between a Jewish worldview on love and a non-Jewish worldview on love?" said Jean Meltzer, who wrote the novel The Matzah Ball. "And, for me, the hardest part of writing Jewish romance for a broad audience is trying to navigate that question."
The American Indian Library Association's president's program, "Food Is Medicine in Medicine Spring Library: Food Sovereignty Needs in a Tribal Library," highlighted a community garden that's helping people grow their own food and raise awareness of Indigenous libraries. "Many tribal members don't realize they have a library," said Aaron LaFromboise, director of library services at Blackfeet Community College  in Browning, Montana. "There's a lot of communal distrust of institutions, and culturally they grew up in a time when they would be in trouble if they came into a library and they just were themselves."
Learning to discern
Natural language processing tool ChatGPT was the primary focus of Core's Top Technology Trends panel, which explored the opportunities and limitations of generative artificial intelligence in libraries. Jonathan McMichael, undergraduate success librarian at Arizona State University in Tempe, emphasized that students are already using these tools and encountering thorny questions of individual incentive and the common good: "Libraries are a really good place to be talking about this stuff because we've been thinking about collective action for information for a long time."
At "Connecting Library Experiences: Collaboration across Library Types to Better Support Our Patrons," presenters addressed how libraries can work together to assist students throughout their educational journeys. For example, librarians at Utah State University (USU) in Logan hosted a half-day conference last summer with local high school librarians and teachers to explore partnership possibilities. "Our main goal was to begin a dialogue about USU resources and to learn how to better support incoming high school students," said USU First-Year Experience Librarian Katie Strand.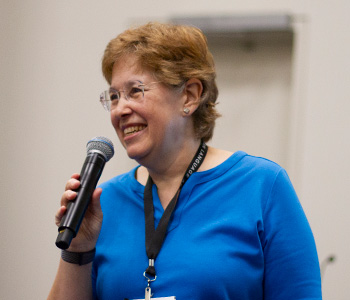 The session "Picture This! The Literacy of Digital Images" spoke to the power of manipulated photos and offered strategies for identifying them. "The more you start thinking about this, the more it becomes second nature," said Robbie Barber, teacher-librarian at Tucker (Ga.) High School. "You start to go, 'Wait a minute, that light looks weird.'"
Reimagining the library
Even in their traditional roles as purveyors of books and champions of literacy and learning, libraries are finding new ways to support and engage patrons and meet their needs and interests.
"Near-Peer Leadership at the Library: Teens Inspiring Kids through Tutoring, Storytelling, and Readers' Advisory" introduced the Teen Reading Ambassadors program at New York Public Library (NYPL), which pairs younger children with teen mentors. "Teens are immediately motivated by being placed in a position as a role model," said Rachel Roseberry, NYPL's associate director of young adult programs and services. "They often are being treated like kids themselves in other contexts."
At "Fostering Economic Opportunity and Advancement with Innovative Programming," Andrea Levandowski, consultant for small business development and technology at New Jersey State Library in Trenton, talked about library services for entrepreneurs and small businesses. "Business owners are members of the community," Levandowski said. "They are running businesses out of their homes, people trying side hustles in their spare time, doing passion projects or creative pursuits. The library is a perfect home for those people."
Similarly, the session "Creating Opportunities to Shop Small: Two Approaches for Public Libraries" focused on supporting local entrepreneurs through programming and investment. For example, Spokane County (Wash.) Library District has hosted annual scavenger hunts designed to drive patrons to brick-and-mortar stores since 2016.
Other libraries are fashioning themselves as STEM hubs. "Cloud Watching for NASA" addressed citizen science projects including NASA's GLOBE Observer app, which allows anyone to contribute observations about clouds, mosquito habitats, land cover, and trees. "NASA has a responsibility for collecting data about our environment," and libraries can be partners in that, said Jessica Taylor, atmospheric scientist at NASA's Langley Research Center in Hampton, Virginia.
Many libraries initially underestimated demand for glasses, programming, and other services related to the 2017 total solar eclipse. In "A Procrastinator's Guide to the 2023/2024 Solar Eclipses," members of the Space Science Institute's National Center for Interactive Learning (NCIL) STAR Library Network shared advice for libraries anticipating these astronomical events. NCIL is distributing 5 million eclipse glasses to libraries nationwide. "Don't worry—we still have glasses left for you," promised Anne Holland, NCIL senior education associate.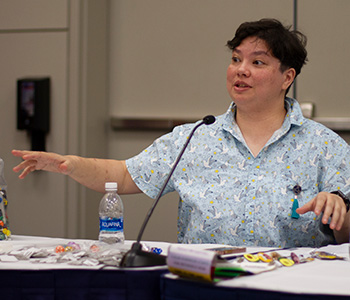 Tabletop role-playing games (TTRPGs) have become more popular in recent years. The Games and Gaming Round Table president's program, "Creating Role-Playing Games in the Library," focused on the potential of game jams, free or cheap events where students and patrons of all ages create their own TTRPGs. Danielle Costello, science librarian at Louisiana State University in Baton Rouge, points out that this type of collaborative storytelling gives players a sense of agency and control, "which is something a lot of our patrons really need right now."
Books behind bars
At Annual, ALA Council approved the first update to the Association's Standards for Library Services for the Incarcerated or Detained since 1992. These services were the focus of "Expanding Information Access for People Who Are Incarcerated: Service Standards and Mapping," where librarians discussed ongoing projects to expand individuals' freedom to read.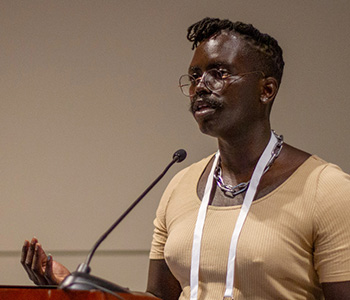 "This goes beyond library services," said Bee Okelo, administrative and GIS analyst at San Francisco Public Library, which is mapping library services in correctional facilities as part of its Jail and Reentry Services program. "This connects to bigger conversations like abolition and, just generally, how do you run a society? How do we care about people? Especially people who are at the 'bottom,' that we're typically told aren't humans in the same way we are?"
At "Nurturing Writers Workshops in Prison," presenters shared a curriculum developed by PEN America for writing workshops held in prison libraries or led by librarians. David Fleenor, who participates in one of these workshops, called in from a correctional facility to describe his experience. "The clarity that I gain from writing, and that other people do also, is often the only way we can see a future where we can make a meaningful contribution to the outcome of our lives," he said.
Audio adds to accessibility
A panel of authors, producers, and judges discussed the qualities of a good audiobook, the process of creating and editing one, and how the medium benefits young readers, at "Listen to Win: Hearing from Audiobook Winners and the Judges Who Select Them." Producer Taryn Ocko Beato sees an audiobook adaptation of a graphic novel as a companion rather than a separate work. "There are a lot of things that can happen in production, in the narration, that you could make special, and give listeners something just as good as the book itself," she said.
Audiobooks on CD are a particularly valuable tool for readers with visual impairments, but CD technology is rapidly falling by the wayside in favor of Bluetooth and streaming apps like Hoopla and Libby. Iowa City Public Library (ICPL) workers shared what they've learned about providing app-based audiobook service at "Accessible Digital Libraries: Navigating Audiobook Apps with Low-Vision Patrons." As audio shifts away from CDs, "librarians need to improve their technical literacy to be able to serve patrons in the future," said Melody Dworak, librarian at ICPL.
Leading libraries into the future
As communities confront complex challenges, from providing teen mental health services to assisting families facing eviction to seeking more resources for the unhoused, leadership remains a perennial theme at ALA conferences.
"I believe libraries are at an inflection point right now," said Melanie Huggins, executive director of Richland Library in Columbia, South Carolina, at "Leadership by Design: A Human-Centered Approach for Library Leaders." She pointed out that the pandemic has allowed for "a grand opportunity to rethink the way we do everything." For Huggins and her team, that involved developing a framework for user-centered library design to support people, technology, spaces, partnerships, materials, and services.
The Association for Library Service to Children president's program, "Leading with Your Hands and Your Heart: A Conversation about Leading from Wherever You Are," was a meditation on what makes a leader. Ling Hwey Jeng, professor and director of the School of Library and Information Studies at Texas Woman's University in Denton, described leadership as more of a competency than a role. "[A leader is] someone who can exercise positive influence over others," she said. "You don't have to be visible."
Library leaders are also stewards of their collections, a role that can include navigating the tension between open educational resources—which can help counter high textbook prices—and traditionally published materials. At "It's Not Either/Or: How to Include Open Access Materials to Transform Curriculum and Collections," Stephanie Robertson, assistant professor and outreach librarian at Brigham Young University–Hawaii in Laie, shared her perspective: "To have a collection that is high-quality and has the layers of complexity you would expect from a collection, you need both."
Worker well-being played into the discussion at "An Introduction to Organizing and Collective Bargaining in Libraries," a panel comprising Chicago-area library workers who organized for unionization at their institutions. For Cate Levinson, youth services librarian at Niles (Ill.)–Maine District Library, organizing was a response to a board election that gave austerity candidates a 4–3 majority and threatened the library's operations and core values. "Forming a union was the only way to save our jobs," she said. "We jumped into action, and I think that was a testament to how strong the organization was."
Rebecca Hass, programming and outreach manager at Anne Arundel County (Md.) Public Library, reflected on how leaders set the tone at "Building Joy-Centric Libraries." Acknowledging that librarians and their patrons experienced tough times during the pandemic, Hass suggested practical ways for librarians to insert positive psychology and self-care in the workplace. "You and your team and your customers and our communities, we all deserve joy of every flavor, color, religion," Hass said. "Well-being is in the definition of joy, and you are worth it."
---
Council Matters
Resolutions passed to no longer require preregistration for members to vote in person at hybrid membership meetings (CD#10.2); to reaffirm the freedom to read (CD#55); to condemn discrimination against library workers and support the LGBTQIA+ community (CD#58); to investigate the possibility of changing dates for future Annual Conferences, noting LGBTQIA+ members regularly have to miss their local Pride events to attend (CD#59); and to call on the Policy Manual Revision Working Group to review the process for vacancy appointments to the ALA Executive Board and the Bylaws Committee and develop recommendations regarding a process in which Executive Board actions "may be reviewed, amended, or overturned by Council or Membership" (CD#60).
A resolution that ALA Bylaws Article VII, Section 2 be amended by striking "may be held virtually" and inserting "shall be held virtually" was referred to the Bylaws Committee.
Julius C. Jefferson Jr., chair of the International Relations Committee (IRC), presented a resolution asserting ALA's objection to the International Federation of Library Associations and Institutions (IFLA) choosing Dubai, United Arab Emirates, as the location for IFLA's 2024 World Library and Information Congress because of the country's criminalization of homosexuality. Proposed amendments clarified ALA's disapproval of the location unless IFLA can ensure the protection of LGBTQIA+ participants and the unfettered inclusion of related programming, or otherwise find a new location in the region. The motion passed as amended.
Committees shared the following updates and action items:
Brian Schottlaender, chair of the Bylaws Committee, presented an action item to amend Article VIII, Section 1(A) of the ALA Bylaws, removing the listing of each current standing committee (CD#25.1). The motion passed.
Carla Davis-Castro, chair of the Committee on Diversity, presented an action item to review and approve the 2023 edition of the ALA Standards for Library Services for the Incarcerated or Detained (CD#14.1), which passed nearly unanimously.
Andrew Pace, chair of the Committee on Organization, provided an update on the committee (CD#27.1) and introduced action items to modify the charge of the ALA Conference Committee and modify the name, charge, and composition of the ALA Council Orientation Committee. Both motions carried.
Toni Negro, chair of the Policy Monitoring Committee, proposed two amendments to the ALA Policy Manual (CD#17.1), which were approved by Council.
Erin Berman and Sara Dallas, cochairs of the Core Values Task Force (CD#34), shared an update on the work of the task force and requested an extension until 2024 to complete their work, which passed.
Council heard reports from Committee on Legislation Chair Ed Garcia (CD#20.1), Intellectual Freedom Committee Chair Lesliediana Jones (CD#19.1), and Freedom to Read Foundation President Peter Coyl (CD#22.1).
Tribute resolutions were read honoring: Josephine Maria (Riss) Fang (M-#8); David Goodman (M-#9); Chris Cottrill (M-#10); Jen Angel (M-#11); Bill Ott (M-#12); Kristen A. Cooper (M-#13); Esperanza Bravo de Varona (M-#14); Helene Lafrance (M-#15); James Henry Jacobs, Jr. (M-#16); Paul Cappuzzello (M-#17); Patricia A. Wand (M-#18); David S. Baugh (M-#19); Rebecca Taylor Bingham (M-#20); Terrilyn Chun (M-#21); Eleanor M. McKnight (M-#22); Joyce Meskis (M-#23); Tracey J. Hunter Hayes (M-#24); Daniel Ellsberg (M-#25); Aletta Seales (M-#26); Charles L. Blockson (M-#27); Susana Hinojosa (M-#28).
Then–ALA President Lessa Kanani'opua Pelayo-Lozada read a tribute resolution honoring the 50th anniversary of the Intellectual Freedom Round Table (T-#2).