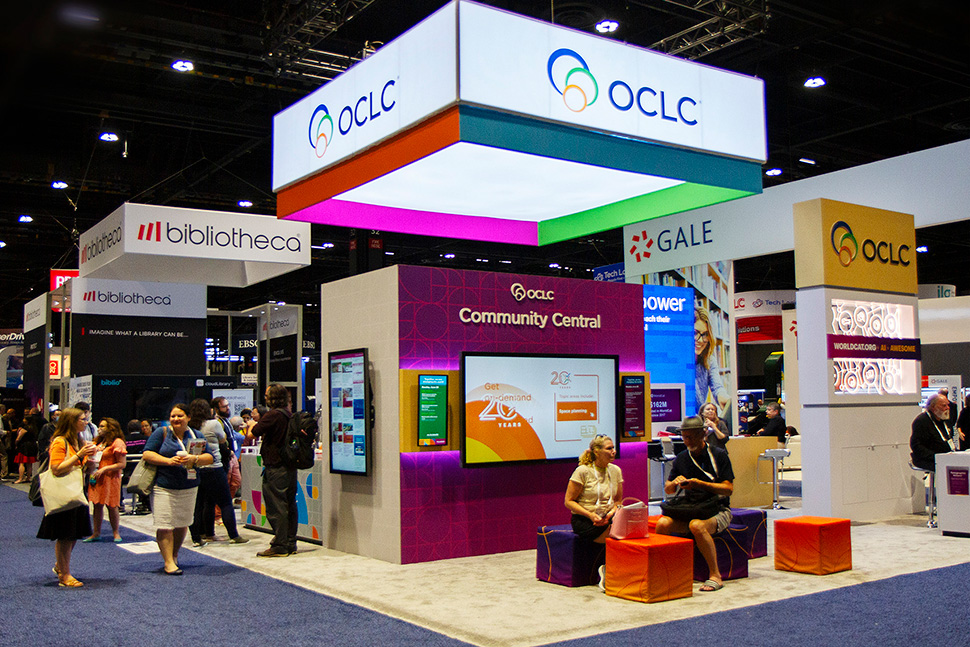 With 15,851 total registrants and nearly 600 vendors represented, the American Library Association's (ALA) 2023 Annual Conference and Exhibition (June 22–27) in Chicago continued to make progress toward prepandemic attendance numbers. The Library Marketplace, which remains the world's largest assemblage of products and services for libraries of all types, provides a unique venue for attendees to connect with company representatives.
From energetic demos and mascots to giveaways and games, vendors continue to invest in their exhibit hall spaces for the opportunity to interact with current and potential customers. Additionally, many businesses act as sponsors, contrib­uting to the overall success of Annual Conference and the Association.
While this wasn't a year for breaking news in the library technology industry—as mergers and acquisitions seem to be in a lull—vendors demonstrated the developments and incremental progress they have made on fresh and flagship products.
Managing books and physical materials
The aisles dedicated to publishers bustled with foot traffic, as conference-goers lined up for author autographs and copies of the latest titles. Booths ranged from major global conglomerates to small and independent imprints. Their popularity underscored that print books continue to reign supreme in libraries.
A few aisles away, vendors of technologies and products that help libraries manage books and physical materials displayed their offerings. Bibliotheca provides a wide variety of automated material handling (AMH) equipment, including self-service kiosks and returns, smart lockers, and other solutions to optimize operations. The company's products integrate with its cloudLibrary digital lending service.
Lyngsoe Systems likewise offers an array of AMH solutions, including large-scale, centralized sorting systems. The company's Intelligent Material Management System is interoperable with many integrated library system (ILS) products, enabling an efficient model of floating collections.
Other vendors demonstrating inventory management solutions included Arcus, a cloud-based RFID solution from Australian company Adilam Technologies; FE Technologies, which featured its smart locker system; mk Solutions, maker of self-service products LibDispenser, LibLocker, and Open Library; and D-Tech, with its broad menu of AMH products, including smart lockers.
Meescan showed off its cloud-based self-checkout systems. EnvisionWare demonstrated its products, including self-service kiosks, computer and room reservation systems, payment processing solutions, and other tools to support operations. Farber Specialty Vehicles was on hand to talk to library personnel about bookmobile configurations.
Print collections need specialized infrastructure. LBS (Library Bureau Steel) displayed its library shelving, end panels, and related products. Iron Mountain and Clancy Relocation and Logistics promoted their services to help libraries with offsite storage. Ziffit (part of The World of Books Group) and Better World Books (owned by the Internet Archive) showed library workers how they can give new life to print materials as they cycle out of collections, through resale and donation.
Solutions for digital content and services
While physical books remain a mainstay, interest in ebooks and other digital content continues to grow. OverDrive leads among public libraries, delivering ebooks to patrons from several publishers through its Libby and Sora apps. Competitors Bibliotheca (which makes cloudLibrary) and Baker & Taylor (which makes Axis 360) complement OverDrive's offerings in this space.
Hoopla, a streaming platform from Midwest Tape, demonstrated its collection of audiobooks, movies, and music. Visitors to the Library Ideas booth learned about the company's content services, including Freegal (for music), iVox (for immersive storybooks), and Freading (for ebook lending).
The major providers and distributors of scholarly content—of critical interest to academic and research libraries—were well represented on the exhibit hall floor. Publishers with a prominent presence included Elsevier, Oxford University Press, Sage, Springer Nature, Taylor & Francis, and Wiley.
With mergers and acquisitions in a lull, vendors demonstrated the developments and incremental progress they have made on fresh and flagship products.
In addition to primary source collections, Gale demonstrated its literature and business databases, ebook collections, and learning solutions. Coherent Digital highlighted its major collections (including Africa Commons, History Commons, and Policy Commons), along with its recently acquired Accessible Archives. Oable, an app developed by Knowledge Unlatched, helps institutions manage their open access resources. ITHAKA, parent company of digital journal platform JSTOR, Portico digital preservation service, and the Ithaka S+R consulting and research arm, has integrated JSTOR with its Artstor platform for images and other media.
In recent years, libraries have boosted efforts to improve access to digital content, driving increased interest in advanced digitizing equipment. At its booth, DLSG (Digital Library Systems Group) featured a large display of historical documents preserved through library digitization programs. The company's BSCAN scanners facilitate efficient interlibrary loan and document delivery. DLSG's parent company, Image Access, manufactures the popular Bookeye and Click series of book scanners, WideTEK large-format digitization equipment, and workflow tools for quick digitization of materials.
Indus International promoted its page-turning robotic scanner that facilitates the rapid digitization of books with minimal operator intervention. AM (part of Sage and previously known as Adam Matthew Digital) offers AM Quartex as a comprehensive solution for creating, managing, and enabling access to digital collections. The company also licenses access to its own set of primary source resources.
Going beyond the LSP and ILS
On the library systems front, an interesting mix of options were represented, including longstanding proprietary products, services and support for open source solutions, and add-ons that enhance existing platforms.
Clarivate presented several products from its acquired businesses: Ex Libris demonstrated its flagship Alma and Primo library services platforms (LSPs) as well as Rapido, its resource sharing application, and Leganto, a resource list management system. Innovative featured new Vega products for discovery and customer engagement that integrate with its Polaris and Sierra ILSes. ProQuest promoted a broad array of databases and primary source collections, along with its ebook platform.
EBSCO Information Services highlighted services for the open source FOLIO LSP and components that make EBSCO FOLIO a comprehensive choice for academic libraries. EBSCO also demonstrated its EBSCO Discovery Service, EBSCOhost databases, and journal subscription services.
SirsiDynix showcased its CloudSource OA—a discovery solution that optimizes open access content and open educational resources—in addition to its Symphony ILS and BLUEcloud application suite.
The Library Corporation (TLC) offers the Library·Solution and CARL·X ILS products. TLC exhibited in tandem with its Tech Logic subsidiary, which specializes in AMH equipment, self-service solutions, and other RFID-based technologies.
In the open source arena, ByWater Solutions shared its rapidly growing list of library clients that subscribe to support services for Aspen Discovery and Koha. The nonprofit Equinox Open Library Initiative promoted its services for Aspen Discovery, Koha, VuFind, and the Evergreen ILS for consortia. Visitors to the Index Data booth learned more about the company's development and support services for FOLIO, Project ReShare, and other open source initiatives.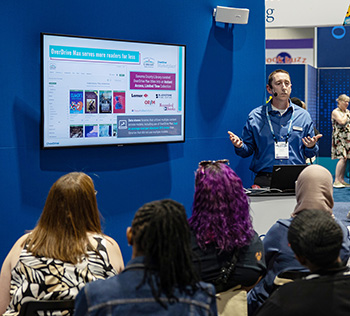 Other ILS vendors in the exhibit hall included LibLime, demonstrating its Bibliovation ILS; Auto-Graphics, showing off its VERSO ILS and SHAREit resource sharing platform; and Millonex, displaying its Simplicity ILS geared to public libraries.
Lyrasis is a nonprofit organization that supports open source software and community-driven initiatives. This includes the Palace Project, an open source ebook platform and marketplace for licensing titles. Lyrasis also supports longstanding open source projects ArchivesSpace, BiblioLabs, DSpace, Fedora, and Vivo.
Visitors to the OCLC booth learned about the many products and services provided by the nonprofit on behalf of the broader library community. In addition to WorldCat, the world's largest library catalog, OCLC offers WorldShare Management Services and OCLC Wise to help libraries manage their local collections. The organization also featured its research and reports that support the mission of libraries.
Many vendors demonstrated products that integrate with or enhance library management systems. Shoutbomb offers a text messaging service inter­operable with any ILS product as well as its Text4Literacy service, which enables libraries and schools to send reminders to families for reading and other literacy activities. StackMap promoted tools for mapping indoor spaces and creating wayfinding aids to better help patrons find materials.
Atlas Systems featured products supporting libraries and archives, including Aeon (for managing special collections requests), Ares (for course reserves), and ILLiad (for interlibrary loan). The company also offers support services for ArchivesSpace.
Springshare promoted its LibGuides CMS for managing library websites, in addition to its core LibGuides topic curation product. The company offers several other applications through its cloud platform, including tools for event management, chat-based reference, managing staff schedules, and analytics.
Services for print and digital collections
Another category of vendors focuses on providing services that support cataloging and other library operations.
In addition to its online marketplace for library materials and Axis 360 digital lending service, Baker & Taylor has launched, and recently enhanced, its BTCat cataloging service.
MARCIVE and Backstage Library Works each offer a wide-ranging set of services for cataloging, authorities processing, and database cleanup projects. Midwest Library Service provides collection development, acquisitions, and cataloging services. WT Cox Information Services demonstrated its subscription services for electronic and print serials.
Recollect, a New Zealand–based company exhibiting for the first time at Annual, offers a digital collection management system with a strong bent toward community engagement.
A focus on library patrons
Technologies designed to enhance the library user experience are in high demand. BiblioCommons showed off its latest versions of BiblioCore (a discovery interface), BiblioWeb (an environment for deploying websites), BiblioEvents (for managing and promoting library programs), and BiblioApps (for creating mobile library apps).
Library Market demonstrated its LibraryWebsite product, which provides customers with a modern and intuitive website template that can be easily updated and maintained. The company also offers LibraryCalendar for managing events and scheduling rooms.
Communico once again brought its Tiny Library trailer, a walkthrough enclosure that displayed the company's integrated suite of cloud-based applications for patron-facing services. SOLUS showed off the latest versions of its mobile apps and discovery interfaces.
Vendors also focused on products that invite patrons to physically engage with the library. The Short Édition booth featured the company's Short Story Dispenser, a standalone kiosk that prints fiction, nonfiction, and poems and is intended to be installed in public spaces. International Library Services displayed its AutoLend kiosks, which can be placed at locations outside of a library's building and enable patrons to browse, hold, borrow, and return materials.
A growing interest in AI
Interest in artificial intelligence (AI) has skyrocketed over the last year, sparked by ChatGPT and other generative AI services. This technology is rapidly making its way into the library sphere.
Just prior to the conference, Clarivate announced a major partnership with AI21 Labs, a company that specializes in natural language processing. Clarivate plans to train AI21's components on its vast content assets to power new services across its product lines.
LibraryThing invited booth visitors to try Talpa Search, an AI-based library catalog with a conversational interface that aims to identify items not easily found via traditional keyword-based interfaces. This experimental catalog is not yet offered as a product but demonstrates AI's potential to transform library searches.
Interest in artificial intelligence (AI) has skyrocketed over the last year, sparked by ChatGPT and other generative AI services.
OCLC showed a beta version of an AI-generated book recommendation feature in WorldCat. The feature uses Third Iron's LibKey Discovery service to connect users to scholarly articles. Third Iron also provides BrowZine, a user-friendly interface for browsing and reading e-journals and magazines.
LaptopsAnytime, a company that offers laptop checkout kiosks in many different configurations, demonstrated its computer kiosk BRAINY. This AI-themed prototype allowed conference-goers to enter their own ChatGPT and DALL·E 2 prompts.
Teaching and learning opportunities
Yet another set of vendors highlighted services for learning and continuing education that libraries can offer to patrons and staffers.
Brainfuse presented a wide selection of online tutoring and homework help options designed for libraries, schools, and higher education institutions. Likewise, Mango was on hand to demonstrate its language-learning platform. Libraries and educational organizations can license Mango's more than 70 language courses for their patrons and students.
Library Juice Academy's online courses provide professional development for all types of library workers. Visitors to the Girls Who Code booth learned about the organization's mission to help close the gender gap in the tech industry and how libraries can partner with them to establish clubs in their communities.
Making metrics count
In this age of data-driven decision making, products that enable libraries to measure and analyze performance are of keen interest.
LibraryIQ has developed a platform that collects data and provides reports and visualizations across a wide range of library operations metrics. Similarly, Counting Opinions specializes in helping libraries collect and analyze operational statistics through its LibPAS and LibStat portals. SimplyAnalytics demonstrated its web-based platform for data visualization, mapping, and analytics that is used by libraries, educational institutions, and businesses.
SenSource has developed specialized sensor technology that counts people in buildings, transmits this data to relevant systems, and creates visualizations of crowd activity. The product has been applied in many industries beyond libraries. TRAF-SYS highlighted its people-counting sensor service and SafeEntry occupant monitoring software. Both companies rely on overhead sensors rather than video monitoring, which avoids possible privacy concerns.
This year's exhibit hall was busy and productive, with abundant opportunities to interact with the vendor community. The scale of the exhibition precludes mentioning every company and product—perhaps a good sign for Annual's comeback. While managing physical materials and digital content remains front and center for libraries, interest in open source, patron-facing, and AI products is on the rise.