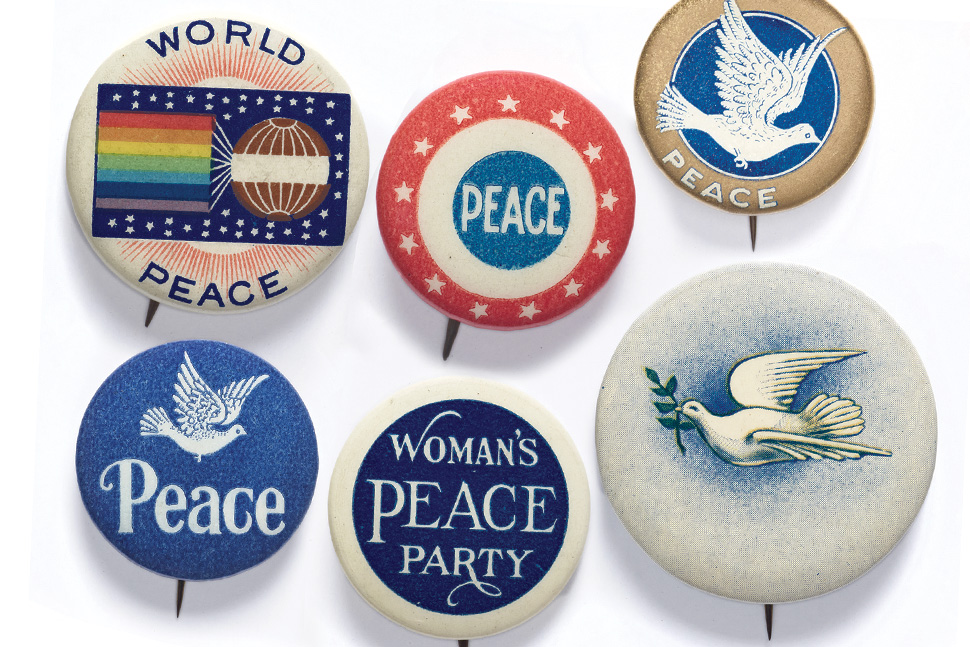 On a winter Chicago afternoon, near the end of her life, renowned social worker and activist Jane Addams started to burn her personal papers in her fireplace.
Lucy Biddle Lewis, a fellow peace activist, walked in on this happening. Lewis told her contemporaries that she saw Addams and begged her to stop because scholars could learn from her life and work. There's no record of when this interaction took place, but in 1930, Addams began donating her materials to Swarthmore (Pa.) College, where Lewis was on the board of managers.
Addams's donation was the start of what's now known as the Swarthmore Peace Collection, which has grown to nearly 4,000 collections of various sizes, including books, audiovisual materials, and other ephemera from peace activists and movements, mostly from the 20th century.
"It was a brutal century," says Rachel Jurinich Mattson, former collection curator and director of Swarthmore College Library Special Collections. "Peace and social justice [efforts] were at the core of it and sometimes get ignored in the storytelling."
Swarthmore is one of several institutions in the US that house peace-related collections—either historical archives or special libraries focused on cultivating a nonviolent world. As all those who work with these collections can attest, the need for greater understanding of these materials and their history is especially valuable in the face of modern-day civil unrest and geopolitical conflict.
"How different things happened over time isn't because of the great benevolence of US presidents or world leaders," Mattson says. "It's because they are pressured by people who make sacrifices, demands, and organize."
'A 360-degree view'
For more than a century, Stanford (Calif.) University has housed the Hoover Institution Library and Archives (HILA), a series of collections focused on the study of war, revolution, and peace.
Before he became president, Herbert Hoover—a Quaker and Stanford alumnus—established HILA in 1919 to preserve his archives on World War I and acquire others. During the war, Hoover spearheaded humanitarian efforts from London and the US. "He strongly believed if people studied this material, they wouldn't be so quick to start more wars," says Samira Bozorgi, HILA's senior manager for engagement and outreach.
With more than 1 million volumes and 6,500 collections, HILA has evolved into a global collection with materials from the 19th century to present day. According to Bozorgi, visitors come from a variety of disciplines that fall under pacifism and war studies. Some also have an interest in genealogy and want to research specific family members or the historical events they lived through. HILA collection highlights include approximately 130,000 prints of political posters—many representing peace efforts during the world wars and European revolutions—and the archives of California-based pacifist and suffragist Alice Park.
A rare and popular collection, Bozorgi says, is HILA's delegation propaganda materials from the Paris Peace Conference, the meeting of world leaders from 1919 to 1920 following World War I. It includes pamphlets from delegates not included in major talks or decisions, like the Assyrians and Persians.
"It's a 360-degree view," Bozorgi says. "In order to do research, you don't want to just go for the side you're expecting. You want to be able to see from all angles from a certain moment or event in history."
Mattson says scholars come from across the world to study Swarthmore's collection as well. Its specialty is antiwar and conscientious objection materials, including records and publications from organizations like the Women's International League for Peace and Freedom and protest movements for specific wars, including Vietnam and, more recently, the post–September 11 invasion of the Middle East. It also holds civil rights materials, including a collection of newsletters sent during the 1955–1956 Montgomery Bus ­Boycott that organizers used to update supporters nationwide.
Peace and social justice [efforts] were at the core of [the 20th century] and sometimes get ignored in the storytelling.—Rachel Jurinich Mattson, former curator of Swarthmore Peace Collection
Reflective of its origins, the collection leans heavily into women-led activism—a way many women could engage politically even before earning the right to vote.
"Women were considered to be inherently peaceful creatures. That was one area they could safely journey into," Mattson explains. "Of course, there was debate even about that—the propriety of women being in the public sphere."
Promoting peace
The Cecilia Bard Multicultural Collection for Peace and Social Justice, a collection of children's literature housed at Buffalo (N.Y.) State University's (BSU) E. H. Butler Library, is designed to promote literacy and empathy.
Betty Cappella, a BSU distinguished professor emerita with a background in family counseling, views literacy as a social justice issue. "The lower the literacy rates, the more problems that come into play—especially violence," she says.
Cappella founded the collection in 2004 alongside Geraldine Bard, an English professor emerita whose late mother is the collection's namesake. The collection is part of the nonprofit organization they cofounded, Project Flight, which offers reading programs for kids in need.
The Bard Collection is open to the public and holds 8,000 titles covering world cultures, religions, and LGBTQ+ and women's issues. It is also meant to support BSU's education program, Bard and Cappella say; education majors use the titles to help build lesson plans. Project Flight and BSU add hundreds of titles to the collection annually. Recent additions include books about the ongoing Russia-Ukraine war.
In response to the May 2022 mass shooting in Buffalo, during which a white supremacist opened fire in a supermarket and killed 10 Black community members, Bard and Cappella added the Literacy Library Collection for Equity, Social Justice, and Peace. This subcollection, also made available in several local libraries, has a heightened focus on calls to action. Titles include Peace, Love, Action: Everyday Acts of Goodness from A to Z by Tanya Zabinski and Making It Right: Building Peace, Settling Conflict by Marilee Peters.
"This collection tells you how to stop bullying, what you can do in your community to stem violence, and how you can show an appreciation for someone who is maybe not of your color or religion," Cappella says.
Peace and social justice movements are often "seeds that take a while to bear fruit," Mattson notes. The libraries and archives that commemorate them allow for people, especially activists, to stay encouraged even in tough times.
"You have to know you're part of a larger community of people—not just in this moment but going back in time—who have really struggled and suffered," Mattson says. "It's not always easy to make change, but it's possible."