Alena Rivers became executive director of the Association for Library Service to Children (ALSC) on October 3, after serving in the interim role since September 2021. Rivers joined ALA in 2017 as deputy director of ALSC, where she worked with the division's staff, board, committees, and partners.
Her work has included facilitating a division-wide collaboration on bystander intervention, implementing a pilot ALSC Equity Fellowship, and executing a pilot ALSC Research Agenda Grant. Rivers received an MLIS with a certificate in youth services from Dominican University in River Forest, Illinois, where she was a graduate assistant in the Butler Children's Literature Center.
She answered our 11 Questions to introduce herself to ALA members.
Coffee, tea, other?
Definitely tea! I drink several cups of green tea throughout the day, then move to herbals in the evening.
What's the first website or app you check in the morning?
I check my text messages—my family sends texts well past my bedtime—then listen to my Calm app for 10-minute meditations.
Best career advice you've ever received?
There is something to learn from everyone you encounter. Take the time to listen and welcome the knowledge you gain from someone else's experience or expertise.
What drew you to library work and ALA?
I had an interest in early literacy and a deep appreciation for children's books. When it came time to consider a new direction in my career, I enrolled in library school. The administration and faculty spoke highly of joining ALA, so I was familiar with the Association. After working for a small library, I found the ALSC deputy director position by way of my mentor from my MLIS program. The role was a great blend of my operations and library experience.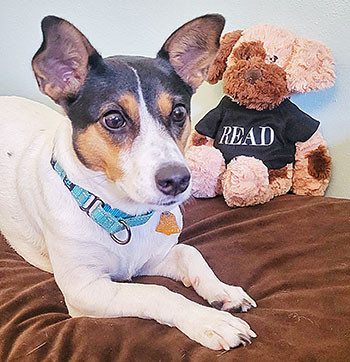 Most distinctive aspect of your personal office?
A READ stuffed dog from the ALA Graphics Gift Shop sits by my desk, alongside my real pup, Lemon.
Guilty pleasure?
Magazines. I'm a visual person, and I have a particular love of perusing the images in interior design magazines.
First job?
When I was in high school, I worked in the health and beauty department at Venture, a discount department store, on weekends.
What do you hope to bring to ALA and members?
I hope to continue inspiring our members to find a space to grow in their profession and expand their networks through engagement in ALA. It's always exciting to see how members' experiences and ideas contribute to ALSC's direction. I'd like to bring that opportunity to new members who can find a place in ALSC. I am grateful to be doing this work with an amazing and dedicated team!
If you had to choose any other profession, what would it be and why?
I'd be an architect. I'm really intrigued by the way designing a space can impact how we feel and function throughout the day.
Book you're reading?
I'm reading Black Artists in America: From the Great Depression to Civil Rights, by Earnestine Lovelle Jenkins. It was a new book at my library. The new books section is the first place I head to in my library. And I still enjoy reading picture books and middle-grade novels, so I just started The Mighty Miss Malone, by Christopher Paul Curtis, which has been on my list for a while.
Tool used for keeping your life organized?
I like OneNote for keeping up with lists and random thoughts, but I'm still a paper-and-pen person, so I always have a notebook nearby.