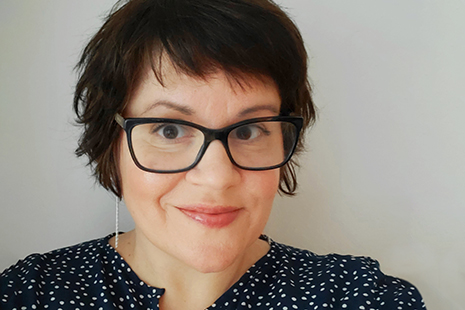 Angela Gwizdala became publisher of ALA Editions/ALA Neal-Schuman—the book publishing arm of ALA Publishing and Media—on September 1.
Over the past year, Gwizdala had been serving as associate publisher of ALA Editions/ALA Neal-Schuman. In between her 15 years at ALA, she spent six years at the American Bar Association (ABA) where she was managing editor of periodicals (with readerships up to 40,000) for multiple ABA sections. She returned to ALA in 2014.
Gwizdala answered our 11 Questions to introduce herself to ALA members.
Coffee, tea, other? 
Chai.
What's the first website or app you check in the morning? 
A quick look at what's trending on Twitter and then email.
Best career advice you've ever received? 
My mentor would often tell me "Tomorrow is another day." When I'm feeling overwhelmed by endless to-do lists, I say it to myself, take a deep breath, and feel instantly reassured that I will accomplish what is most urgent and prioritize other things accordingly.
What drew you to library work and ALA? 
Twenty-two years ago, it was as simple as a love of books, content, and publishing. But the dedication and passion of ALA staff inspires and motivates me all these years later.
Most distinct aspect of your personal office? 
My office is also a space for my hobbies, so I'm surrounded by books, paintings, and quilts.
Guilty pleasure? 
Takis and sitcoms from the 1970s and 1980s.
First job?
Briquette maker for gas grills.
What do you hope to bring to ALA and members? 
I'd like to raise the profile of ALA Editions/ALA Neal-Schuman, committing to publishing the highest quality content for the profession.
If you had to choose any other profession, what would it be and why? 
I'd run a small resort by a lake. I'd get to know the regulars, plan activities, and prepare meals. Some family members say I'm most cheerful when I'm near water, and they aren't wrong.
Book you're reading? 
I'm currently re-reading Blue Highways by William Least Heat-Moon.
Tool used for keeping your life organized? 
My Rocketbooks. I'm not a spokesperson, but I'll promote to anyone who will listen.