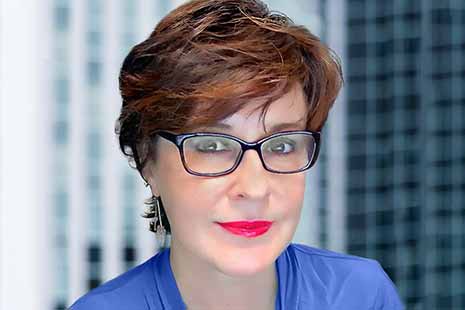 Rebecca Headrick became the American Library Association's (ALA) chief information technology officer—a newly created position—on September 26.
Before joining ALA, Headrick was chief technology director at Illinois CPA Society, where she helped the organization migrate to cloud-based infrastructure. Prior to that, she held multiple technology roles with the American Association of Nurse Anesthesiology.
Headrick has a bachelor's in business analysis and IT project management from DePaul University and a master's in business administration from North Park University, both in Chicago. She is currently pursuing a master's in organizational leadership from North Park.
She answered our 11 Questions to introduce herself to ALA members.
Coffee, tea, other?
Coffee and unsweetened iced tea, depending on the weather.
What's the first website or app you check in the morning?
CIO.com, Harvard Business Review, or The New York Times.
Best career advice you've ever received?
Always, always seek new knowledge in any subject that interests you. It will help you bring your best self to work and enrich your lived experience beyond measure.
What drew you to library work and ALA?
ALA's core values, such as democracy, diversity, education and lifelong learning, intellection freedom, and serving the public good are all extremely important to me. I am honored to bring my best to an organization that reflects my personal values in this way.
Most distinct aspect of your personal office?
A candy jar full of individual lens wipes. Anyone is welcome to them.
Guilty pleasure?
Naps!
First job?
Typist for a small credit union in my hometown, a few hours a week after school in the 10th grade.
What do you hope to bring to ALA and members?
I am excited to help guide ALA technology strategy in meaningful and innovative ways to move the ALA mission forward. I hope to help deliver a compelling and enriching digital experience for members and anyone else who comes to ALA for any purpose.
If you had to choose any other profession, what would it be and why?
Probably a television or movie executive producer. I've always been drawn to behind-the-scenes work.
Book you're reading?
I usually have two going at once, one fiction and one nonfiction. I've just finished West with Giraffes, by Lynda Rutledge, and my nonfiction read right now is Broad Band: The Untold Story of the Women Who Made the Internet, by Claire L. Evans. Highly recommend both!
Tool used for keeping your life organized?
Hands down, my Outlook Calendar. If it's not there, it's not happening!