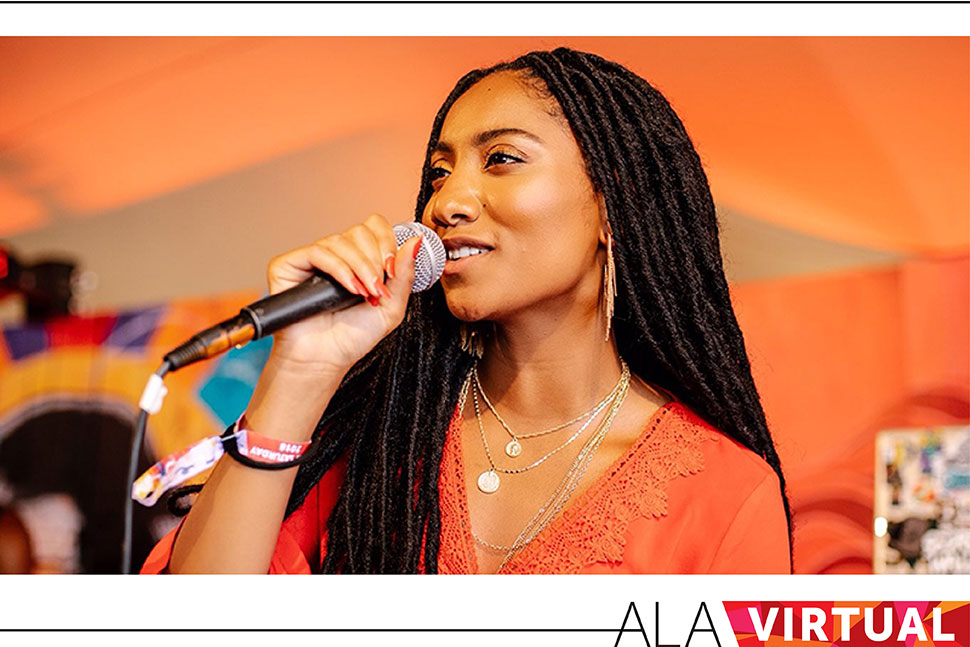 Poet, model, and motivational speaker Sophia Thakur got straight to the point: "I'm going to be talking to you about libraries and just how sacred they are as places."
Thakur, debut author of Somebody Give This Heart a Pen (Candlewick, September) and featured speaker at ALA Virtual on June 24, remarked on libraries' ability to offer enrichment, empowerment, and empathy.
"Anything that can meet you at the point of your desire to escape will forever hold a sacred place," she said. "My escape enriched my reality, and books never stopped doing that."
Thakur expounded on the ways in which libraries liberate—offering new feelings, ideas, people, and contexts. "In remembering that the world can be bigger than our own worries, we allow ourselves to become inspired, and to dream is to learn to live properly," she said. "Putting books into people aren't for exams. It's essential for softening and sharpening us toward the people we will meet."
She also examined deeply personal subject matter—unrequited crushes, puberty, family dynamics, and losing her grandmother to cancer—through a unique blend of cadent storytelling, spoken-word performance, and song as she toggled between reading poems from her forthcoming book and addressing her viewers head-on.
"I wrote Somebody Give This Heart a Pen to validate the corners of us that we sometimes think we experience alone," Thakur said, noting that when we she performs her work at conferences and schools, she often sees a physical exhalation happen among audience members. "Seeing a new perspective is always beautiful, but I'm obsessed with holding up a mirror for people to see themselves."
Words themselves are a way to heal, Thakur emphasized. "We are encouraged to remember mantras, daily affirmations, passages from the Bible to make us feel safe," she said. "Words, sometimes a bandage, sometimes a mirror, sometimes a mother."
Thakur ended her talk by praising poetry—a form that she thinks many don't view "beyond the operating table" as a result of what is taught in schools.
"Poetry forces us to address a beginning, middle, and end. It sits in this digestible gap between art and conversation," she said. "It can flesh out the crumbled parts of ourselves that we sometimes tuck deep beneath our tongues."