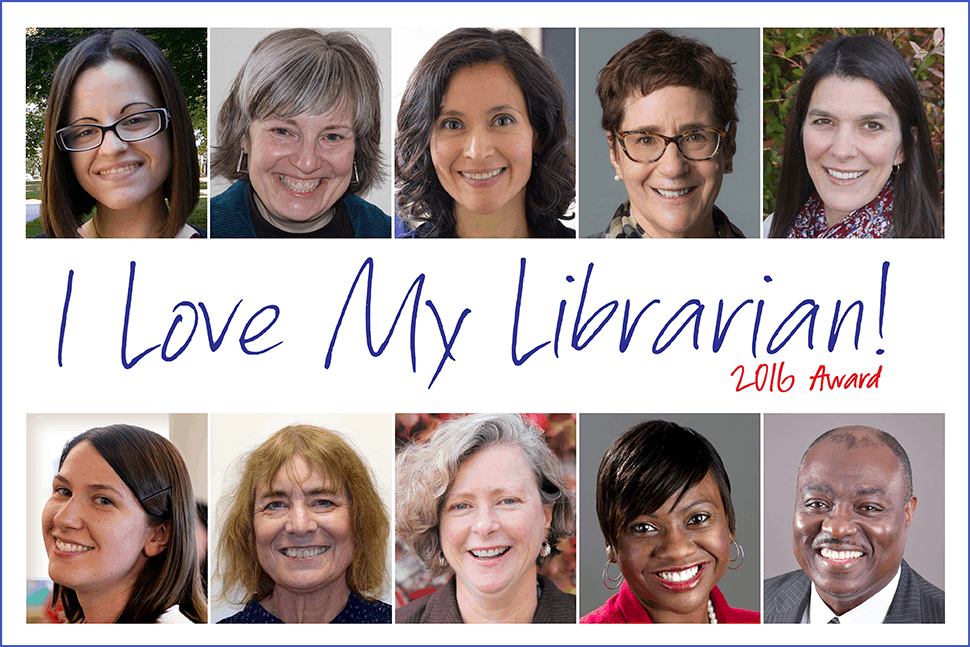 Ten librarians from across the country will be honored later today with this year's I Love My Librarian Award. These librarians were recognized for their exceptional contributions to transforming lives and communities through education and lifelong learning.
Winners were selected from nearly 1,100 nominations. Library users detailed how their favorite librarians working in public, school, college, community college, or university libraries helped to improve the quality of their lives by connecting them to information, opportunities, and critical technology.
"The I Love My Librarian Award is an incredible opportunity to acknowledge librarians as experts and valuable resources, essential to the success of their libraries and communities," said Julie B. Todaro, president of the American Library Association (ALA). "As highly educated professionals, librarians are providing library constituents with the tools and knowledge they need to grow and thrive in today's changing information landscape. The fact that these nominations come from the people they serve gives us heartfelt testimony to the powerful impact librarians make every day through their work and commitment to their profession."
The 2016 I Love My Librarian Award recipients include three academic, four public, and three school librarians. This year's winners are:
Danielle S. Apfelbaum, librarian II, New York Institute of Technology (NYIT), Old Westbury, New York
Described as "a librarian for the more collaborative 21st century library," Apfelbaum has worked closely with NYIT's Campus Life team, advising new students during summer orientation, developing an academic integrity workshop, and recommending new resources for students. She has earned several other awards in the process, including 2015 Advisor of the Year from the school's Delta Epsilon Psi fraternity and the NYIT Presidential Award for Student Engagement.
Andrea Bernard, library director, Tyler Memorial Library, Charlemont, Massachusetts
Bernard was nominated by a patron who was homebound following spinal surgery: "Throughout the winter, in all kinds of weather, my librarian, Andrea Bernard, brought me an endless supply of books. Because Andrea takes a personal interest in all of her patrons, she knew just what books to bring me."
Olga Valencia Cardenas, youth services outreach librarian, Stanislaus County Library, Modesto, California
A bridge-builder with a strong focus on early literacy programs, Cardenas meets families where they live and work to extol the virtues of reading. When she organized a program about the importance of reading to children for employees at a local nursery, 20 employees left with their first library card, and more than 100 received a free book.
Elissa Checov, manager of library services, Gwinnett Technical College/Gwinnett County Public Library, Lawrenceville, Georgia
Checov's focus on library instruction and user experience led to the creation of a learning commons–style environment at Gwinnett Technical College's new Alpharetta-North Fulton campus. She created active, welcoming spaces for students and repurposed old offices into hands-on learning areas.
Kathryn Cole, school librarian, Northside Elementary School, Chapel Hill, North Carolina
Cole partnered with her local public library on a reading program to fight "summer slide." She kept the school library open for neighborhood kids and the Boys and Girls Club, and she brought in performers, held movie days, and created additional programming to keep kids engaged all summer.
Tabatha "Tabby" Farney, director of web services and emerging technologies, University of Colorado, Colorado Springs (UCCS)
Numerous instructors at UCCS praised Farney's research and teaching skills in the School of Public Affairs and her role as a resource to graduate and undergraduate students learning to use the library. She started the Undergraduate Research Journal at UCCS in 2008 and now serves as its faculty advisor.
Sherri Ginsberg, head librarian, Hillsides Library, Pasadena, California
Ginsberg turned a little-used library at this therapeutic residential and day school into a campus hub for its students, who have emotional, learning, or behavioral challenges. She books speakers and performances, leads arts and crafts, provides a safe space, and has built the collection up to more than 11,000 books.
Lia Kharis Hillman, fourth-floor programming manager, San Francisco Public Library (SFPL)
A former chef, Hillman worked with local partners to build a teaching garden and offer gardening classes at the Mission branch of SFPL, added a seed-lending library at the Potrero Hill branch, and created "Biblio Bistro," a food education program using a mobile kitchen cart, at the main library.
Jamille Rogers, media specialist, Marguerite Vann Elementary School, Conway, Arkansas
To reverse a trend of low academic performance in male students in her school, Rogers and her team worked with local partners to form the Distinguished Gentleman's Club to build leadership skills, values, and academic achievement in boys in grades 2–4.
Roosevelt Weeks Sr., deputy director/chief of staff, Houston Public Library (HPL)
Weeks manages many of the library's extensive outreach programs, including relief efforts after natural disasters like hurricanes, sending its mobile library unit into affected communities to help people apply for assistance and file claims.
This year's librarians join a distinguished group of award recipients who have been commended for their efforts to advance individual and community progress. Ninety librarians have received the national award since its inception in 2008. In the United States, 166,000 librarians continually work to meet the changing needs of library users and the communities they serve.
Each winning librarian will receive a $5,000 prize at an award ceremony and reception on November 30 in New York City. The ceremony is hosted by the Carnegie Corporation of New York, which cosponsors the award with New York Public Library and The New York Times. ALA administers the award through its Public Awareness Office, which promotes the value of libraries and librarians.
For more information about the 2016 I Love My Librarian Award recipients, please visit ilovelibraries.org/ilovemylibrarian.
Edited Dec. 2, 2016.