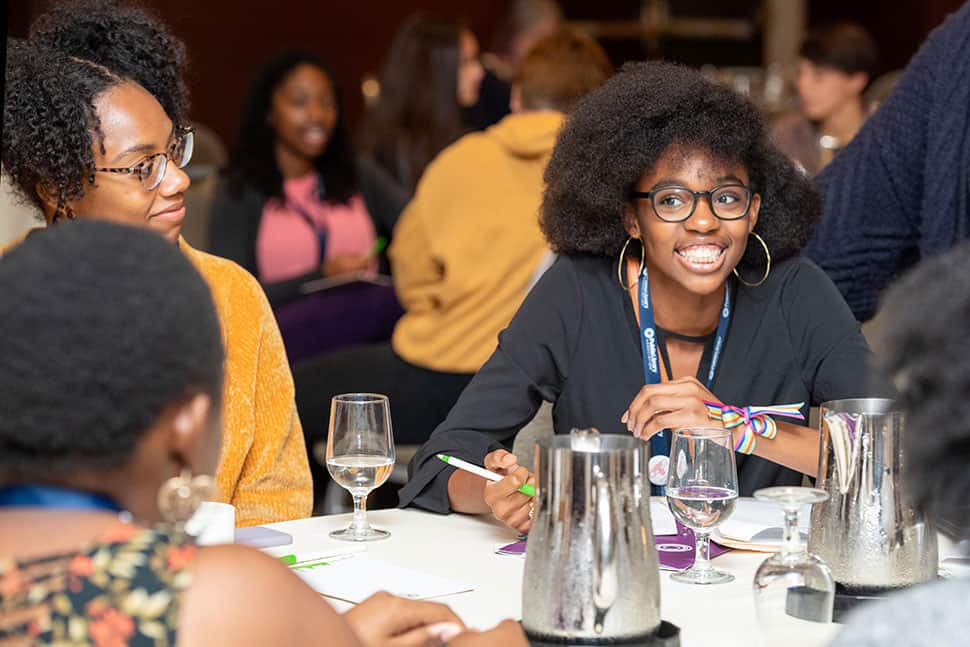 This summer, 48 public libraries around the US hosted a high-school-aged intern for 10 weeks of learning, networking, and career development as part of the Public Library Association's (PLA) third annual Inclusive Internship Initiative (III). III is designed to introduce students from diverse backgrounds to librarianship as a viable and rewarding career. Members of the 2019 III cohort gathered in Washington, D.C., September 20–22 for a wrap-up event to discuss the work they did as well as the impact of that work on their careers, their libraries, and their communities.
The program formally began September 21 at the Library of Congress (LC). ALA President-Elect Julius C. Jefferson Jr., section head of the Congressional Research Service at LC, welcomed the group and shared that his own career path started with a library internship. He thanked mentors and interns alike for their commitment to increasing inclusivity within the profession.
Mark Sweeney, principal deputy librarian of Congress, said he also started his library career as an intern. After providing a brief history of LC, he escorted the group to see the sweeping views of the Capitol from LC's office suite, a rare privilege. Following a tour of LC's Jefferson Building, it was time for the main event, in which each intern gave a five-minute presentation about their internship experience.
At the June kick-off event in Chicago, Mikel Gonzales, intern at Long Beach (Calif.) Public Library, said he had considered creating a Cultural Appreciation Day. After surveying his community, Gonzales switched his focus slightly and instead developed conversation groups for English language learners. Gonzales said he was inspired by his grandmother, who he felt needed to find a community to feel comfortable connecting with. The program resulted in increased circulation of Spanish-language materials. Gonzales said he believes "every library should strive for a diverse staff. It always feels good to see yourself reflected in a safe environment." He looks forward to pursuing his own library career to create that impact.
Sommer Kinsler, intern at the Camden County (Ga.) Public Library, also tweaked her project after engaging with the intended audience, in this case the library's teen advisory board. Instead of a book club, she organized a job and education fair that brought in employers and public agencies from the county to discuss their work. Kinsler helped the library establish new relationships and said she takes great pride in knowing that her event had a positive effect on attendees.
At the Pioneer Library System in Canandaigua, New York, Dominique Robinson organized two panels on race and the community. Through these challenging discussions, Robinson developed her self-confidence while also having fun. She has been invited to replicate the panels at other libraries in the system. "This internship gave me the tools to conquer my world," Robinson said.
Cade Langsdon, intern at Salt Lake City Public Library, said he felt rewarded every day of the summer. He created a zine and documentary telling the stories of members of Salt Lake City's LGBTQ community. He said he wants to feel that sense of reward and accomplishment no matter what profession he decides on but admits he may follow his librarian mother's career path.
In Henrico County (Va.) Public Library, Kelsey Coston, who had been hoping to find a library job even before she knew about III, helped in a variety of ways around the library. She made great headway planning a composting and gardening program that will come to fruition in the spring, when the weather is better for the planned activities.
Sade Wilkins El tackled discomfort about menstruation at Baltimore County (Md.) Public Library. Through a Period Action Drive, Wilkins El, who wants to be a public or school librarian, collected pads and tampons and engaged volunteers in packing more than 200 menstrual kits for low-income and homeless women. "I want to encourage girls to fight the stigma and talk about periods," she said.
Other projects undertaken by the 2019 III cohort included organizing a series of social justice movie nights; establishing Gender and Sexuality Alliances; creating STEM and engineering workshops; and leveraging a NASA @ Your Library grant to create a virtual reality space within the library.
Mentors also benefitted from III. They had an extra pair of hands over the busy summer season, and they developed their own leadership skills and became more aware of the needs of teens in their communities. Several mentors indicated an interest in participating again next summer, while a few more are hoping to develop local internship programs based on the III model.
PLA supported the third summer of III with funding from a preprofessional Laura Bush 21st Century Librarian Program Grant from the Institute of Museum and Library Services. The application to host an III intern during the summer of 2020 will open early in the new year.