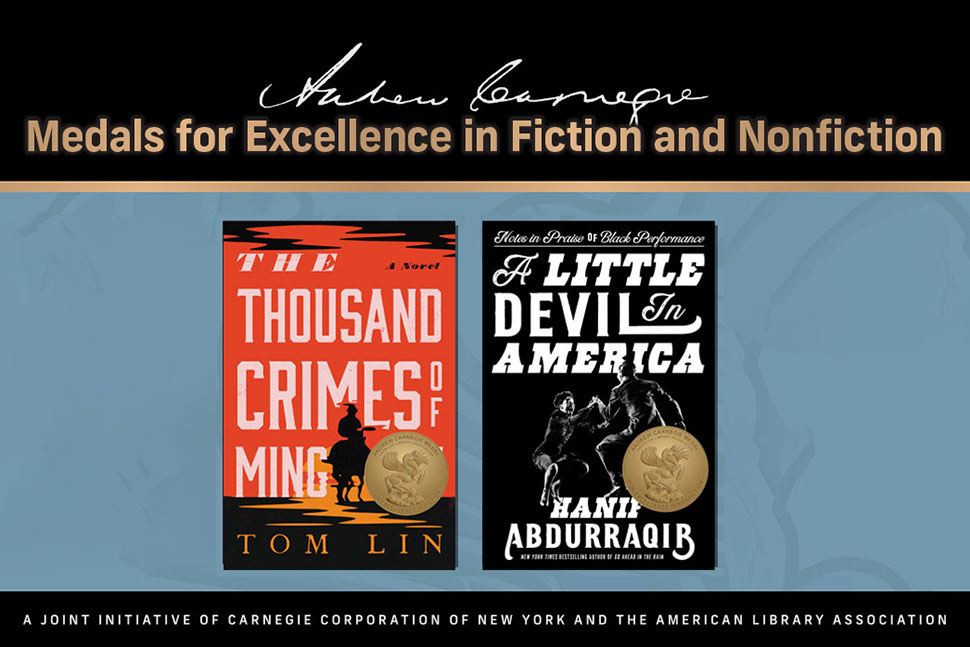 The American Library Association (ALA) has selected The Thousand Crimes of Ming Tsu (Little, Brown and Company) by Tom Lin as the winner of the 2022 Andrew Carnegie Medal for Excellence in Fiction and A Little Devil in America: Notes in Praise of Black Performance (Random House) by Hanif Abdurraqib as the winner of the 2022 Andrew Carnegie Medal for Excellence in Nonfiction. The selections were announced during ALA's inaugural LibLearnX conference January 23 at the Reference and User Services Association's (RUSA) Book and Media Awards virtual event, sponsored by NoveList.
Lin's book is set in Utah in 1869; titular character Ming Tsu reckons he has killed some 200 men and is now on his way to killing the five who had beaten him close to death, stole his wife, and had him sentenced to 10 years of forced labor building the Central Pacific Railroad. Ming has escaped and is ready for retribution. Joining him in his quest for revenge are the Prophet, who guides Ming physically and spiritually, and three players in a traveling miracle show. Infused with magic realism, Lin's beautifully imagined first novel is a transcendent epic.
In A Little Devil in America, Abdurraqib blends pop culture essays, memoir, and poetry to delve into the many iterations of Black artistic expression through an often deeply personal lens. Whether pondering the dynamic life and contributions of entertainer and civil rights activist Josephine Baker (to whom the book is dedicated) or meditating on his own work, the author's ruminations are an invitation to think deeply about Black performance on cultural and individual levels. Startling, layered, and timely, this is an essential, illuminating collection.
"Congratulations to both medalists for gifting readers with essential antidotes to the polarizing challenges we continue to face," said Terry Hong, chair of the selection committee for the 2022 Andrew Carnegie Medals for Excellence, in a January 23 statement. "Amidst the alarming spikes of violent anti-Asian hate, The Thousand Crimes of Ming Tsu is a brilliantly fictionalized reclamation of Asian-American history. Meanwhile, A Little Devil in America stupendously asserts crucial expressions of Black American performance. Both provide irrefutable evidence of a nation that has been diverse for centuries."
The other 2022 fiction finalists included The Five Wounds (W. W. Norton & Company) by Kirstin Valdez Quade and Matrix (Riverhead Books) by Lauren Groff.
Nonfiction finalists also included Four Hundred Souls: A Community History of African America, 1619–2019 (One World), edited by Ibram X. Kendi and Keisha N. Blain, and Seek You: A Journey through American Loneliness (Pantheon Books) by Kristen Radtke.
The Andrew Carnegie Medals for Excellence in Fiction and Nonfiction, established in 2012, serve as a guide to help adults select quality reading material. They are the first single-book awards for adult books given by ALA and reflect the expert judgment and insight of library professionals and booksellers who work closely with adult readers.
Carnegie Medal winners will each receive $5,000. All the finalists will be honored during a celebratory event at ALA's 2022 Annual Conference in June. The medals are made possible, in part, by a grant from Carnegie Corporation of New York in recognition of Andrew Carnegie's deep belief in the power of books and learning to change the world, and are cosponsored by ALA's Booklist and RUSA.
More information on the finalists and the awards can be found at ala.org/rusa/awards/carnegie-medals.