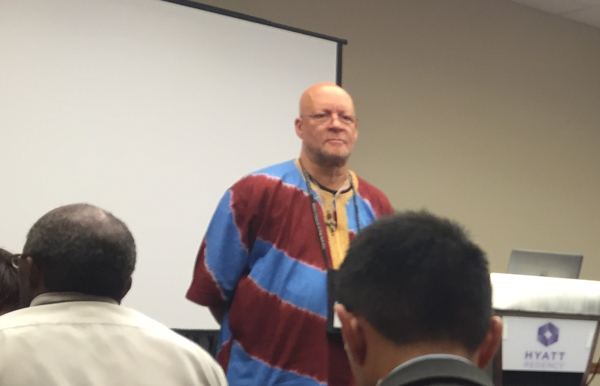 Day two of the National Conference of African American Librarians (NCAAL) began with a highlighted panel, "An Open Conversation with the ALA Task Force on Equity, Diversity, and Inclusion: Planning for Orlando and Beyond." Andrew P. Jackson, executive director of Queens Library's Langston Hughes Community Library and Cultural Center, led the conversation with fellow task force members Trevor A. Dawes, associate university librarian at Washington University in St. Louis, and Mark Puente, director of Diversity and Leadership Programs at the Association of Research Libraries.
Providing context for the conversation, Dawes mentioned the latest demographic data on librarians, which shows a slight narrowing of the gender gap but a disconcerting widening of the racial and ethnic gap.
Jackson started the conversation by asking how library associations can positively affect the local landscape of conference cities. Orlando, Florida, the site of the 2016 ALA Annual Conference and Exhibition, was discussed as the Black Caucus of the American Library Association (BCALA) and other ALA caucuses have made a statement deploring the application of Florida's "stand your ground" laws.
Early in the conversation, participants considered the definition of diversity. After discussion, Dawes provided the definition created by the task force, which begins, "Diversity can be defined as the sum of the ways that people are both alike and different." It ends with a quote from the National Education Association: "While diversity itself is not a value-laden term, the way that people react to diversity is driven by values, attitudes, beliefs, and so on.  Full acceptance of diversity is a major principle of social justice."
Jos Holman, former president of BCALA, recognized that librarians should become less concerned about ways in which we are different from one another and more concerned about what we have in common, as that is how we become more inclusive as a profession. Jackson mentioned one of his favorite quotes: "We must celebrate difference until difference doesn't make a difference anymore."
The open conversation yielded suggestions for BCALA and ALA to be more responsive to the needs of communities around conference cities. However, more significantly, it provided opportunities for librarians of color to discuss their struggles within the profession.
A common theme of being "the only one" of color in a library, a campus, a city, or a even a state led to suggestions about library science programs and future ALA initiatives. One human resources librarian passionately affirmed the value in having training for library administration on recruiting and retaining librarians of color and the importance of those librarians having advocates within the organization.
The results of the conversation and more updates on the task force will be available on its ALA Connect page.