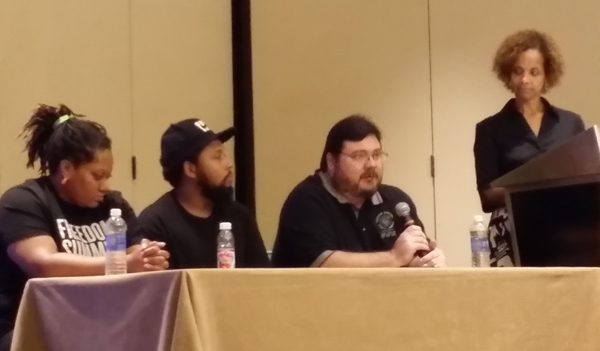 Officially, the National Conference of African American Librarians (NCAAL) has tracks on topics like diversity, emerging technologies, assessment, and financial literacy. Unofficially, the conference has a powerful track on social justice—though one might also call it a track on Ferguson—which includes at least three sessions and a bus tour.
Reflecting on the tragic shooting death of Michael Brown and the resulting unrest, the Black Caucus of the American Library Association (BCALA) and NCAAL illuminate the role of libraries in meeting the needs of communities working towards social justice.
In a short film screened during the 90-minute panel session, Ferguson One Year Later: Community Perspectives—Lessons Learned, conference chair Makiba Foster discussed the decision to keep the conference in St. Louis after the Brown shooting. In conversations, which included BCALA president and St. Louis native Kelvin Watson, an understanding emerged: "As African American professionals, this is the time when our presence is need more than ever." In the film, Foster also tells how BCALA planted a Michael Brown Memorial Tree, which was vandalized one day after its planting.
Dr. Leah Gunning Francis moderated the panel Ferguson One Year Later, which boasted a table of community change agents in Ferguson: Scott Bonner, director of the Ferguson Public Library; Tasha Burton and Charles Wade, founders of Operation Help or Hush; Rodney Francis, pastor of Washington Tabernacle Missionary Baptist Church; Ron Johnson, Missouri Highway Patrol captain; and Terrell Carter, former St. Louis police officer and minister.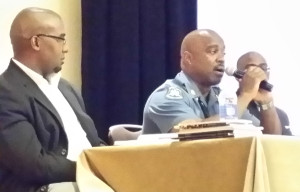 Bonner described how his library has changed in the last year amid a whirlwind of action and new programming. "My job is to figure out what the community needs and try to create programs to meet those needs," he stated. Clarifying his takeaway from the events of Ferguson, he asserted, "There's no need that is too great for a library to do its best with." For example, Bonner worked with nearly 100 teachers and volunteers to teach more than 200 schoolchildren in the small public library when schools were closed after the shooting and subsequent community response last August.
Ron Johnson, the highway patrol captain charged by the governor to take over the police response in Ferguson, discussed how he came to one of Bonner's programs and spent time with the children. Taking a sock puppet and crayons from the program as visual inspiration, he successfully pleaded with protesters and officials for the schools to be reopened.
Wade and Pastor Francis discussed how the community's response in Ferguson was the result of years of inequality and abandonment by local government and community leaders.
Johnson said his strategy for restoring peace has been to show people respect and validate their voices. He admitted, "The protests are just a way of saying that we have a long way to go."