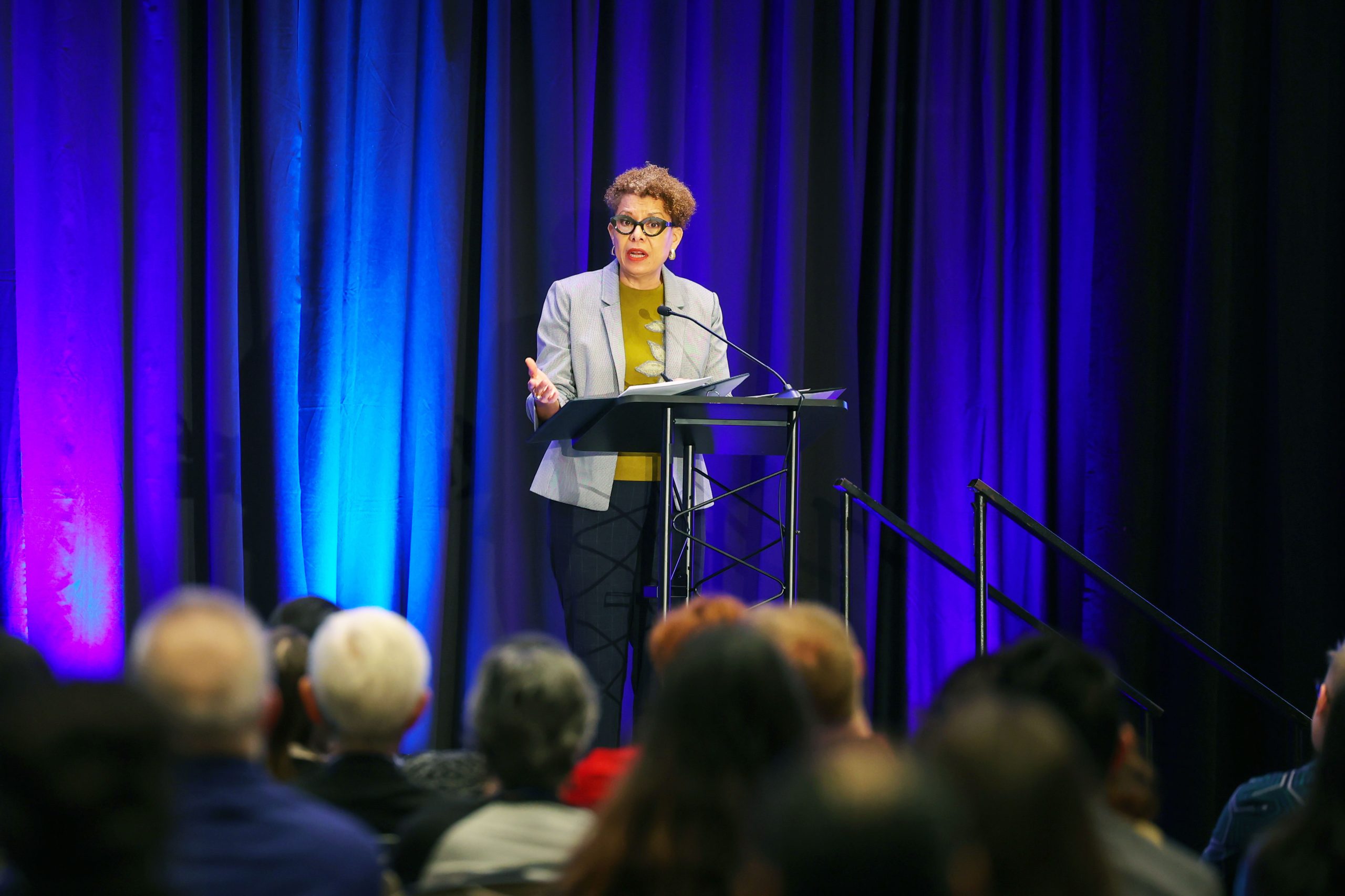 The theme of the 24th annual Martin Luther King Jr. Holiday Observance and Sunrise Celebration was "Housing: The Chicago Chapter in Dr. King's Freedom Movement."
An estimated 200 people attended the 6:30 a.m. celebration Sunday, January 29, at ALA's 2023 LibLearnX conference. Twenty library leaders from across the profession took the stage to read passages from The Autobiography of Martin Luther King Jr., focusing on the civil rights leader's time in Chicago in 1966, when he shifted the movement's efforts from the South to the North, specifically looking at segregation, racism, and injustice in this northern city.
Keynoting was Sheryll Cashin, author of White Space, Black Hood, and professor of constitutional law at Georgetown University in Washington, D.C. Cashin began by sharing that she was the daughter of civil rights activists from Alabama who knew King personally.
While many focus on the civil rights leader's message of love and harmony, Cashin said, not many discuss his radical agenda for change. But in the wake of several civil rights victories in the South in the 1960s, King thought Chicago would be "an equally strategic city for piecing the nation's consciousness about northern segregation."
His goal there was to organize a broad nonviolent movement "to attack the iconic ghetto and the systemic exclusion of Black Americans from white neighborhoods," Cashin said. This exclusionary housing practice—which included redlining—was a system that she called "residential caste," which prevented upward mobility.
In 1966, King moved his family into an apartment in the North Lawndale neighborhood on the west side of Chicago to mobilize "the very people trapped in concentrated poverty," Cashin said. But King and his supporters were met with violent mobs who attacked them during peaceful marches for housing and economic rights.
It took King's death in 1968 to help inspire the passage of the Fair Housing Act, which prohibits housing discrimination. The enforcement of this requirement didn't come until five decades later, however, when President Obama's administration instituted the rule on Affirmatively Furthering Fair Housing. (The rule was ended during the Trump administration and then restarted under the Biden presidency.)
Despite hostile state legislatures, Cashin said she sees hope, especially in several progressive cities. She said the first step toward transformation is to change the lens applied to people trapped in poverty. "When you change the lens from presumed thug to presumed citizen," she said, you can use evidence-based strategies to produce better outcomes in your community.
Among the cities Cashin cited as giving hope was Minneapolis, which in 2018 repealed its single-family zoning ordinance. The ordinance made it illegal to build anything other than single-family homes in many areas, exacerbating issues with unaffordable housing. Other cities doing it right, Cashin said, are Newark, New Jersey; Gary, Indiana; and Savannah, Georgia. "These happen to be Black-run communities that are applying a lens of care to descendants," she said.
Like all innovators, these progressive cities may not be perfect, but the key is that they acknowledge truth and wrestle with past and present policies, Cashin said.
She concluded by asking everyone to celebrate King by remembering and recommitting to his movement toward reckoning, transformation, and reconciliation: "We have to continue to do the work of dismantling the structures that push us apart but also the structures that suppress democracy."
Following Cashin, Julius C. Jefferson Jr., 2020–2021 ALA president, delivered the call to action, noting that the country continues to be at a crossroads and asking attendees, "Where should we go, and what direction should we take?" Jefferson said that among his favorite quotes of King's is "injustice anywhere is a threat to justice everywhere." The question then becomes, he said, "What are we going to do about [the injustice]?" For starters, Jefferson said, we all need to wake up and disrupt the systems that create injustices: "You have to keep moving forward."
The event concluded with the annual tradition of attendees joining hands to sing "We Shall Overcome."