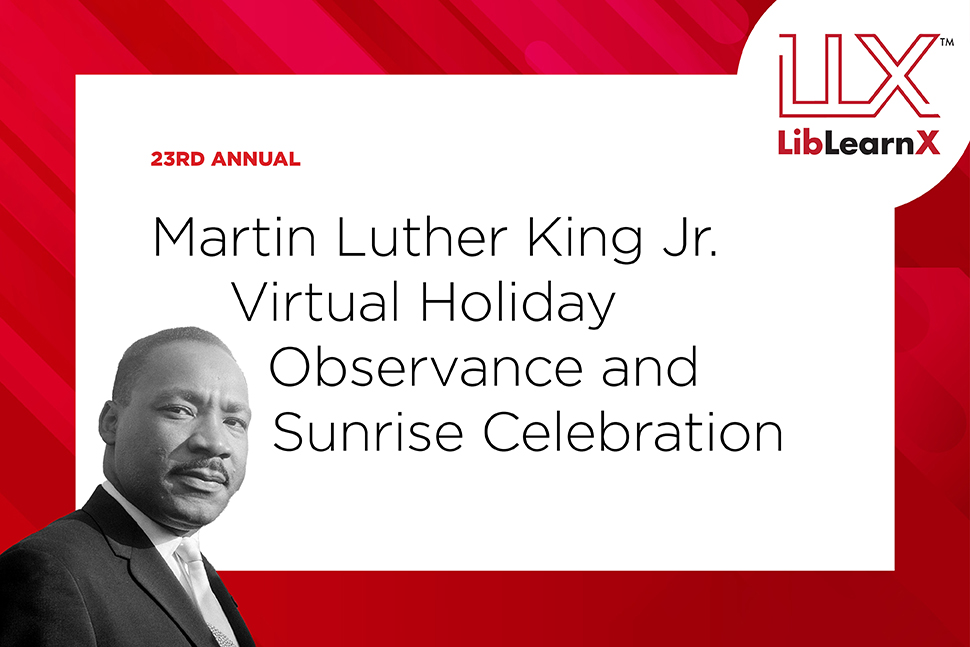 The 23rd annual Martin Luther King Jr. Holiday Observance and Sunrise Celebration was held virtually at ALA's 2022 LibLearnX conference on January 24.
The celebration's theme this year focused on King's 1957 speech "Give Us the Ballot—We Will Transform the South," which he delivered to 25,000 people at the Lincoln Memorial in Washington, D.C., during the Prayer Pilgrimage for Freedom demonstration. The event was organized to urge the federal government to fulfill the three-year-old Brown v. Board of Education decision.
In the address, King acknowledged the Supreme Court ruling as "a great beacon light of hope to millions." And yet, as he later said, "conniving methods" were still being used to prevent Black people from registering to vote.
Now, 65 years after that speech, recent attempts to restrict voting access have succeeded in many states. As Sunrise Celebration cochair LaJuan Pringle said in his introduction: "Once again the American doctrine of freedom and equality for all people is in jeopardy."
'A bitter reminder'
Delivering the event's keynote was historian and author Keisha N. Blain, who cowrote the award-winning Four Hundred Souls with fellow historian Ibram X. Kendi.
Blain began her talk by discussing the activism of Fannie Lou Hamer, the subject of her new book, Until I Am Free (Beacon, 2021). Hamer, she said, "was the embodiment of King's vision" because of her work to expand Black political rights.
In 1960s America, "Black people were still shut out of the formal political process," said Blain, despite the passage of the 13th, 14th, and 15th Amendments, which abolished slavery, granted citizenship to all, including formerly enslaved people, and granted African-American men the right to vote, respectively.
For example, she said, in Hamer's home state of Mississippi, only 5% of its 450,000 Black residents were registered to vote in the early 1960s. To change this, in April 1964 Hamer joined forces with other activists to form the Mississippi Freedom Democratic Party and a few months later traveled to Atlantic City to attend the 1964 Democratic National Convention (DNC).
"She persisted," Blain said. Hamer went on to deliver a powerful speech at the DNC, telling stories of the Jim Crow South and the daily racist violence she saw in Mississippi and encountered in the South while working with the Student Nonviolent Coordinating Committee.
"Is this America?" Hamer had asked during her speech, Blain said. "If Americans claimed to be committed to the ideals of liberty and justice for all, then Hamer's testimony laid bare the full extent of American hypocrisy." The speech, Blain said, electrified a nation and moved thousands to act.
The following year, with the passage of the Voting Rights Act of 1965, states were required to "overturn decades of restrictive policies that kept Black people away from the ballot box." As a result, in Mississippi alone, the number of Black residents registered to vote dramatically increased from 28,000 to 280,000, said Blain, and the number of Black elected officials more than doubled.
"The Voting Rights Act has been under attack since its passage," she said, citing numbers from the nonprofit Brennan Center for Justice showing that in 2021, 19 states passed 34 laws that restricted voting access. "These developments," she said, "serve as a bitter reminder that the fight for voting rights is all from over." Blain concluded: "There is no democracy without equal protection and equal access for all."
A call to action
ALA Executive Director Tracie D. Hall delivered this year's call to action. She addressed the "beloved community" of attendees as she reflected on the connection between King's call for voting access and political transformation. His activism began, Hall said, with "insistence and resistance, but ended with action and responsibility."
That thinking, she said, transfers over to the library and information services community, "where we face a community of readers and learners that depend on us to advocate for their needs through our practices, protocols, programs, and the policies we shape and accept."
Though not everyone may see themselves as an activist, Hall said, library workers make critical connections. Those connections may come simply from removing digital access barriers by providing broadband service, devices, and digital literacy skills.
"But even more than a web of programs and services," Hall said, "we as a community must began to see our membership itself as a movement." This movement, she said, should be committed to education, access, intellectual freedom, equity, sustainability, and other essential core values.
Citing author and activist Grace Lee Boggs, Hall said we must all take responsibility for improving society: "We are responsible for creating that sense of belonging that leads to deep systemic change."