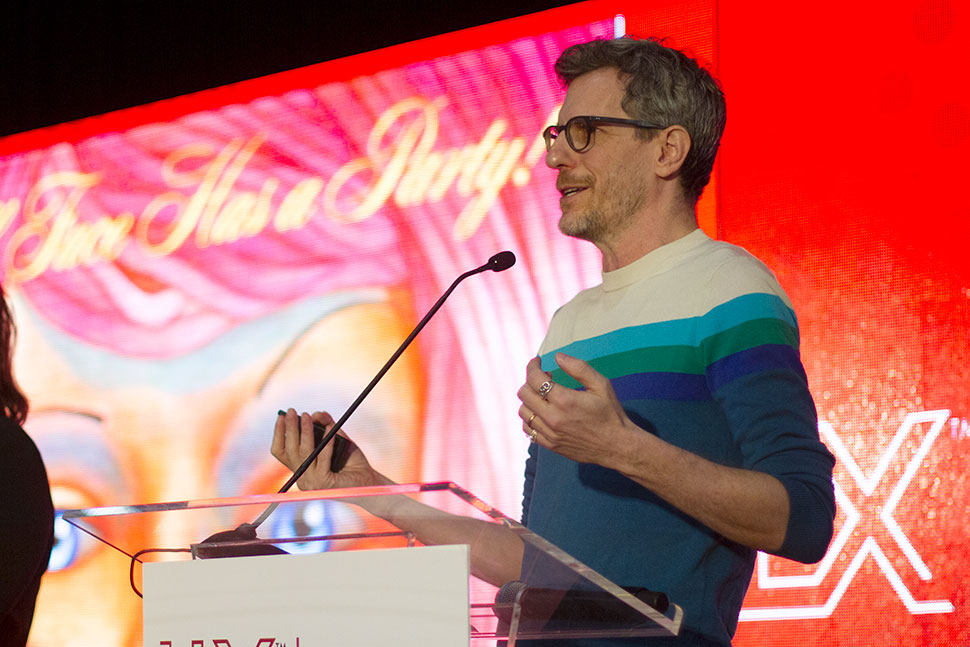 "I have loved libraries and librarians for as long as I can remember," said Caldecott Medal–winning author Brian Selznick, expressing fondness for his elementary school librarian, Mrs. Dickerson. Selznick spoke at the American Library Association's 2023 LibLearnX conference on January 28 to a sizable crowd gathered at the exhibit hall Studio Stage.
He began his talk discussing influential books and artists throughout his life. Among them was The Borrowers, by Mary Norton, which he checked out often from the school library. The story—about a family of tiny people who live secretly in floorboards of a kid's house—was so magical and real for Selznick, that he made little furniture and would leave it around his own house.
As a child, his favorite artist was Leonardo da Vinci. Selznick would draw angels, similar to da Vinci, but spent a lot of time drawing monsters as well. "I was always drawing," he said, "and I had teachers who were very encouraging of me."
The books of Remy Charlip were especially inspirational, said Selznick, including a book about sign language that Charlip cowrote called Handtalk. It's how Selznick first learned how to sign, he said, signing for the audience several times during his talk.
He read an excerpt from Charlip's "A Page Is a Door," in which Charlip wrote that "if a door has something completely different behind it, it is much more exciting. The element of delight and surprise is helped by the physical power we feel in our own hands when we move that page or door to reveal a change in everything that has gone before, in time, place, or character."
The best example of this cinematically, Selznick said, is in The Wizard of Oz, when Dorothy opens the door from the black-and-white world of her house and into the Technicolor world of Oz. "That act … of going into a new place and having everything change" has been the mantra for Selznick as an illustrator, he said.
"In picture books and in many graphic novels, there is thought behind what happens when you turn the page," similar to when Dorothy opens the door. There is power in the page-turn.
But the book that Selznick said changed his life was Maurice Sendak's Where the Wild Things Are. He read it for the first time as an adult when working at a children's bookstore in New York and was particularly amazed by Sendak's use of white space and how the pictures "trace the psychological arc of the journey of the character." When the main character Max reaches the wild rumpus, there's no more white space, no more words, "and it's up to us, the reader, to move from spread to spread and make the action move forward." The reader, then, becomes the collaborator, Selznick said.
This power of the page-turn is what he noted when writing his own books, especially The Invention of Hugo Cabret, for which Selznick won the 2008 Caldecott Medal. The book was originally slated to be a 98-page novella, he said, until he made the connection to the magic of Charlip, Sendak, cinema, and the page-turn. In fact, Selznick modeled the drawings of main character Georges Méliès after Charlip, who posed for the drawings.
Selznick said that his new book, Big Tree (Scholastic, April), is a culmination of all that he has gleaned from his previous works. Film director Steven Spielberg originally asked Selznick to write the story as a screenplay, but when the pandemic hit and the movie wasn't going to be made, Selznick turned it into a book, which is told from a plant's point of view.
"When I look back at all of the books I have made," Selznick said, "I can see a very clear line for how all of that work led up to this moment."
The two sycamore seeds that are the protagonists of Big Tree reflect a lot of what many of us are going through, he said. "It's so easy to feel tiny and insignificant and like we can't do anything," Selznick said. "And especially librarians [who] are facing so many direct problems and challenges right now."
But there is hope. "No matter how small and terrified and overwhelmed you might feel," he said, "there is always something that can be done."