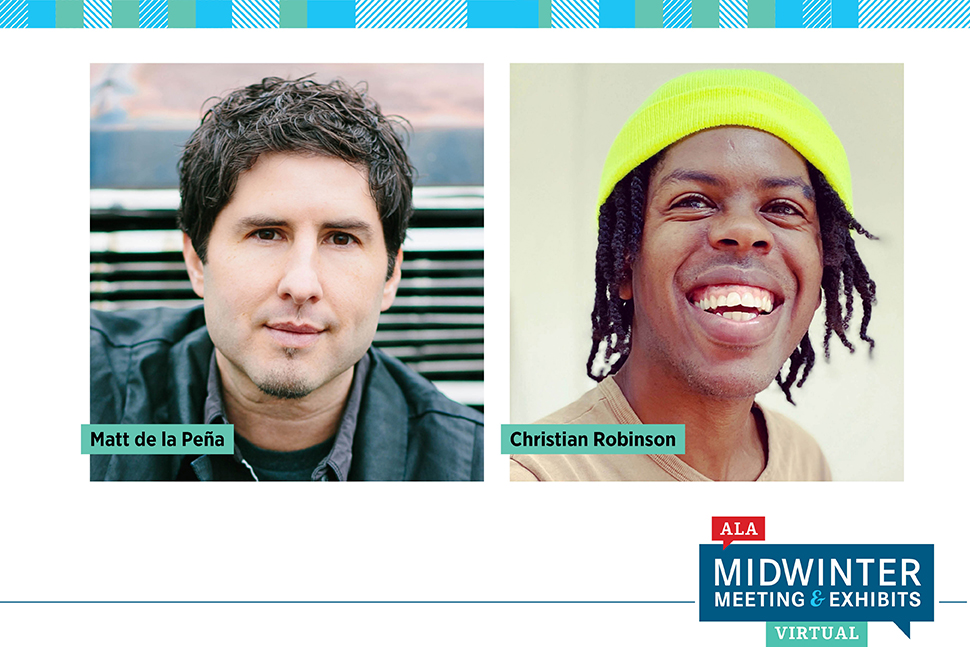 Newbery Medal-winning author Matt de la Peña never imagined he would write picture books.
He and author-illustrator Christian Robinson appeared on the virtual PopTop Stage at the 2021 Midwinter Meeting & Exhibits Virtual on January 22. The two began their 30-minute discussion by talking about the artistic process behind Last Stop on Market Street, for which de la Peña won the Newbery, and Robinson won a Caldecott Honor.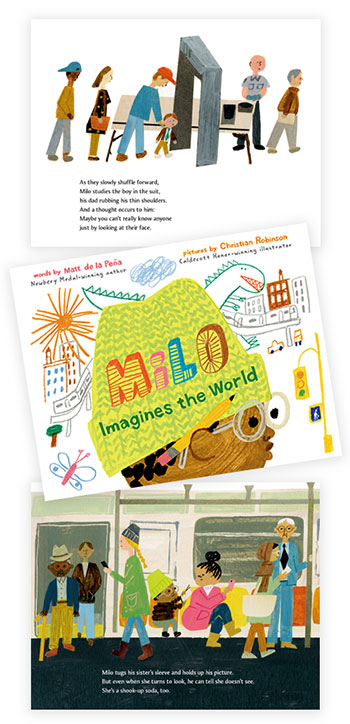 The two have collaborated on three books thus far; the most recent is the forthcoming Milo Imagines the World (February 2021, Penguin Random House).
De la Peña said he often writes "dozens and dozens of drafts to get the story right." (For Last Stop, he estimated it took more than 50 drafts.) His process on every picture book is twofold, he said: "I first have to get the story right … and then it's about the music," which involves cutting words and paring down.
Robinson said that Last Stop's grandmother, Nana, was similar to his own—except that his grandmother "cursed a lot," he joked. "The heart is pretty much the same. My grandmother definitely instilled [in me] a sense of gratitude and making the most of what you have."
Regarding his artistic process, Robinson said he storyboards each project on Post-It notes. "I work small because it's a lot easier to tackle something big, like a big idea, by having something small. Like little bites."
In all of their work, the two said their goal is to communicate the beauty and authenticity of communities whose stories aren't often told. In Carmela Full of Wishes, on which they collaborated, that community included migrant workers. "It's about wanting to celebrate the honor and beauty in these communities, in these worlds," said Robinson.
It was this search for authenticity that led them to team up on the upcoming Milo Imagines the World, a picture book told through the eyes of a young boy as he rides the subway with his older sister to visit their incarcerated parent. De la Peña said he was cautious not to make the incarceration the focus of the story, "at least not overtly because it's always slightly about that." His aim, he said, is to get away from easy stereotypes and reimagine "who these people are that populate our lives," whether on the train or in the grocery store.
"Everyone we meet has this entire history behind them that we can't see," said de la Peña. "It's important for us to acknowledge that depth."
As a child, Robinson grew up in a big city and used public transportation, so he wanted to convey the busy-ness of people's lives, "how we're all connected," and how we should resist quick judgements about one another, "especially right now."
Robinson, who himself grew up with an incarcerated parent, said the book is personal. He likened his childhood to how the main character, Milo, sees the world but also reimagines it.
As a kid, Robinson lived with his brother, two cousins, an aunt, and his grandmother, all in his grandmother's one-bedroom apartment. Art and creativity were his escape.
There was "very little space, very little means, but there was a lot of love," he said. "And I at least always had a piece of paper and pencil available to me.
"With creativity, I recognize today that I was able to create a space for myself—to create the world I wanted to see."