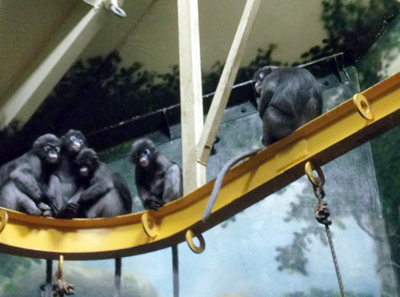 On Sunday night, I had the grand experience of joining New York Times–bestselling author Nancy Tillman at a book signing for her new children's book titled Let There Be Light, coauthored with Nobel Peace Prize–winner Archbishop Desmond Tutu.

Sponsored by HarperCollins Christian Publishing, the event gave the audience a private look into the the PECO Primate Reserve at the Philadelphia Zoo. Boarding a bus chartered especially for the event, we were in for a real treat. On the way there, we became very excited and wondered aloud what exactly what we were going to see, but all our guesses couldn't come close to the actual event.

A winding pathway to the Primate Reserve set the tone for the evening. We encountered beautiful black swans, adorable penguins, and a turkey vulture Once we arrived at our destination, we quickly ditched our coats and bags and were greeted by a wonderful spread of hot chocolate with marshmallows, s'mores, and various (delicious) desserts.

We were encouraged to wander about the reserve and saw many primates, including black-and-white ruffed lemurs, the reclusive aye-aye, and my personal favorite, a Western lowland gorilla.

Nancy Tillman graciously signed a copy of her latest book and gave dedications to those of us who asked for it. We also got a cute stuffed monkey to take home.

I didn't know what to expect from this excursion, and I'm really glad I went. It offered me a great way to relax after a long couple of days from attending various lectures and provided me and my fellow attendees a wonderfully rare look at Philadelphia. It was a thrilling experience, and I'd gladly do it again.
TA-SHIRÉ D. TRIBBETT is acquisitions, reference, and marketing librarian at the US Census Bureau.
---
See, hear, and read more about what's going on at Midwinter—in real time and after.
Twitter: @alamw and #alamw14
Facebook: https://www.facebook.com/events/512164432210368
YouTube: youtube.com/user/AmLibraryAssociation
Flickr: flickr.com/groups/2422196@N23
Pinterest: pinterest.com/alamidwinter