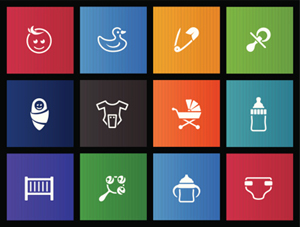 More than a dozen academic librarians—and one 13-month-old—met late Sunday afternoon at the Midwinter Meeting in Philadelphia for a session titled "ACRL Balancing Baby and Book Discussion Group."
Topics at this one-hour informal gathering ran the gamut, from conversations about the Family Medical Leave Act (FMLA) to parental leave policies at various institutions to discussions about child care services, both at professional conferences and on campus.
The consensus among attendees was that each employee felt she needed to advocate for herself when arranging maternity leave and a return to work. "Asking makes a difference," said one librarian, referring to flextime arrangements.
One person discussed a divisive office culture in which colleagues who don't have children react negatively to those who do, some going so far as to keep a time log of coworkers.
Another person, who said she plans to adopt, talked about the difficulties of preparing herself and her colleagues for a leave when an adoption could happen in a month or in 24 months.
All agreed that parental leave policies in the United States—and state by state—lag far behind other developed nations.
---
See, hear, and read more about what's going on at Midwinter—in real time and after. 
Twitter: @alamw and #alamw14
Facebook: https://www.facebook.com/events/512164432210368
YouTube: youtube.com/user/AmLibraryAssociation
Flickr: flickr.com/groups/2422196@N23
Pinterest: pinterest.com/alamidwinter