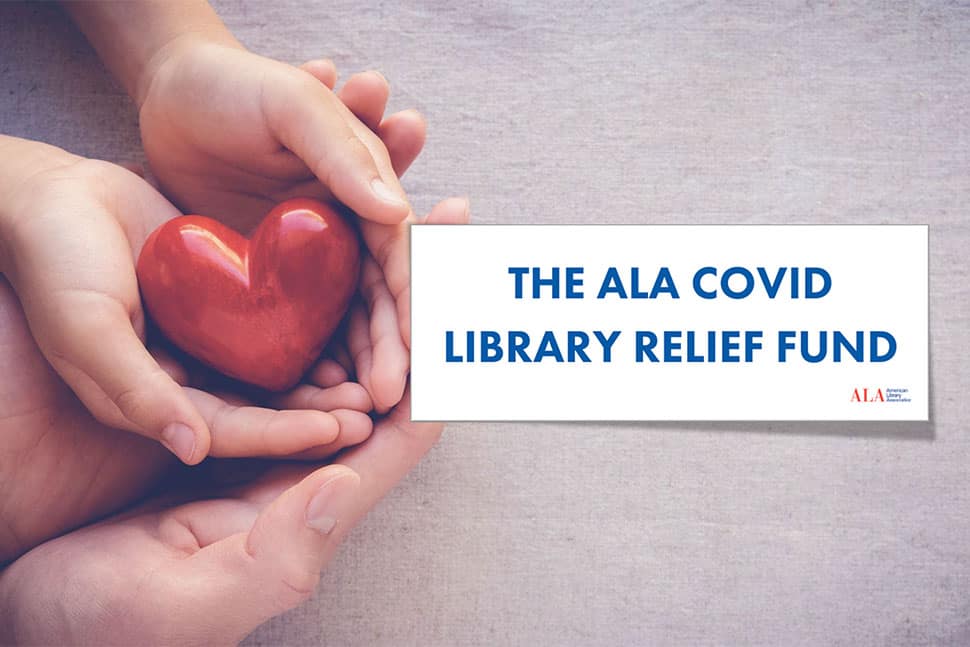 On June 25 the American Library Association (ALA) announced the distribution of $1.25 million in emergency grants to 34 libraries through the ALA COVID Library Relief Fund. The announcement is excerpted below; the full press release is available at ala.org.
Through the ALA COVID Library Relief Fund, grantees representing academic, public, school, and tribal libraries will receive grants between $30,000 and $50,000 to support library services and operations.
The ALA COVID Library Relief Fund represents a significant nonfederal grant opportunity for libraries. The funds support libraries' efforts to increase and enhance technology access, collection development, digital instruction, staffing, and outreach, while maintaining and amplifying existing services through the end of 2021.
"Congratulations to our ALA COVID Library Relief Fund recipients," said Tracie Hall, ALA executive director. "This new fund is part of the ongoing Association-wide effort to support libraries during these still-uncertain times. In the coming months, ALA will announce plans to raise additional funds to support and sustain the vital work of our nation's libraries and library workers as they tackle digital equity, supporting educational persistence, workforce reskilling, and community recovery more broadly, efforts that will undoubtedly require fully staffed and fully funded libraries."
Users ranging from school-age children to elders depend on the broad range of services provided by Oneida Nation Library in Wisconsin. In this rural community, computer access and educational activities serve as a lifeline. Unfortunately, service is currently under threat by a 67% budget cut resulting in the closure of one of only two libraries. The library system has received a $40,000 grant for new laptops, hotspots, computers, and training. With an emphasis on literacy-focused activities, the library will buy kits for the summer and fall reading programs, new activity kits for elders, and new books for all age groups.
In an economically challenged, widely diverse community, North Miami (Fla.) Public Library is located in the city's heart and serves 63,000. The library is within walking distance of four schools and serves as a haven for hundreds of students. Budget cuts have forced a 30% reduction in staff. With a $45,000 grant, the library will hire a much-needed youth services librarian and procure new resources to support children, teens, and families.
Serving a community where 100% of students are eligible for the free and reduced lunch program, the libraries in Brooks County (Ga.) Schools are the sole source of books for many students. With the $40,000 grant, three schools and their 1,500 students will receive new books and other resources, including crucial access to ebooks for those who will continue to attend remotely next fall. The grant will support efforts to hire part-time staff, including senior students, to provide much-needed assistance.
With 57% of its 15,000-student body representing the first generation in their families to go to college, Glendale (Ariz.) Community College Library is vital to student success. Reduced revenue resulted in challenges to library staff's ability to provide remote assistance, especially to essential course materials, as demand outstripped capacity. A $40,000 grant will support new scanning technology and the purchase of mobile hotspots for students, since many cannot afford internet access at home.
A complete list of grant recipients and project proposals are available at ALA's COVID Library Relief Fund website.
The ALA COVID Library Relief Fund is generously supported by Acton Family Giving as part of its response to the pandemic. The Andrew W. Mellon Foundation provided initial seed funding as part of its efforts to bolster educational and cultural organizations devastated by the economic fallout from COVID-19.
"We greatly appreciate the generous support from The Andrew W. Mellon Foundation and Acton Family Giving," said ALA President Julius C. Jefferson Jr. "Their tremendous support of libraries and understanding of the invaluable role libraries play in uncertain times is greatly appreciated by ALA and the millions of patrons who depend on library services."
ALA's Chapter Relations Office administers the ALA COVID Library Relief Fund. Additional information regarding Chapter Relations is available on on its website.