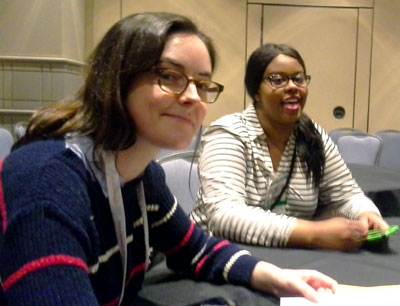 After I got my MLS in December 2013 (go Eagles!), I knew that I wanted to get actively involved in the profession. I volunteered for a couple of things, acting as an information literacy mentor at a local university, and an assistant editor for INALJ.com. After long consideration, I decided that I wanted to join the ALA New Members Round Table (NMRT).
To that end, two of the functions I attended today were sponsored by NMRT. The first, a Membership, Networking, and Committee Interest meeting ,was held in the Convention Center and lasted about an hour. During the meeting, attendees were introduced to current officers and told the goals and purpose of the organization. We were told of the various things they sponsor throughout the year, such as the résumé reviewing service and the job fairs held at the Annual Conference and Midwinter Meeting, in addition to a variety of leadership training for newbies in the profession. Throughout the meeting, we were encouraged to volunteer for committees and to remember that even the ALA president was a new librarian at some point.
Following that, I went to the NMRT social held at the Black Sheep Pub. The food was delicious and the drinks were excellent. Everyone had a festive time and many business cards were passed around. After a raffle, the group started to disperse to attend many of the other shindigs around town. As for me, after I couldn't get a cab. I was joined by a friendly face who suggested that we walk back to our hotel rooms, providing for safety in numbers and good conversation to boot. The walk wasn't too bad, despite the fresh snow on the ground. And that friendly face? None other than NMRT Member Services Director Kari Weaver. A group with a cool mission, great outings, and fun people? Now that's a committee I can be a part of.
TA-SHIRÉ D. TRIBBETT is acquisitions, reference, and marketing librarian at the US Census Bureau.
---
See, hear, and read more about what's going on at Midwinter—in real time and after.
Twitter: @alamw and #alamw14
Facebook: https://www.facebook.com/events/512164432210368
YouTube: youtube.com/user/AmLibraryAssociation
Flickr: flickr.com/groups/2422196@N23
Pinterest: pinterest.com/alamidwinter