The ALA Annual Conference Fun Run was an annual event for 21 years, beginning in 1984 in Dallas. After an eight-year hiatus, the run was resurrected at Midwinter 2012, also in Dallas.
This year's 5K Run/Walk was held on the Chicago Lakefront Trail south of McCormick Place. Here are a few photos from the event.
What do librarians do before a race? They read novels and inspect flora, of course.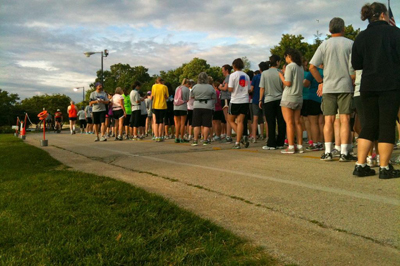 Runners and walkers awaiting the start horn.
Finishers queue up for water, with Lake Michigan in the background.