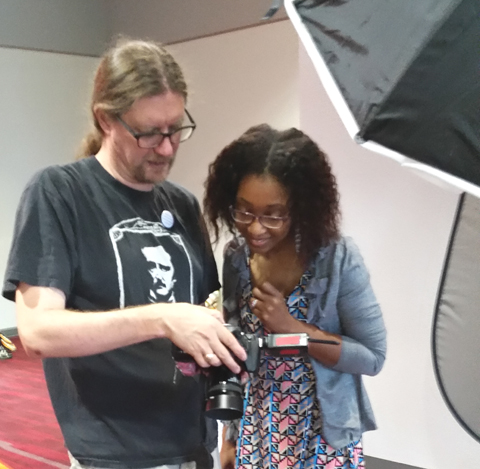 Philadelphia photographer Kyle Cassidy generated so much interest with his portraits of librarians taken at the ALA 2014 Midwinter Meeting in a February 11 article in Slate that he returned to take more at the Annual Conference in Las Vegas. This time he is taking photos and interviewing some 100 library professionals of all types for a traveling photo gallery, "Alexandria Still Burns," that libraries across the country will be able to host.
Cassidy told American Libraries that he hopes the 3.5 million people who read the Slate article will go to the library to see the gallery and "find out how awesome" librarians and their services are.
He also plans to produce a documentary film with the same title that he has been getting Kickstarter funds for. It will be narrated by award-winning novelist (and librarian supporter) Neil Gaiman.
"Librarians have very interesting stories," Cassidy said. "One criticism of the Slate piece is that it represented an inadequate cross-section of the full spectrum of librarians. I hope to fix that with this documentary to tell these many stories about librarians as best I can."
---
See, hear, and read more about what's going on at Annual—in real time and after.
Twitter: @alaannual and #alaac14
Facebook: https://www.facebook.com/events/489205011101981/
YouTube: http://www.youtube.com/user/AmLibraryAssociation
Flickr: http://www.flickr.com/groups/alaac14/
Pinterest: http://pinterest.com/alaannual/
Tumblr: http://ala-con.tumblr.com