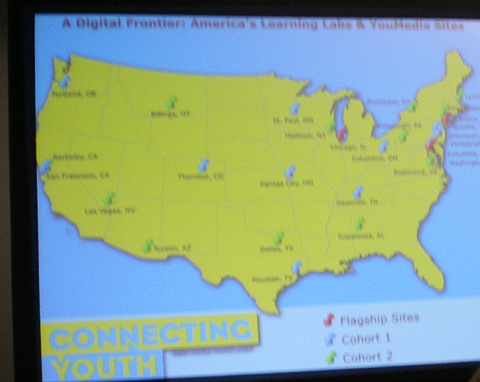 There is more to connecting youth than text messaging, it was clear in "Connecting Youth: Key Findings from the Learning Labs in Libraries and Museums Projects" program on Friday morning, sponsored by the Urban Libraries Council. Connecting youth is about engaging teens through subjects that interest them. The Learning Labs Initiative, started in 2012, helps teens connect activities and interests that they pursue in the library with skills that can help them at school or in a future career. Today, there are 27 Learning Labs and YOUMedia sites across the United States.
What makes these programs unique are partnerships that go beyond the library. Learning Labs collaborate with local universities, museums, schools, and community organizations. These bridges back to the real world can contextualize teens' learning experiences. Learning Labs are also different from traditional library programming because Learning Labs and the connected learning method are firmly based in robust research. The program's originators started with demographic studies about youth and their learning habits.
So, how do teens learn? Hanging out, messing around, geeking out (HOMAGO) is the battle cry for today's teen librarians. The research shows that, for adolescents, socializing, learning, creating, and just having fun are not separate activities. Teens can roll it all into one. In fact, combining these activities results in more successful learning for today's young people.
Connected learning
Learning Labs and their HOMAGO ethos offer adolescents multiple entry points to learning experiences. This lets teens engage with what they want to learn in ways that are meaningful for them. This style of connected learning is also more successful than the top-down information consumption that many teens get at school.
What makes learning connected? Connected learning programs are characterized by being:
Interest-powered
Openly networked
Production-centered
Academically oriented
Shared-purpose
Peer-supported
In other words, connected learning programs allow teens to work together to create their own meaning using ideas that interest them.
Learning Labs are about providing context for young people to ground their interests to real-world ideas. This feature of Learning Labs is also its biggest challenge. Teens do not typically have the language to translate their skills and interests into résumé-ready terms. Libraries need to help adolescents see how their interests connect to real-world ideas, which is not always easy. A librarian from Las Vegas shared an example of connecting teen interests to a career. The library staff noticed that many of their teen patrons were interested in music. To support that interest, they started a DJing program. Teens learned how to speak in front of an audience, plan parties, and use the technology to make music. Now, some of these teens are participating in battle of the bands competitions.
Supporting teens
The success of connected learning programs hinges on creating a community for teens in the library. One theme the presenters emphasized was getting young people to see the library as a third space. Here, adolescents can learn and gather in a place other than school or home.
Kiley Larson, postdoctoral researcher in the area of digital media and learning hubs at New York University, emphasized the need to build relationships with youth. Technology might get teens in the door, but the relationships they form with mentors, librarians, and other teens are what keeps them coming back.
Mentoring is the key for successful relationships with teens. Connected learning programs involve people from all types of careers, including artists and IT experts. Mentors need to be comfortable working with young people and willing to constantly learn new things.
The Learning Lab is a space where teens are valued and respected. It is critical that adults involved in connected learning respond to teens' interests, rather than dismiss them. Mentors can help youth pursue their interests and find a pathway to something bigger. For example, Instagram is not a career goal, but learning photography or design can be. Adults in the library help adolescents recognize valuable skills and carve out career trajectories.
Measuring outcomes
A big concern among the session's attendees was measuring outcomes. Because connected learning programs often rely on grants, librarians must demonstrate the success of their program. Measuring outcomes is a challenge for a program that lets teens do whatever they want. It is practically impossible to measure skill growth, which would be the natural thing to assess. Librarians are often limited to self-reported data from their youth patrons.
The attendees had a lot of ideas for measurement. One librarian suggested a Girl Scout–style badging system to enable adolescents to demonstrate mastery of skills. Another suggested using an exit interview that the teen completes with his or her mentor.
Amy Eshlemen of Urban Libraries Council explained that the way librarians normally frame program goals might not work for connected learning spaces. "It is up to us to change the dialogue around outcomes," Eshlemen explained. Librarians, like the teens they mentor, will have to define success on their terms as they explore new methods of 21st-century learning.
LINDSEY HALSELL is an analyst for the Bureau for Private Postsecondary Education in California's Department of Consumer Affairs. She blogs at digitalmanticore.com.
---
See, hear, and read more about what's going on at Annual—in real time and after.
Twitter: @alaannual and #alaac14
Facebook: https://www.facebook.com/events/489205011101981/
YouTube: http://www.youtube.com/user/AmLibraryAssociation
Flickr: http://www.flickr.com/groups/alaac14/
Pinterest: http://pinterest.com/alaannual/
Tumblr: http://ala-con.tumblr.com