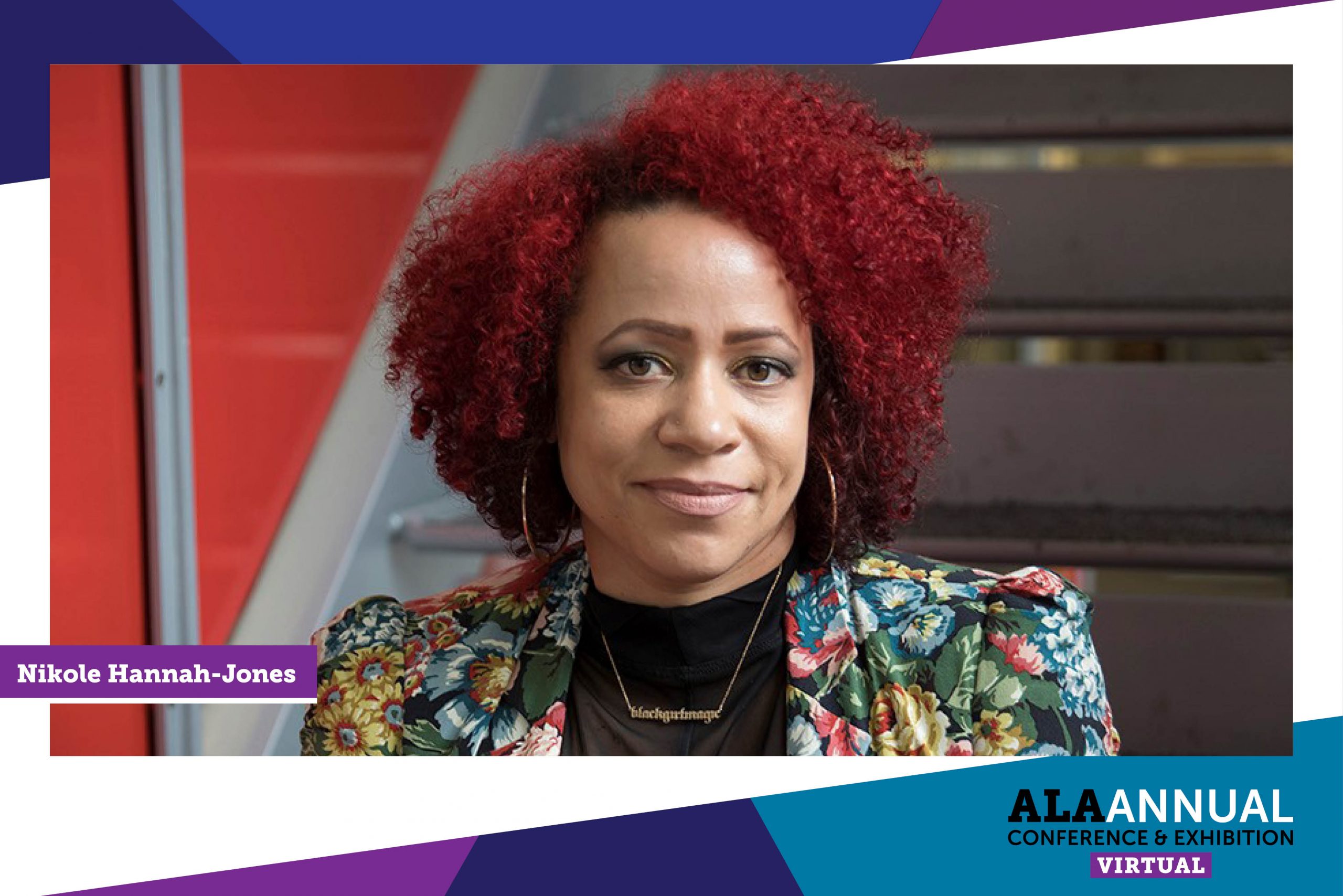 When asked what inspired the 1619 Project, journalist Nikole Hannah-Jones, who led The New York Times Magazine to a Pulitzer Prize for Commentary for the long-form collection, named an unexpected place: her high school.
As a teenager in Waterloo, Iowa, she took an elective class on Black studies. "It was the first time I'd ever gotten any type of extensive instruction on Black Americans," Hannah-Jones told viewers at the Opening Session of the American Library Association's virtual 2021 Annual Conference and Exhibition on June 24. "Opening up that door a little bit made me realize there was so much we hadn't been taught—and that was intentional."
Her teacher recommended she read Before the Mayflower: A History of Black America by Lerone Bennett Jr., a book that pinpoints 1619 as the start of slavery in America, when the ship The White Lion brought enslaved Africans to the colony of Virginia. "I was thunderstruck by that," said Hannah-Jones. "I couldn't believe we had been here that long, and I couldn't believe no one taught us that date."
She contemplated that date and its power for almost 30 years before the 1619 Project, a groundbreaking collection of essays marking the 400th anniversary of slavery in America and exploring the legacy of Black Americans, began to materialize. "You would not have American history without Black people," said Hannah-Jones, who noted that Black history is often segregated from the white-dominant narratives that make up our national history and common memory. "I really wanted to force us into the center of the American story, where I believe we belong."
To do this, Hannah-Jones sought essays that connected modern America to slavery in surprising ways—such as the practice's lasting impact on democracy, capitalism, our political system, and even music—as the framework for the 1619 Project. She gathered historians, sociologists, economists, and writers at New York Times headquarters to pitch content for a special issue of its Sunday magazine. Contributors included sociologist Matthew Desmond, social justice activist Bryan Stevenson, and journalists Jamelle Bouie, Wesley Morris, and Linda Villarosa.
When the 1619 Project came out in August 2019, Hannah-Jones wasn't sure how people would react. "There's been an aggressive aversion to dealing with this history. A kind of elective amnesia," she said. "People haven't wanted to grapple with this." But people certainly wanted to get their hands on a copy of The New York Times Magazine: Stories poured in of stores selling out, people driving across state lines to find copies, and some even stealing the magazine out of the newspaper. (To remedy this, Hannah-Jones is releasing The 1619 Project: A New Origin Story as a book in November, which will include new and expanded essays.)
"I don't think I could have predicted how deeply personal this was to folks," said Hannah-Jones. "I heard from literally every type of American," ranging from older white women in Mississippi to Black high school students in Chicago to Indian immigrants, she said. "Before the 1619 Project became what it has become now, which is this tool of the right, I was hearing from a lot of conservatives: 'I'm 60 years old and no one ever taught me this.'"
To those detractors who accuse her of rewriting history, Hannah-Jones is quick to remind them she did not produce a historiography. "My essay is memoiristic. This is where bad-faith people try to take it out of context," she said. "I'm not creating a work of history; I'm using history to create a work of journalism."
Ultimately, Hannah-Jones sees the 1619 Project as a hopeful narrative. "[It] really gives us a template for an America that is inclusive and beautiful and is fighting to live up to its highest ideals," she said. "In confronting [our] legacy, we can be liberated from it."