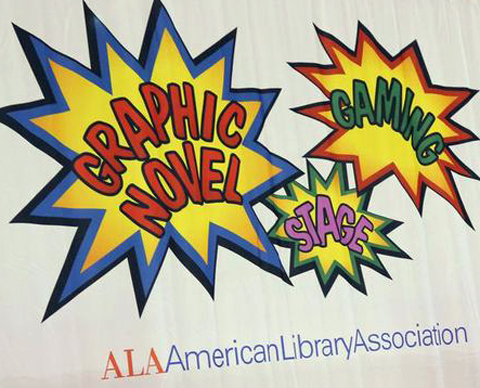 ALA's Graphic Novel Stage opened Friday night with "Comics Quickfire!" a fast-paced game where two volunteers choose a team of professional cartoonists and battle against each other for glory. Anne Drozd, Raina Telgemeier, Matt Phelan, and John Green participated in the game hosted by Dave Roman. The volunteers playing were Samantha from Boston and John from Chicago (whoa, that's like the recent NHL championship!). Sam and John chose their teams and it was women vs. men.
The teams: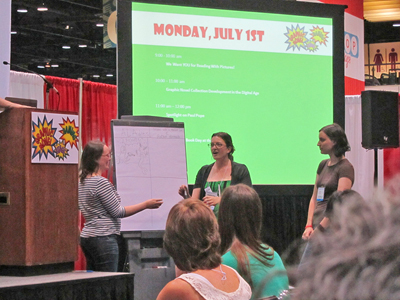 Sam's team: The ALAdies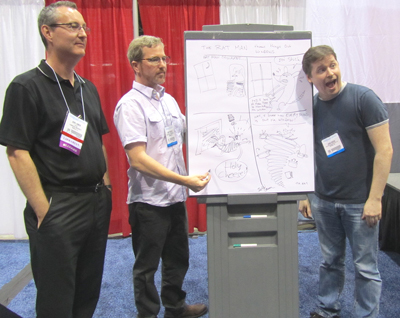 John's team: The Dangerous Three
The rules of the game: Each team has one minute to draw each panel in a four-panel comic. The first panel is the setup, second is the conflict, the third is the twist, and the fourth is the resolution. There must be a picture and word in each panel.
Dave Roman asked for story suggestions from the audience for each team. The Dangerous Three got "The Rat Man Throws Things Out Windows" and The ALAdies had "Octopus with Machine Gun vs. Mutant Mermaid."
The results: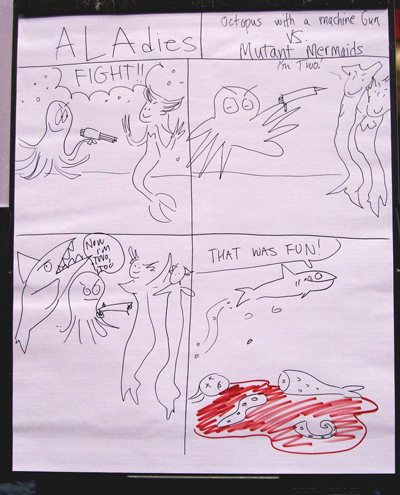 The night was full of laughter, suspense, and glory. The winners, voted by the crowd's level of applause, were the ALAdies!
******************************************
On Saturday, Audrey Niffenegger, bestselling author of The Time Traveler's Wife, talked about her new illustrated novel Raven Girl, a dark modern fairy tale that reflects upon what people in our society can often feel—trapped in a body in which they don't feel like themselves. The raven girl was born from a human father and raven mother, physically appears human, but can only speak in raven tongue. She finds a doctor who can give her raven wings, but there is a dark turn in the story, as most fairy taleshave . Raven Girl came to be when Niffenegger was approached by Wayne McGregor to write a dark fairy tale for a ballet.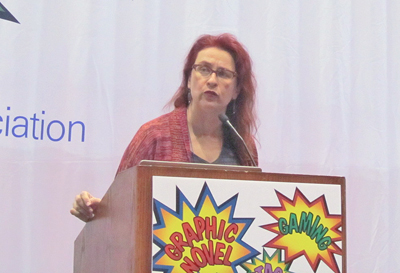 Audrey Niffenger at the podium
******************************************
There was much enthusiasm for the "Spotlight on Paul Pope" Monday morning. A large part of this enthusiasm emanated from who interviewed Pope—fellow illustrator Thien Pham, who was a joy to see fan-boy over Paul Pope. All age groups were in the audience, and all were engrossed in the conversation.
Pope discussed his past works, his influences, and his inspiration for Battling Boy, his first graphic novel for kids, due to come out in October. Pope is best known for his work in Batman: Year 100 and the New York Times best-selling graphic novel The One Trick Rip-Off. Pope has also worked with Diesel and DKNY.
During his school years, Pope mentioned how comics were seen as low-brow, but even so, he pursued it. "A professor once said to me, 'Your paintings are like Francis Bacon, but your ideas are like Mad Max'," Pope said.
When discussing the origins of Battling Boy, Pope said he thought about what his nephews would like and wanted the story to be "a warped Disney film." After Battling Boy, Pope said he will focus on Total THB.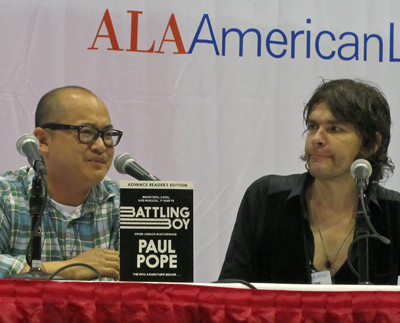 Thien Pham (left) and Paul Pope
JULIE CAI is participating in the ALA Student-to-Staff program.