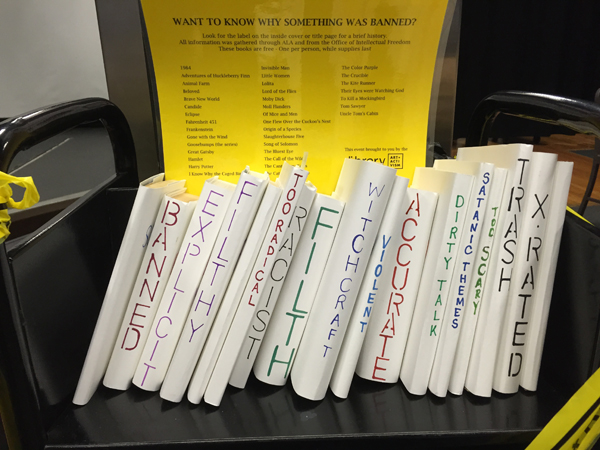 Chicago's Columbia College was one of many organizations holding "read-outs" of banned and challenged books during Banned Books Week 2015, September 27–October 3.
During events on September 29 and 30 and October 1, students, library staff, and other participants took turns reading aloud from banned books, including James Joyce's Ulysses, Ray Bradbury's Fahrenheit 451, and Sherman Alexie's The Absolutely True Diary of a Part-Time Indian. 
A library cart stacked with books was wrapped in yellow tape bearing the phrase Art + Activism. On its shelves are books with fake covers masking the real ones, their spines displaying the reasons they were challenged—"Violence," "Filth," "Witchcraft." Event organizers used the cart to explain Banned Books Week to students who stopped by the read-out.
"I think that many of the books on this list were so influential for so many of us growing up," says Molly Hart, student engagement coordinator for the Columbia College Library. "I always try to take time this time of year to really consider the shaping effect they had on me and who I might be if I wasn't given the opportunity to read those books."