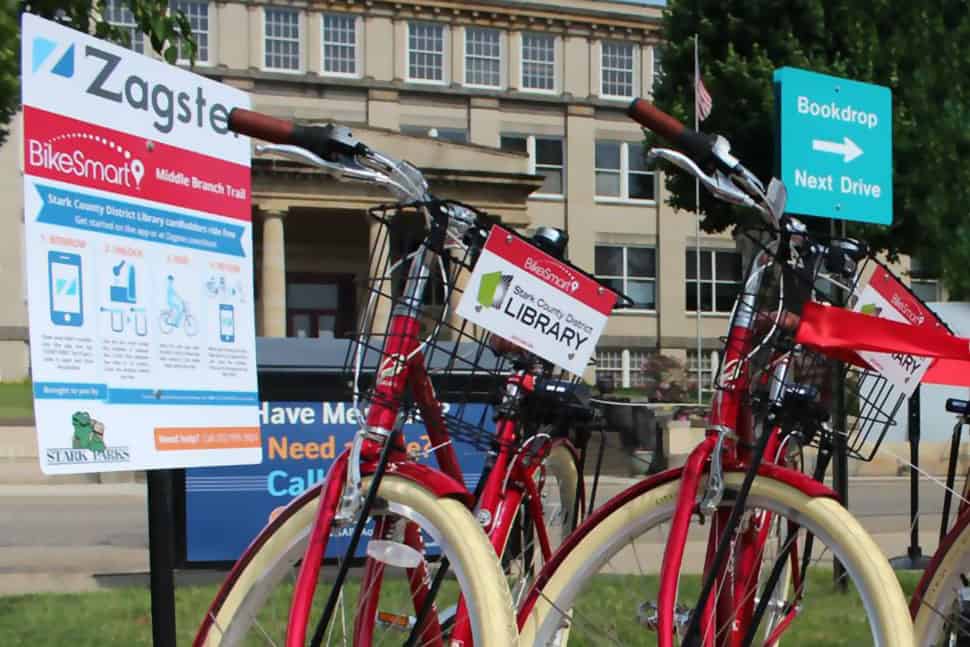 At the Stark County District Library (SCDL) in Canton, Ohio, you can borrow books, DVDs, and now bikes.
With help from kids in the community, SCDL started its BikeSmart program in June 2015. BikeSmart allows patrons to use their library cards to rent bicycles at one of six bike lending stations in Canton and Massillon. The program has returned for its second season, which will run until about November 15.
The program is a collaboration between the library, Canton Parks and Recreation, and the Stark County Park District. The bike leasing system is administered by Zagster, a full-service company that works to provide cruiser stations for cities, universities, and businesses.
"It works like a bike share program that you see in any city where you can borrow a bike for a short time," says Jean Duncan McFarren, deputy director at SCDL. "The twist on ours is that if you join with your library card, it's free."
When registering for BikeSmart, library cardholders receive a code that allows them free, unlimited rides. Those who don't have a library card, including visitors to the community, can rent bikes from a lending station with a credit card for $6 for a four-hour loan period.
The idea for BikeSmart came from a summer camp at the library hosted by TomTod Ideas, a local nonprofit group that brings together middle-school kids to launch "crazy" ideas that benefit the entire community. TomTod Ideas campers analyzed features of the community to come up with a viable idea.
"One of the aspects that the kids were so impressed with was the availability of all the bike trails that we have here," McFarren says. The kids looked at those bike trails and wondered, "But what if you don't have access to a bike?"
The group thought the library would be a great fit for this program because it's a shared community resource and it's already in the lending business. The library agreed and worked with the kids to prepare them for a community ideation panel.
"[The kids] present their ideas to a whole group of community leaders," says McFarren. "It's always exciting because the kids get peppered with really hard questions after they've done all this research, and are standing up there and defending these ideas that are kind of challenging."
After the success of the presentation, the library administration started doing research. The library needed to work with a third party to rent out the bikes so they wouldn't have to use their own resources to buy, maintain, and manage them. Funding for BikeSmart comes from the library's collections budget, much how the library would pay for ebook or database vendors.
The challenge was to find a company that was willing to work with a smaller community, since it wouldn't be a guaranteed profit for them. "That's where we came up with Zagster," McFarren says. "We lease with them, and they develop the software and do the maintenance."
While SCDL is unsure of the exact number of new library cards issued as a result of BikeSmart, the library has about 1,150 library cardholders registered for the program and 3,000 rides were taken during its first season. Not only does this program have potential to attract new patrons, but it also aids in changing people's perception of the library.
"We're really looking at how we get our community to think about libraries in a new way," McFarren says. "We're looking at remaining relevant and important to our community and having our customers think about us differently than they did in the past. I have to say, BikeSmart has been very successful for that."
McFarren adds that she hopes the program continues to grow. Currently there are six bikes at each of the six stations in the community. Other local groups have already expressed interest in becoming a part of the program.
"It's such an exciting time to be in libraries when we are looking at how we can transform and be even more integral to our community, and really come up with some new and interesting initiatives like this," McFarren says.