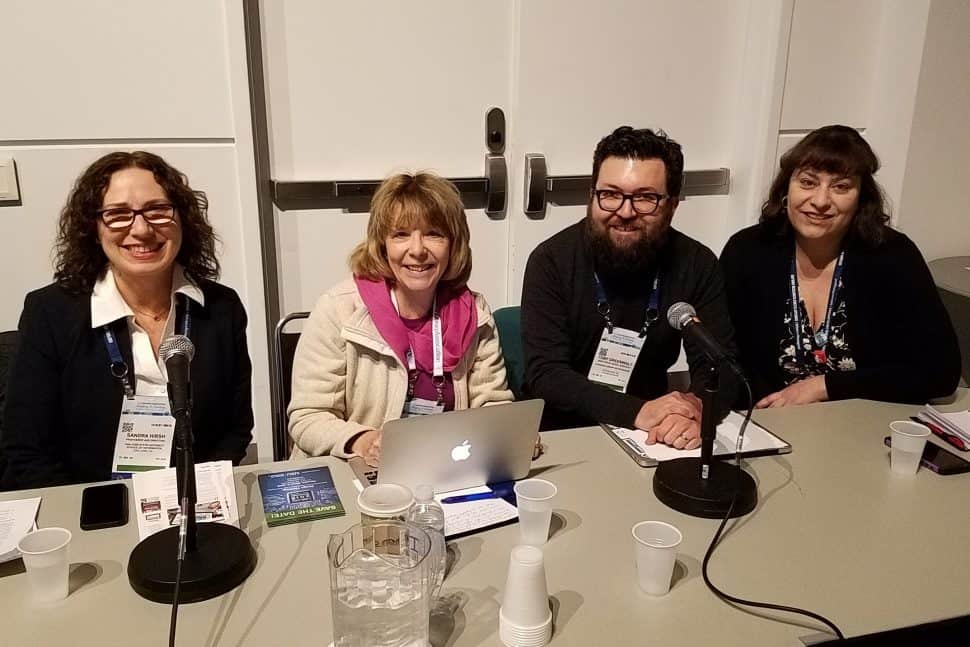 San José State University (SJSU) School of Information Director Sandra Hirsh served as the moderator for a panel that described three new, forward-looking technological efforts, all of which were funded by grants from the Institute of Museum and Library Services. The panel, "Blockchain, Open Civic Data, and TV White Space," was held Sunday morning as part of the Symposium on the Future of Libraries at the ALA Midwinter Meeting in Denver.
Sue Alman, a full-time lecturer at the SJSU iSchool, outlined her study of how libraries can use blockchain technology in support of city or community goals. Blockchain, most closely associated with Bitcoin and other cryptocurrencies, is a highly secure ledger system that records digital transactions. Alman said that her goal is to engage in a national dialogue with librarians, technical experts, and urban planners to discuss the role of libraries at a time when this technology is still being explored.
From the audience, Jason Griffey, a Fellow at the Berkman Klein Center for Internet and Society at Harvard University, suggested some ways that he envisioned libraries using blockchain: securing provenance data for physical objects like rare books or museum pieces; storing distributed bibliographic metadata; and keeping track of file ownership to establish and manage digital first sale rights.
Alman added that she is seeking librarian participation in two upcoming events: an online blockchain session at the Library 2.018 conference on June 7; and a National Forum on blockchain technology at SJSU on August 6.
Toby Greenwalt, director of digital strategy and technology implementation at the Carnegie Library of Pittsburgh, described his project "Civic Switchboard: Libraries in the Civic Open Data Ecosystem," an effort to encourage academic and public libraries to extract useful information from civic data. The project will create a toolkit for libraries interested in expanding or beginning their role in making use of open civic databases, with the long-range goal of data literacy for library users. Greenwalt says he hopes the project will "pull back the curtain on the concept of open data." The Carnegie Library is partnering with the University of Pittsburgh, the Western Pennsylvania Regional Data Center, and the National Neighborhood Indicators Partnership to "develop a best-practices playbook" for libraries and then "test those recommendations in real-life situations."
Kristen Rebmann, associate professor at the SJSU iSchool, summarized her involvement with TV White Space wireless technology in libraries. TV White Space is made up of unused radio frequencies in the spectrum assigned to television broadcasts that the Federal Communications Commission has released for license-free, unrestricted access. She played a YouTube video (2:11) that explains the concept well.
Rebmann said that the spectrum (largely made up of channels 14–51) is of "great advantage to rural libraries, because there is little commercial competition" for these wavelengths. Her project has selected libraries in rural areas in five states—Washington, South Dakota, Nebraska, Maine, and Georgia—to take part in extending wireless internet in underserved communities.
Rebmann said the only thing libraries needed to invest in was an omnidirectional TV White Space antenna that connects to the main internet portal. "The antenna then broadcasts a Wi-Fi signal to remote hotspots over a distance of 6–7 miles away," Rebmann said. "The hotspots can be located in parks, schools, or community spaces. Because the signal travels easily over hills, terrain is not a limiting factor. And because the hotspot can be mobile, it comes in handy for disaster rescue and recovery operations." She added that the basic network setup would only cost a library $5,000 to $10,000, depending on the location.