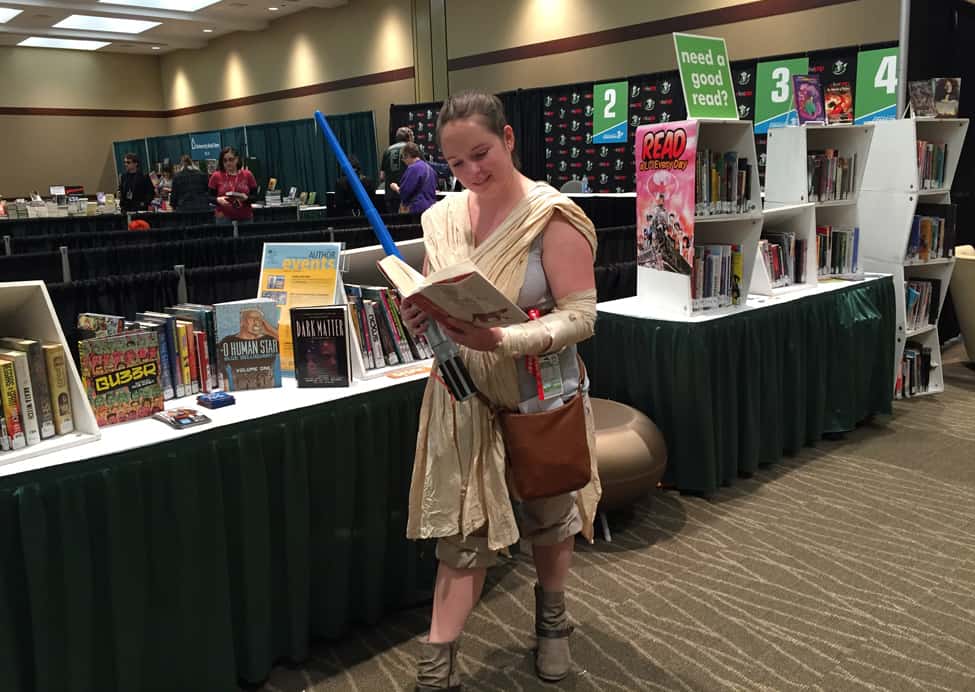 For four days during the 15th Annual Emerald City Comicon (ECCC), held March 2–5 in Seattle, a new space emerged for book-hungry genre fans, weary attendees, excited families, and all-around curious con-goers—the ECCC Collaborative Pop-Up Library.
Staffed by more than 35 volunteers from 12 library systems around the country, the ECCC Pop-Up Library brought together children's librarians, teen librarians, academic librarians, and adult services librarians for the common purpose of bringing the library outside its physical space and into a new realm.
The Pop-Up Library, open during exhibit hours, offered reading recommendations, research advice and strategies for content creators, and an area in which to relax and read materials borrowed from the in-house collection. The curated browsing collection focused on work by authors and artists underrepresented in publishing—more than 80% of the materials were by creators of color, creators with disabilities, and queer and trans creators.
University of Nevada Las Vegas Librarian Matthew Murray initially proposed a collaboration between the American Library Association and ReedPOP Events—the company that runs some of largest fan conventions in the country—with a focus on panels by and for librarians. Taking their cue from popular past ECCC panels about library resources for writers and readers' advisory, Melanie Cassidy, learning and curriculum support librarian at University of Guelph in Ontario, and Claire Scott, children's librarian at Seattle Public Library, suggested a space for con-goers to engage with librarians one-on-one.
In creating the pop-up, a principal inspiration was leaving the physical library behind in favor of meeting people where they are and making a space for library connections. Recognizing the enormous potential of the ECCC audience, it was also important that the Pop-Up Library brought together multiple library systems rather than siloed spaces branded to a single library. Rather than marketing a single library's services at a small table with brochures and swag, the participating librarians worked together to create meaningful patron interactions: from in-depth readers' advisory to using reference interviews as part of an author's world-building process to assisting patrons with digital resources and sharing information about specific and general library services regardless of home library system. This meant that libraries without the financial resources to represent themselves at a multiday event like ECCC could still participate. King County (Wash.) Library System, which had planned to staff a table in the children's area as in years past, generously joined the Pop-Up Library instead.
The Pop-Up Library also succeeded at another goal: creating, like the library itself, a third space in which patrons could relax, get assistance, or just be. There has been much discussion during cons about cosplay and consent, and how to create safe spaces for all. Scott describes it as creating a "boundaried space for interactions." In the Pop-Up Library, perfect strangers became fast friends while wrestling with the button makers. Librarians and attendees bonded over shared reading recommendations. For families especially, the Pop-Up Library was a refuge where they could sit, read, and engage in an activity with their children without any expectation that they needed to buy anything. Said one visitor, "We love it! Thank you for having such a family-friendly rest zone. It's difficult for kids to see books they can't touch all day. I so wish these were at every Comicon." Another visitor wrote, "Great idea and great spot to relax and get book suggestions."
See more photos and coverage on Twitter at #ECCCLIB.