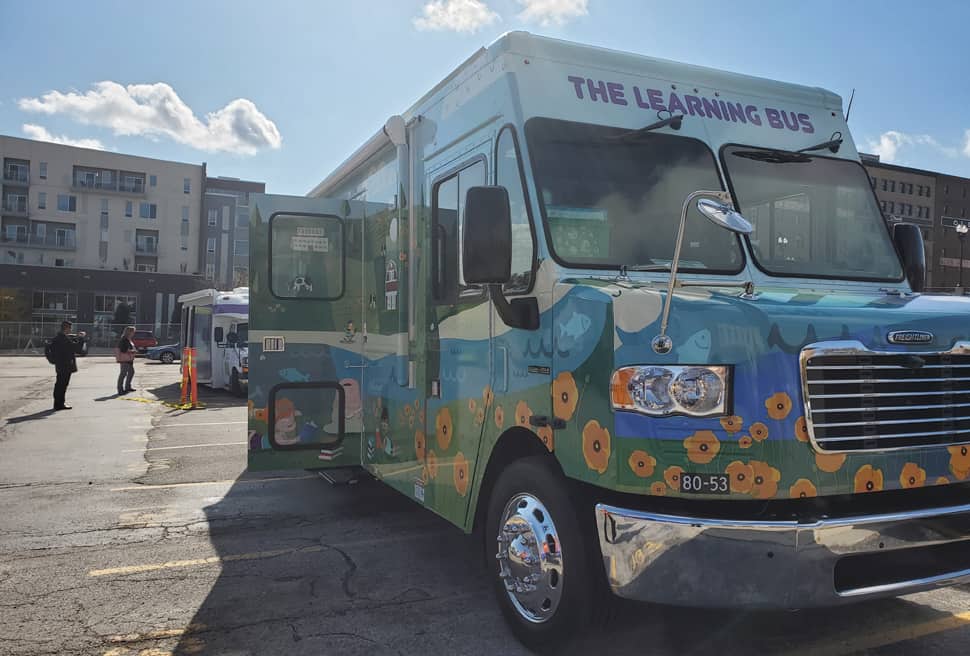 Libraries are the center of our neighborhoods," Omaha, Nebraska, Mayor Jean Stothert told a room full of library workers at the 2019 Association for Bookmobile and Outreach Services (ABOS) Annual Conference October 23. The crowd nodded along with her as she and other state workers talked about the challenges and successes of their library system.
ABOS, an affiliate of the American Library Association, includes bookmobile drivers, outreach specialists, and librarians who have one thing in common: bringing the library to the people. More than 200 library workers came to Omaha October 23–25 to network, share ideas, chat with outreach-related vendors, and show off their new bookmobiles.
The conference hosted a variety of sessions on topics ranging from equity, diversity, and inclusion to programming. In "Working with Multi-Needs Children: An Introduction to Inclusion," presenter Erin Linsenmeyer, children's librarian at Downer's Grove (Ill.) Public Library, shared all of the different ways her library connects with these populations, including a Rainbow Story Hour that focuses on such topics as race, disability, and gender identity. "Disability can affect anyone at any time," she noted, so it should be included in the programs offered by the library.
In "Ability Inclusive: Developing and Executing Outreach Programs for All Abilities," presenters Kristen Sherry, outreach services manager, and Emily Ehrenheim, outreach services paraprofessional at St. Charles City-County (Mo.) Library, walked the audience through a sample program while fielding questions on their process and the challenges they've experienced over the years.
When attendees weren't networking or attending breakout sessions, they crossed the street to the hotel parking lot to view bookmobiles that made the journey to Omaha. These vehicles included displays from vendors as a showcase for bookmobile drivers who were in the market for a new rig as well as bookmobiles with library staffers eager to show off their spaces and how they select their collections. During a Q & A session with bookmobile manufacturers, attendees were able to address questions and concerns, including new trends and generator woes.
Children's author Jill Esbaum (How to Grow a Dinosaur, Dial Books, 2018) delivered the keynote on October 23, describing her publishing journey and the people who inspired her to write. Along with her parents and a grade-school teacher, Esbaum remarked that her school librarian was her first girl crush; Esbaum thanked the librarian for allowing her to help in the library during summer vacation in the weeks before classes resumed. Even a small task like cataloging helped put Esbaum ahead of her class when it came to her ABCs because she had already had plenty of practice.
The October 24 lunchtime speaker Maggie Peterson has worked at Omaha Public Library as an outreach specialist for more than eight years. In "Better Together: Using Community Partners to Create Engaging Outreach Services and After-School Programs," she spoke about her work with incarcerated youth, teen parents, and LGBTQ youth as well as the successes and challenges of hosting an afterschool program and book club. Her biggest takeaway from working with these groups was to "let them tell [staff members] how this book club was gonna run." She encouraged everyone to seek out honest feedback from the students they serve.
The 2020 ABOS conference will take place October 14–15 in Dallas.