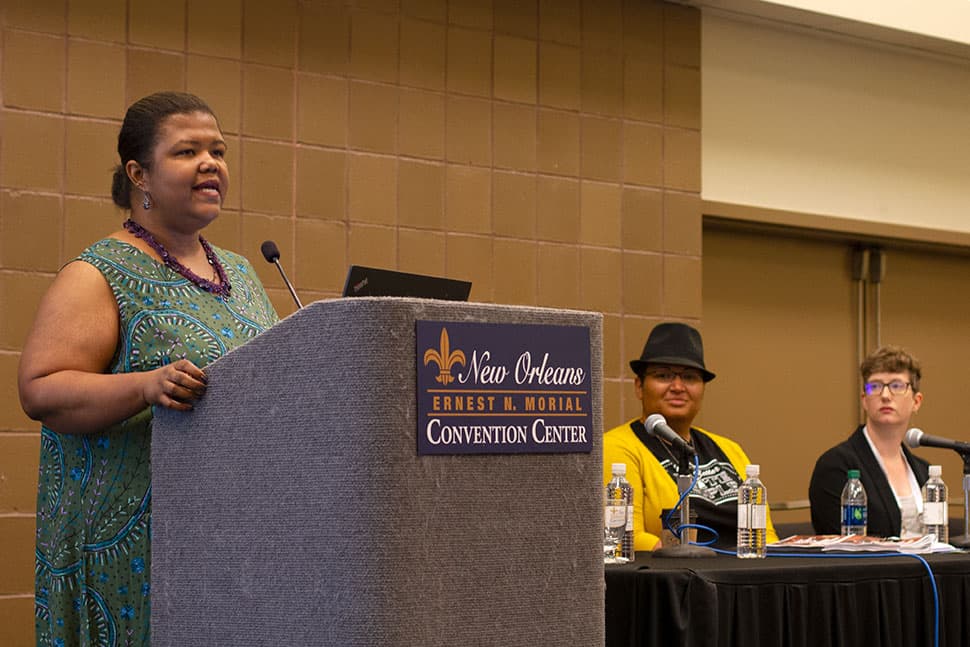 Librarians pursuing academic research on equity, diversity, and inclusion issues who have been harassed by conservative groups came together on Saturday, June 23, at the American Library Association's (ALA) Annual Conference and Exhibition in New Orleans. In the program "Bullying, Trolling, and Doxxing, Oh My! Protecting our Advocacy and Public Discourse around Diversity and Social Justice," five librarians told their stories and how they navigated the backlash.
Nicole Cooke, assistant professor and MS/LIS program director at University of Illinois at Urbana-Champaign's School of Information Sciences, opened the session by detailing how she became a target after the right-wing publication Campus Reform published a story about her research project, "Minority Student Experiences with Racial Microaggressions in the Academic Library," which received a 2017 Diversity Research Grant from ALA's Office for Diversity, Literacy, and Outreach Services. Spurred by the story, hate groups published Cooke's email address and phone number on their websites, resulting in her receiving harassing calls and messages.
Cooke reported the incidents to the university and campus police with ineffective results: The university refused to removed her email address and phone number from its website, and the police investigated her, instead of the harassers.
"Our institutions and our profession are not prepared or equipped to protect us," Cooke said.
Cooke's story was echoed by the other panelists: All had their contact information exposed by a right-wing organization that opposed their work, leading to harassing calls and messages. Four of the five went to their employers for help with little to no success.
"This was a very traumatic experience for me," said April Hathcock, scholarly communication librarian at New York University Libraries. After the 2017 ALA Annual Conference, Hathcock wrote a blog post about race fatigue, the "physical, mental, and emotional condition that people of color experience after spending a considerable amount of time dealing with the micro- and macro-aggressions that inevitably occur when in the presence of white people." The post "exploded," according to Hathcock, leading to harassment. Again, she turned to her university for help and said she received none.
Stacy Collins, research and instruction librarian at Simmons College in Boston, discussed the harassment that she received after Campus Reform and Fox News featured stories on an anti-oppression guide that she created for the college's website. Unlike the other panelists, however, Collins had the backing of her administrators.
"The assistant director of the library responded and said, 'The entire library is responsible for this. Don't target [our staffers]; target me as the library representative,'" Collins noted. The support helped diffuse the harassment, while also fortifying the college's resolve to combat oppression.
Additional panelists included Cynthia Orozco, librarian for equitable services at East Los Angeles College, and Miriam Sweeney, assistant professor at the School of Library and Information Studies at University of Alabama.
Update: This post was edited on June 28 to include the names of all panelists.