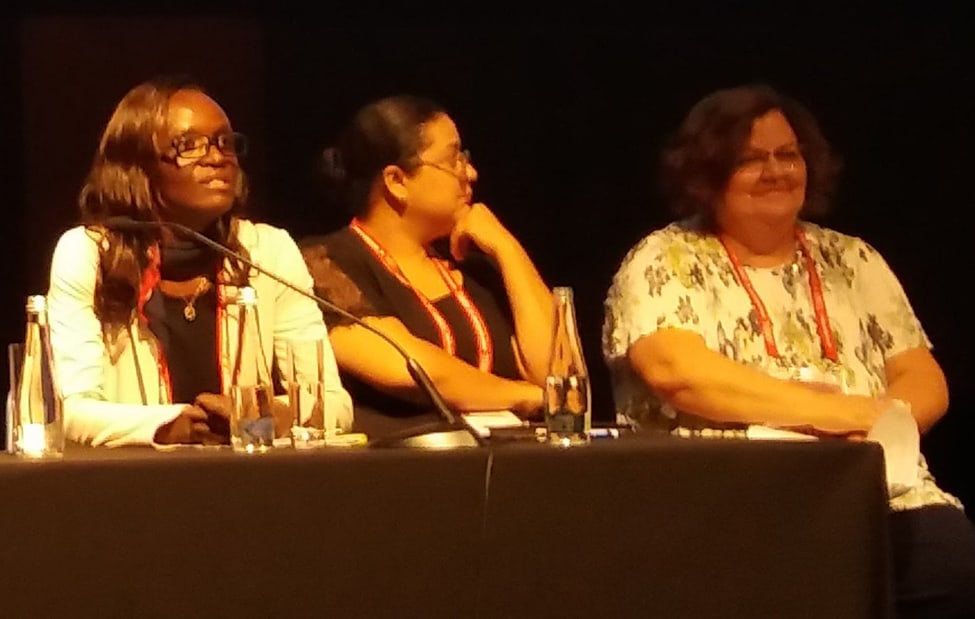 What role should parliamentary or congressional libraries have in furthering government accountability and openness? What responsibility, if any, do academic librarians have in collecting or fighting fake news? How is Poland leading the way for a digital single market in the European Union?
Questions of transparency and access were explored on the third day of the International Federation of Library of Library Associations and Institutions (IFLA) World Library and Information Congress in Wroclaw, Poland. In a nod to the topics, many of the August 22 sessions included a Q&A or structured discussion, bringing together many voices and political contexts.
Transparency in government
"Prior to 2010, the people of Kenya never used to engage with the government," said Marale Sande, senior research and policy analyst at the Parliament of Kenya. In 2010, the country adopted a new constitution.
Seven years later, the Parliament of Kenya is actively working to communicate governmental information to the public and involve community members through outreach and partnerships. These efforts have included exhibitions and trade fairs, an "open day" for the public during Parliamentary Week, public lectures at universities, and county visits.
Sande was one of a few information professionals presenting at "Parliament and the People: Transparency, Openness, and Engagement." The session featured parliamentary library and research perspectives operating within unique circumstances.
Pablo Morales Peillard, economic coordinator at the Biblioteca del Congreso Nacional de Chile, spoke about how Chile's national library decided to create a budget data visualization tool to make the national budget more accessible and transparent to citizens. He said he thinks transparency will further governmental accountability, integrity, inclusiveness, trust, and quality.
The Chilean budget comprises 883 pages and many line items and "is not very user friendly," says Morales Peillard. Finding inspiration from data visualizations created by other governments and media outlets—line graphs, tree maps, Sankey diagrams—Chile launched its online budget visualization tool in 2016. The tool, which is used both by citizens and legislators, aims to show how taxpayer money is being managed, provide parliamentarians with data for informed decisions, explain functions that government performs, and increase citizen participation in the political process.
Other presentations at "Parliament and the People" shared concepts such the Parliamentary Researchers Network (REDIPAL), a social media platform for parliamentarians and their staffers in Mexico; the Portal of Transparency, which gives people the right to access information from Spain's Congress of Deputies; and the user-friendly Demo.cratica website that is helping Portugal's citizens engage with its parliament.
Libraries and fake news
"Are you willing to be the arbiter between what's fake and what's real?" asked Gerald Beasley, university library at Cornell University, at the "Hot Topics: Academic and Research Libraries" workshop. The phenomenon of "fake news" was one of three provocative issues explored with table discussions and guiding questions such as: Is "fake news" any concern of libraries? Should libraries collect and provide access to "fake news"? What tools, if any, should libraries offer users to identify "fake news"?
"We know, as information professionals, that the deliberate distribution of misinformation existed long before the term 'fake news,'" said Beasley. But he cautioned that it travels much further and faster now. "It can even influence elections," he said.
Librarians and LIS students had lively discussions as to what duty the library has to preserve false or disproved materials in the collections, what methods it should take to curate or annotate misinformation, and if the library's commitment to accuracy and transparency conflicts with a mission to stay neutral.
Beasley drew an interesting comparison: "Perhaps future historians will find fake news harder to study than silent films are," he said, as only about one-quarter of the silent films produced in the US have been preserved.
Poland's commitment to open data
"We want new technology to be a springboard to take the Polish economy to a new level," Secretary of State and Deputy Minister of Digital Affairs Krzysztof Szubert told attendees at the "Polish Way to a Digital Market" plenary session.
Poland is one of the fastest-growing economies in the European Union and has taken a lead role in the European Commission's Digital Single Market (DSM) initiative, which aims to move 28 countries to a single digital economy in an effort to promote innovation and competition and move past outdated regulations that didn't account for online markets.
Szubert says his role is to "safeguard Poland's interests in the negotiation process," chief among those interests being a commitment to open data. "Data becomes critical for change," he said.
Last year the Ministry of Digital Affairs held its first open-data "hackathon" at the National Library of Poland, in which 17 teams played a competitive game with budgetary data with the goal of creating prototypes and verifying the quality of the data.
With "more people with business backgrounds joining our ranks," Szubert said the Polish government has "quite a big number of initiatives" in the pipeline, including more standardized and digitized registration systems and broadband access. "We are in the process of connecting 30,000 schools to high-speed internet," he said. The ministry also has a goal of opening up data in scientific research and medical proposals.
"We have seen your really progressive position, which we support," commented IFLA Secretary General Gerald Leitner, who asked Szubert if copyright laws are hindering Poland's mission.
Szubert said the European Commission is supporting the ministry, but he still sees geoblocking in two areas: copyright and e-commerce. "Hopefully by the end of the year we'll be able to address both areas," he said.