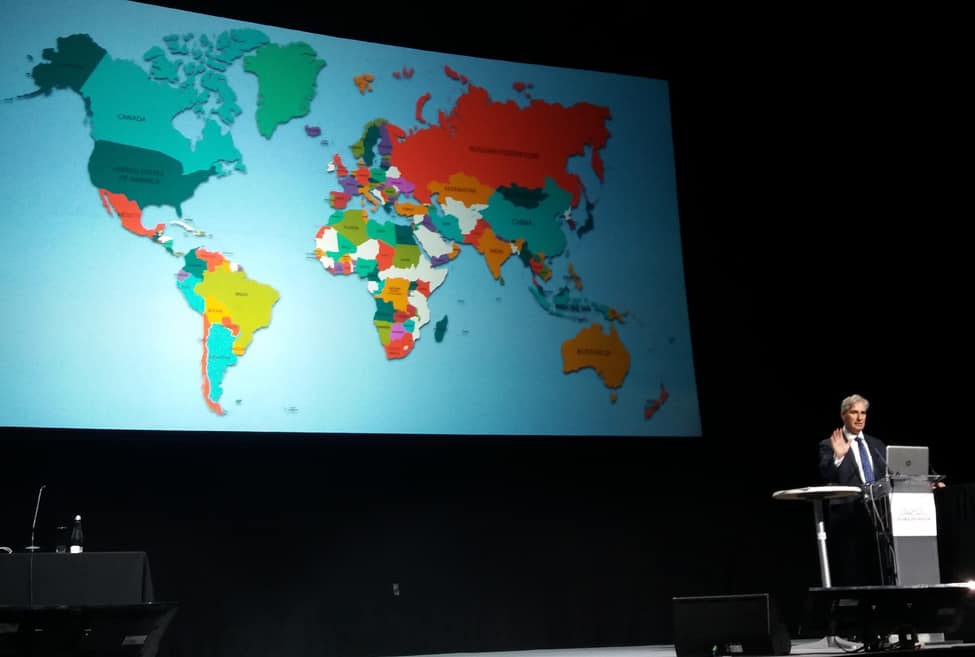 "I think it's very important that users see themselves in the library," said Richard E. Sapon-White, catalog librarian at Oregon State University, at the onset of "Challenging Society and Naming Identity: Subject Access and Bibliography in a Multicultural World," a program of the International Federation of Library Associations and Institutions (IFLA) World Library and Information Congress (WLIC) in Wrocław, Poland, on August 21.
The theme of inclusion was pervasive on the second day of the conference, with presenters sharing research and case studies framing ways that library professionals can improve access to information, services, and safe spaces—especially for marginalized users, including indigenous populations, people with disabilities, and the LGBTQ community.
Cataloging key to access
For many, inclusion starts with subject access and bibliography. Sapon-White was on hand to discuss his paper, "Retrieving Oregon Indians from Obscurity: A Project to Enhance Access to Resources on Tribal History and Culture" and the limitations of Library of Congress Subject Headings (LCSH) when it comes to classifying Indian tribes in the United States.
"There are about 45 or 50 Indian tribes that live or have lived in Oregon. You could search for a specific tribe by looking for topical headings," he noted, but terminology can be problematic. For example, subject headings may include various misspellings, mispronunciations, or derogatory nicknames that were given to the tribe by other tribes or the government.
"All of this leads to future work that still needs to be done," said Sapon-White, of the many Oregon tribes absent or mislabeled in LCSH—not to mention the work that may be required on behalf of the other 49 states. He plans to submit authority records for 11 Oregon tribes to the Library of Congress's Subject Authority Cooperative Program for review. He added, "With some of the tribes I'll be submitting, I'll be checking with the tribes, just to make sure I'm not stepping on anybody's toes."
Siri K. Gaski and her team at the National Library of Norway are also hoping to give researchers better access to resources on a specific indigenous population: the Sami people, who live in an area of Finland, Norway, Russia, and Sweden known as the Sapmi region.
"It's a nation without borders," said Gaski, who estimates there are between 50,000 and 500,000 people who identify as Sami. "It's hard to say because of politics and assimilation."
The National Library of Norway is coordinating a joint bibliography with the Rovaniemi City Library in Finland, the Murmansk State Regional Universal Scientific Library in Russia, and Ájtte, the Swedish Mountain and Sami Museum, to centralize searching and information. Norway was chosen to lead the project because its current bibliography has 25,000 entries, the most of the four nations. The bibliography, which launched this year in English and the most commonly spoken Sami dialect, is managed on the BIBSYS platform.
"The ideal here would that we'd be able to present it in all the majority languages and all the Sami languages," said Gaski. "We decided it's better to be able to release something that's good enough now than wait at least another 20 years for something to be perfect."
The joint bibliography is organized by Løov's classification—a system unique to the Sami—again illustrating the limitations of mainstream classification bodies. "If you're from a small indigenous population in the far north, you're kind of hard to place anywhere," said Gaski.
LGBTQ inclusivity
Is your library a safe space for LGBTQ users? Are the stories of LGBQT people represented in your collections? Are LGBTQ community members getting the information they need the most? These questions were top of mind at "Intersectionality: Libraries and the Intersection of LGBTQ+ Lives," a session sponsored by the LGBTQ Users Special Interest Group.
Raymond Pun, first-year student success librarian at California State University, Fresno, focused his presentation on libraries that are adopting gender-all, gender-neutral, or gender-inclusive bathrooms or bathroom policies at their facilities.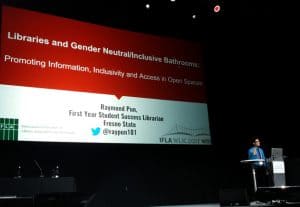 "It's really important to start having this dialogue with your communities," said Pun. "Libraries have a responsibility to provide patrons with a space where they're not at risk." He was quick to add, however, that he and his coresearchers weren't experts "to tell you what you should or shouldn't be doing," as the gender-bathroom issue is layered in cultural, political, social, and economic aspects that may be different for every library and its community.
For example, the campus-wide gender-inclusive bathrooms at University of California, Berkeley, may be accepted, while the University of Tennessee, Knoxville, may use the term "family bathrooms" to explicitly avoid gender-related terms in a state that this year enacted anti-LGBT legislation. "It's not about the bathrooms," Pun concluded. "It's about the individual experiences of those who have been marginalized."
Going beyond bathrooms, it's important for members of the transgender community to feel like they have a voice, said Jeannie Bail, director of learning and research services at the University of New Brunswick Libraries. Bail presented on the Transgender Archives at the University of Victoria in British Columbia, formally established in 2011 and the world's largest and first archive entirely dedicated to material about trans and gender-nonconforming people.
A theme of Bail's talk was intersectionality, and she remarked that the archive does outreach with families, children, health providers, the legal community, policymakers, and LGBTQ organizations in its effort to be an ally. She remarked that libraries are underutilized as an information source for and by the transgender community.
Martin Morris, librarian at McGill University in Montreal, also addressed intersectionality in his presentation. His research focuses on the sexual health information needs of people who are both LGBTQ and deaf, and how the overlap or intersection of these social identities can exacerbate discrimination.
"Deaf people tend to have much more trust for visual information produced by other members of their own community who may not be experts in the field, who may provide inaccurate information," said Morris. He says the reason for this is that our culture of audism (discrimination against deaf people) discourages and shames visual communication, and this is especially true when it comes to sexual health information.
A core finding of Martin's research indicates there is a strong need for information, education, and visibility of HIV resources online and in American Sign Language to increase knowledge and build trust. He thinks that librarians can go beyond mere information requests, such as looking for opportunities to partner with the deaf LGBTQ community or just learning a few words in one of the more than 300 sign languages.
IFLA participation
At the plenary session "5 Days in 45 Minutes," another form of inclusivity was discussed: making sure all IFLA colleagues' voices are heard in the context of the organization's Global Vision Discussions when voting opened later in the day.
IFLA Secretary General Gerald Leitner said the organization had conducted six regional workshops with 402 participants from 140 countries over four months, but still wants to hear from more library professionals.
In the session, Leitner also launched the Library Map of the World, an online resource that aims to create awareness of the state of the libraries in the world, communicate basic metrics that describe the library landscape, demonstrate evidence of libraries' impact, and inspire more countries to collect and contribute data and stories. The map so far features data from 95 contributors reporting on 1.8 million libraries in 78 countries.
"The session is called '5 Days in 45 Minutes,' but I think another way to put it is five years of progress and one year of work," said IFLA President Donna Scheeder.