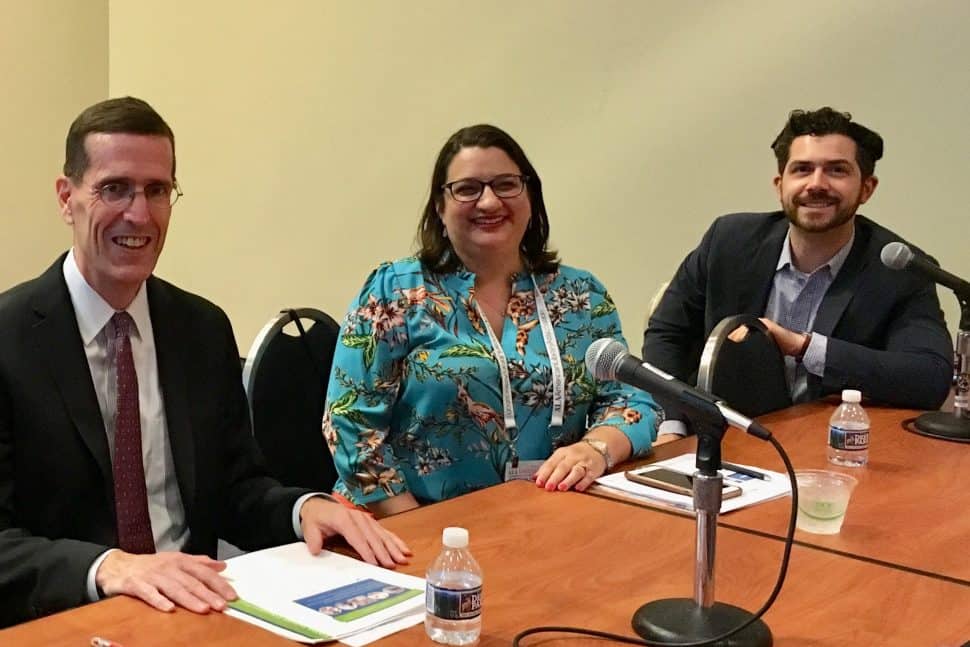 If a natural disaster struck tomorrow, do you have enough money saved to get you through such a financial emergency?
For a significant number of Americans, the answer is no. Roughly 30% of respondents to a 2018 National Household Survey said they do not have any money set aside for an emergency. In another survey, 40% of Americans reported that they don't have enough money to cover a $400 emergency expense.
At "A Natural Disaster Shouldn't Become a Personal Finance Disaster: Addressing Money Management and Fraud Awareness in Your Library's Disaster Recovery Programs," three panelists conveyed the urgency of financial preparedness—for both the community and library staff. The June 24 program was part of the American Library Association's Annual Conference in Washington, D.C.
With wildfires, floods, tornadoes, hurricanes, and other natural phenomena on the national consciousness, there's no better time than now to prepare, said Matthew Lyttle, acting deputy director of the Federal Emergency Management Agency's (FEMA) Individual and Community Preparedness Division.
Lyttle suggested four key actions to making a plan:
Safeguard important documents (deeds, titles, birth certificates, etc.)
Save for a rainy day
Establish a cash-in-hand reserve
Know your insurance coverage
For a list of documents you and your patrons should have on hand in case of disaster, Lyttle said to look at the Emergency Financial First Aid Kit, available for free.
Robert Ganem, senior program director of FINRA Investor Education Foundation, discussed the SmartInvesting@your library partnership with ALA, which has provided $15 million in grant funding and some individual support via public libraries.
Ganem announced a FINRA initiative that began 18 months ago to provide libraries that serve low- to moderate-income households that are FEMA-designated natural disaster, with grants, training for library professionals, and communications assistance. The money, Ganem said, is to help libraries build comprehensive collections to provide the community with resources to make well-informed decisions following a disaster event. So far FINRA has given 20 such grants to libraries nationwide and anticipates continuing the program in the long run.
The financial impact of a disaster is "immediate and long term," he said, citing an Urban Institute study. Adverse effects can include a hit to credit scores, debt burden, bankruptcy, mortgage delinquency, and foreclosure. "Not only are the financial consequences still very prevalent four years out, they actually snowball," Ganem said. He said that's important for libraries to think about as they plan programming in these communities.
Ganem also warned of "the storm after the storm," namely the "disturbingly prevalent" financial fraud that occurs after disaster strikes. If you think it can't happen to you, you're wrong, he said. The profile of the typical fraud victim looks like this: They are optimistic, self-reliant, have above average financial literacy, have above average income, and they recently suffered a major life setback.
"We are all absolutely susceptible," Ganem said.
After an EF5 tornado struck her community in 2013, Aiden Street, associate director at Pioneer Library System in Norman, Oklahoma, said several people came up to her as she was cleaning debris in front of her house to offer her their services. Like Ganem, Street cautioned against these fly-by-night companies that, she said, know that people are desperate and may also be receiving lump sum insurance payments.
She suggested that library professionals remember the following advice:
Staffers are community members too.
Combine financial with emotional support in your programs.
The time to plan is before it's needed.
Recovery is not a one year process.
Celebrate the small wins.
"Not every disaster is going to be federally declared," Street said. "The time to turn to [local groups for help] is now."